Announcements
/

/

Home cooks guide to sparkling wine
Home Cook's Guide to Sparkling Wine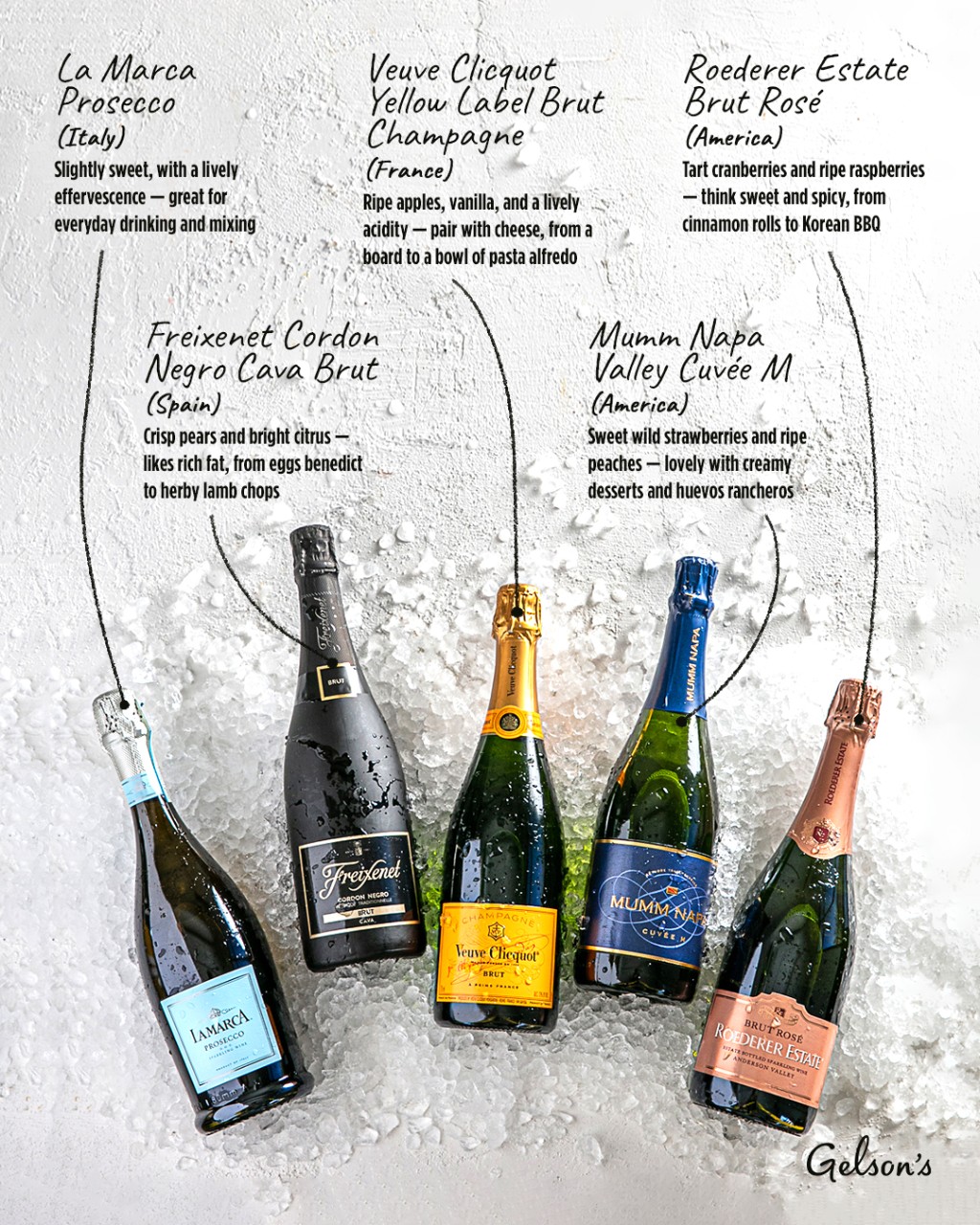 Here's an effervescent idea: Sparkling wine should be for all kinds of occasions, not just the great, big splashy ones, like New Year's Eve. After all, the small moments of joy — snacks in the sun with your partner, a Saturday with nothing to do but eat cake, a quiet dinner in the garden with the family — deserve our gratitude, celebration, and bubbles.
Plus, if you only drink sparkling wines on very special occasions (read: not nearly often enough), it's hard to really get to know them. You may even form unfair opinions of them, like sparkling wines should only be served with appetizers or good sparkling wines are expensive.
The truth is, they come at all kinds of price points, they pair beautifully with all kinds of food, and like most things in life and dining, the very best sparkling wine is the one you love.
With all that in mind, we've put together this guide to a few of our favorite bubblies from France, Spain, Italy, and America, as well as a few pairing ideas for each of them. We hope it inspires you to open many more bottles of sparkling wine in the coming year.
La Marca Prosecco — Italy
Unlike the other sparkling wines in this collection, which are all owned by a single estate, La Marca is a cooperative of nine growers — all located in Veneto, the Prosecco region in Northeast Italy.
Prosecco is one of our favorite sparkling wines because it offers great quality for value. It's a little sweeter than cava (below) with a light but lively effervescence. In other words, it's very easy to drink. La Marca is especially so: it's full of the classic sweet green apple and ripe lemons, but with a floral twist — Meyer lemons meet honeysuckle.
Those sweet notes pair beautifully with a charcuterie board that runs the salty gamut, from aromatic, herby salumi to silky Prosciutto di Parma. It's also nice with a salty-sweet combo, like a bowl of tangy, peanut-y dan dan ramen noodles. And, of course, it's an A+ mixer: we recently used it to create a luminous cocktail with pear juice, Hendrick's gin, and St. Germaine. Huzzah!
Freixenet Cordon Negro Cava Brut — Spain
Freixenet (say fresh-eh-net) is one of the largest wine companies in the world, but it's also a fifth-generation family winery. The Ferrer family has been producing traditional cava in Sant Sadurní d'Anoia, Spain, since the early 1900s. They named the wine after one of their vineyards, La Freixeneda — the little ash grove.
Cava is another sparkling wine that offers exceptional quality for value, and Cordon Negro is a crisp, clean stunner. It opens with a nice balance of pears and bright citrus, but it has a long, surprisingly zippy finish — there are hints of ginger underneath those bubbles.
Cava makes an excellent sparkling wine cocktail, and because it is so dry, it's lovely in a drink with some fruity or floral notes, like our deceptively layered sparkling grapefruit cocktail. It's great with food too, and it likes a little fat: think eggs Benedict for brunch, lush oysters on the half shell for appetizers, or beautifully charred lamb chops with chimichurri sauce for dinner.
Veuve Clicquot Yellow Label Brut Champagne — France
If you've only ever had one bottle of French Champagne, it's likely this one — its signature yellow bottle is a classic. Phillipe Clicquot-Muiron founded the maison in 1772, but it's named for his son's wife, Madame Barbe-Nicole Clicquot. In French, "veuve" means widow: Madame Clicquot took over the business at age 27, when her husband died, becoming not only the first woman to run a Champagne house, but a great innovator. Madame created the first blended rosé Champagne, among other things.
In this collection, Yellow Label is our pick for a transcendent sparkling wine, the luxe bottle we'd save for our favorite people and our most special occasions. It's a brut Champagne, so it's on the dry side with tiny, velvety bubbles. Take a sip and you'll get ripe apples and light, vanilla cream with a crisp, zesty finish.
Because of its lively acidity, Yellow Label pairs well with a Parm-laden bowl of pasta Alfredo or a cheeseboard — go rich and savory, like comté, Gruyère, or Dutch gouda. It's fantastic with seafood and fish, too: serve it with our grilled swordfish in lemon caper sauce.
Mumm Napa Valley Cuvée M — America
G.H. Mumm is an old and venerable French maison de Champagne. Since 1827, Mumm has grown grapes in some of the Champagne region's best terroirs. In 1976, the family decided to try growing traditional Champagne grapes in the Napa Valley. The outcome of that adventure is Mumm Napa — sparkling California wines in the French style.
Cuvée M is slightly sweet with a nice balance of fruits: think fresh wild strawberries and ripe peaches with some bready notes — and a long finish that's full of bright citrus. Its bubbles are very fine and soft.
In pairings, it's versatile. That little bit of sweetness makes it lovely with big flavors and spice, like Indian curries or a savory brunch of huevos rancheros. It's the one we'd pair with a very creamy dessert, like our tiramisu or lavender panna cotta with roasted plums. It's also the one we'd curl up with in an armchair at the end of the day — with some spicy candied nuts and a good book.
Roederer Estate Brut Rosé — America
Another Parisian in America! Louis Roederer is a nearly 250-year-old family-owned maison de Champagne in Reims, France. In 1982, the winery bought 580 acres in the Anderson Valley in Northern California, and Roederer Estate was born — beautiful California sparkling wines that are true to their French winemaking heritage.
Roederer Estate brut rosé combines all the qualities of a dry red wine with the fruitiness of a white. It's full of bright, red fruits — tart cranberries and ripe raspberries — but the finish is nice and soft, with hints of vanilla and toasted nuts. It's lovely to drink: its bubbles are very fine, and they feel downright plush on the palate.
This fruity sparkling wine will pair well with a variety of foods. At breakfast, we like it with buttery, sweet pastries and entrées, like bananas Foster french toast or, for something more subtle, ricotta-filled crêpes. At dinner, we might lean toward spicy, like Korean barbecue tacos or coconut chicken curry. And if it's just appetizers, say sparkling wine and cards, the candied nuts we mentioned above would be fantastic here, too.