Announcements
Italian Cheeseboard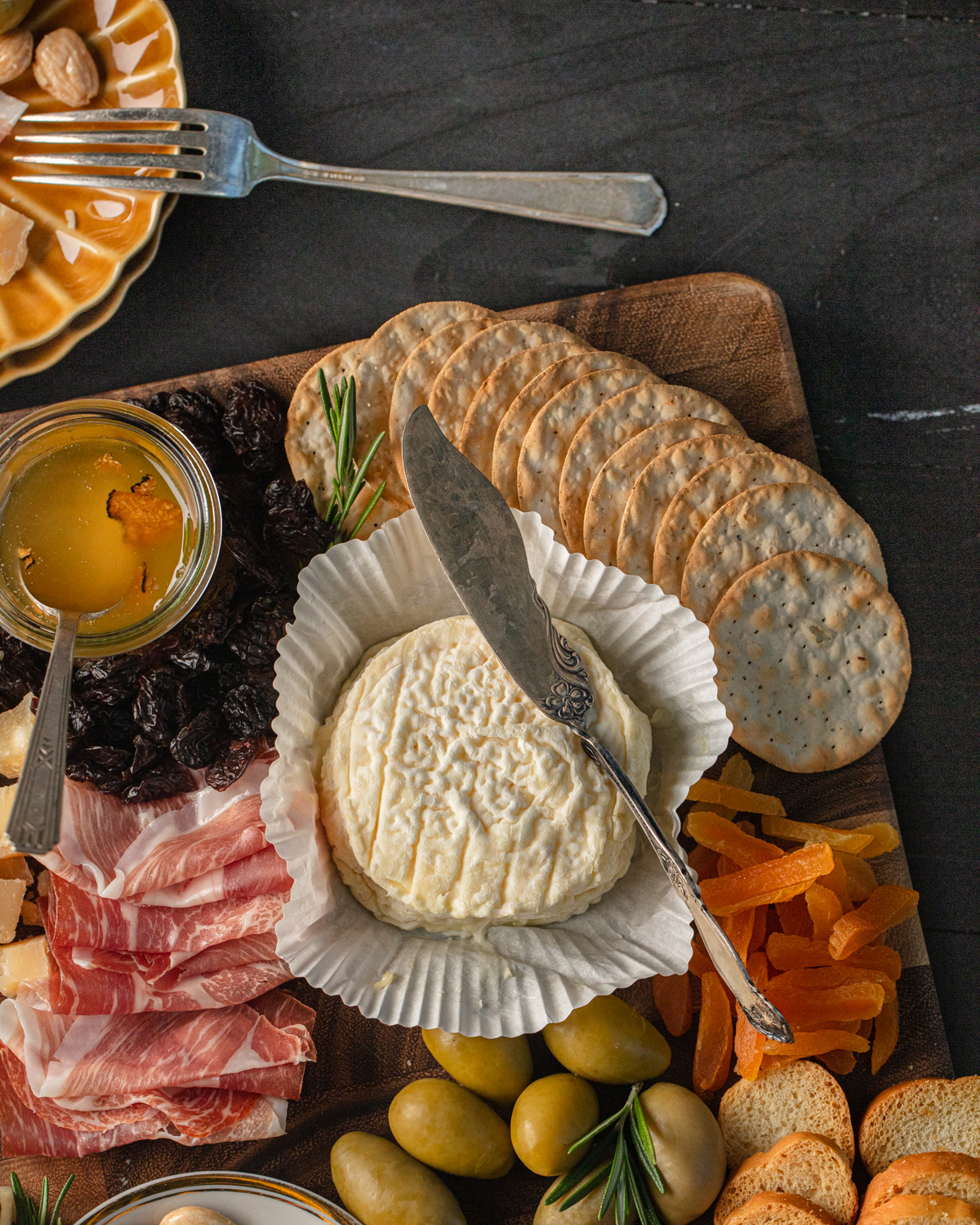 For this Italian cheeseboard, we've found a trio of cheeses as well-matched as they are thrillingly different. We like the contrast of the firm Parmigiano-Reggiano with the oh, so creamy and rich La Tur. And their combined mildness is the perfect foil for the Boschetto al Tartufo, which is like that super eclectic, delicious friend you invite to every single party — but prefer in small slices.
To bring out the cheeses' nutty, sweet, sharp, and mushroom-y complexities, we've loaded this board up with complementary tastes, from lush prosciutto to briny green olives, crunchy herb crackers, and sweet-tart dried fruit. (See the full list below.) It's a hearty spread, perfect for virtual get-togethers: a happy hour with your workmates, a glass of white wine with your in-laws, or an extended disco chat with a BFF or two.
Our tip: For a wine pairing, think sparkling. We'd go with La Marca Prosecco di Conegliano Valdobbiadene. It smells like honey and flowers, and tastes like ripe lemons and green apples — it'll be delightful with all three cheeses.
Caseificio dell'Alta Langa La Tur
We call La Tur the "ice cream" of cheeses because it's so creamy. It's a soft-ripened cheese produced in the Piedmont region of Italy using milk from sheep, cows, and goats. It has a clean white rind that's very pretty on the cheeseboard, and it tastes amazing with a drizzle of the rich, perfume-y truffle honey.
Boschetto al Tartufo
Boschetto al Tartufo is a semi-soft Tuscan cheese made from the milk of cows and sheep. It's infused with white truffle shavings, so it has an unmistakable earthy, truffle flavor. But even with that pungency, it's a little sweet too. It's positively luxurious (and a little hard to stop eating) sliced thin on a rosemary crostini — herbs and mushrooms, together forever.
Parmigiano-Reggiano
Parmigiano-Reggiano is a hard, cow's milk cheese that's produced in Parma, Bologna, Modena, and Mantua. It's aged for at least 2 years, so it has a wonderfully grainy texture and a rich, sharp flavor. We pair it with the tart dried cherries and apricots, which brings out its nutty, sweet side.
Here are all the fun accompaniments we put on our board:
Truffle honey

Marcona almonds

Gelson's dried apricots

Dried tart cherries

Bella di Cerignola olives

Prosciutto

La Panzanella Mini Artisan Crackers Rosemary

Carr's Table Water Crackers Original