Announcements
/

/

Meet david nieman the giant hearted chef
Meet David Nieman — The Giant-Hearted Chef
Meet David Nieman — The Giant-Hearted Chef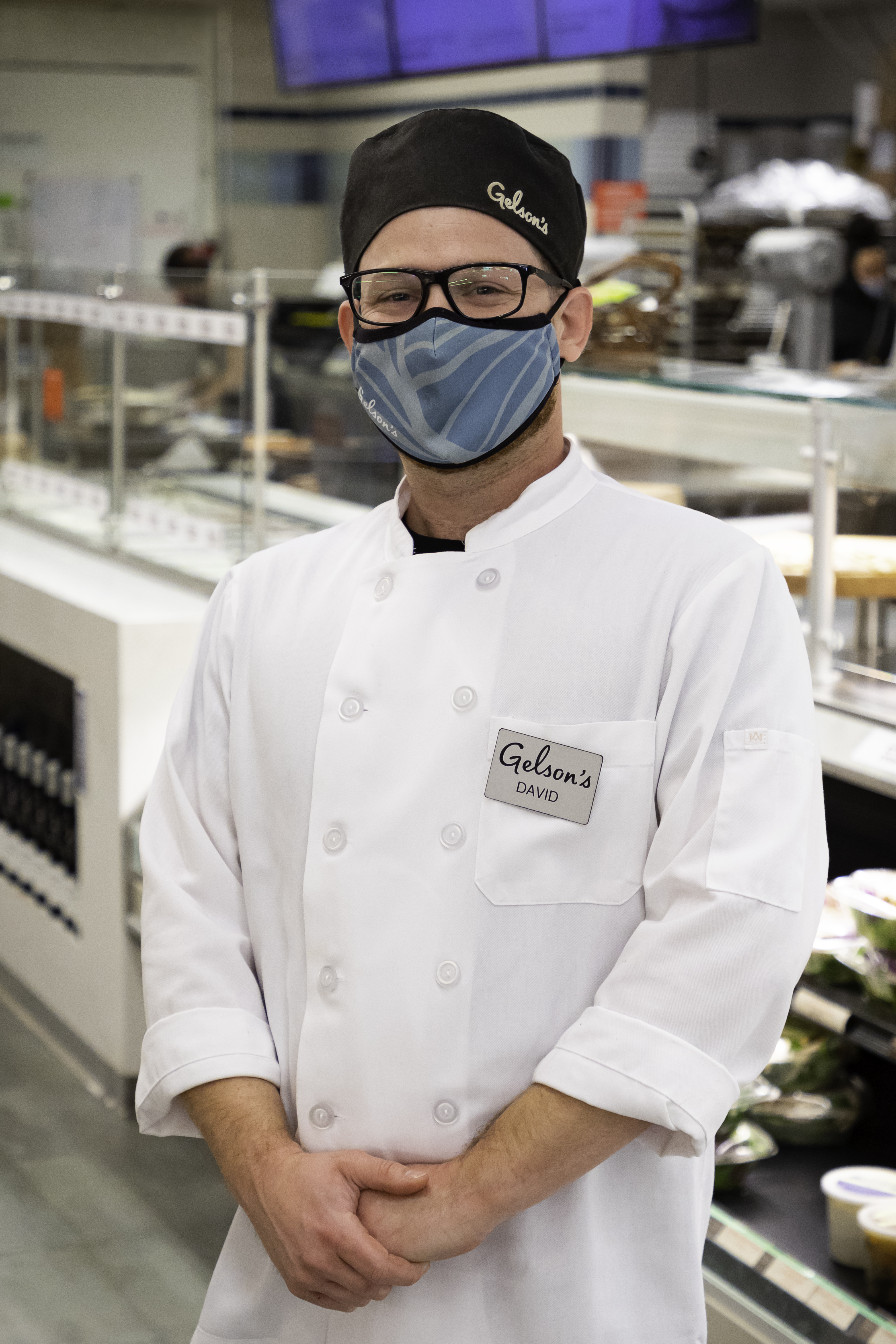 If you're a regular Gelson's shopper, you know that we're madcap busy during the holidays: our stores are a whirl of people picking up groceries, gift baskets, and even full holiday meals. So we were a little surprised and gratified when David Nieman, Manager in our La Costa Gelson's Kitchen, agreed to spend part of his afternoon talking to us — right in the middle of the holiday rush.
"In a normal week, a normal day, I'd delegate most of the cooking to the afternoon chef," he laughed, "but right now I'm jumping in to cook everything from our salmon entrées to Thanksgiving dinners — we've been roasting turkeys for three days straight! We make everything fresh from scratch, and we've got so many Thanksgiving orders this year, there's no delegating."
David has only been working in Gelson's Kitchen for about five years. He credits his quick rise to manager to a few things. First, he came to us with some really good experience: he'd been working in service delis on the East Coast for a handful of years. "That gave me a really solid foundation with the equipment," he says, "and I was in Connecticut and Florida, so I learned how to cook a lot of Northeastern soups and Atlantic Coast seafood, like lobsters."
Second, David says, he's had some amazing mentors. "One of the things I learned early on is that there are people who've been with the company for a while," he says. "They're the ones who perfected all the recipes, and you can learn a lot from them."
As one of the cooks who helped us open our Pacific Beach store, he got to work closely with Kitchen Manager Armando Sanchez — he's been with Gelson's for close to 20 years. "The first year, he taught me how to be really fast and efficient in the kitchen," David says. "The second year, he showed me how to do it all in the little details, cooking all the recipes from scratch, right down to the pinch of salt."
There have been other mentors along the way, too. He's stayed really close to the people he started with in the service deli, Robin Dease, Salvador Fabian, and Charlie Denby, who've also moved into management rolls — another testament, he says, to the quality of the training they all received. And he made a point of recognizing his manager, Erika Wilcox, Service Deli Manager, with a string of adjectives: humble, sweet, and stern. "She has a lot of strengths where I have weaknesses," he says. "But I wouldn't be where I am without all of these people, without our bonds and all the work we've done together. You know, I can take credit for working hard, but I can't take credit for all the people who've invested in me."
These days, David starts his day at 5:30 or 6:00 a.m., checks the cooler and the cases, figures out what he needs to order, and puts out all our gourmet salads, entrées, and sides. "Basically, I make sure all the inventory is fresh and that our staff has everything they need to pull together the recipes," he says, "and then I sit down with Erika to figure out assignments, who's cooking what, and of course, during the holidays I'm taking care of catering. It's a very busy day."
When we ask him how Covid-19 has impacted the cadence of his days, he tells us that the Gelson's Kitchen has had to pivot a few times, and that along the way routines, menus, and even his staff have changed. "Back in March, we closed the salad and the hot bar because we couldn't serve food," he says. "Instead, we focused on foods that we could prepackage so that people could pick it up, take it home, and feel really safe and secure eating it."
Because of those changes, he only needed about half as many people in La Costa's kitchen — but no one was laid off. "Even though we didn't need those people in the service deli, there were lots of other things for them to do, even just to keep up with Covid-19," he explains. "So we moved people into other positions to help us keep food on the shelves, keep the store clean and sanitized, and stock produce."
These days, Gelson's Kitchen is bustling. "Our people are all pretty much back here," he says. "Well, we lost a couple of good ones. They did too good a job, and the other departments didn't give them back to me. But that happens, and I'm glad there are those opportunities. There haven't been a lot of good, positive stories in the state and in the nation, and Gelson's is definitely trying to help out people and their families."
"We're all very close here," he adds. "It's not just because we spend so much time together — 6 days a week, 12 hour days, depending. We build in-store friendships, and we've all grown extra close during the pandemic. This is a positive environment. People have their ups and downs, but we try to take care of each other."
So what about all those packaged salads and entrées? If we were to visit his store tomorrow, what would he tell us to order?
From the salad case, he'd have us try a pint of the orzo and broccoli salad. Like all the salads these days, the recipe was designed to travel really well. (Read: it won't wilt.) It's got broccoli, orzo, sweet red pepper, feta, and a handful of aromatic herbs — parsley, rosemary, thyme, and the like — all tossed in our creamy house Italian dressing.
He's also partial to the poached salmon fillets, which our chefs prepare in dry white wine, fresh lemon juice, and bay leaves. It's very tender, and we dress it in a light, punchy sauce of white wine, Dijon mustard, capers, and dill. "That's a really good one," David says, "really delicious, especially with the sauce."
And last, but not least, he'd send us home with Gelson's Chicken Romano. To make it, our chefs butterfly the chicken, batter it in flour, egg, and our house-made breadcrumbs — think garlic, basil, parsley, and Pecorino-Romano cheese — and then flash fry it. "The last step is to bake it until it's golden brown and crispy," David says. "It's so good, people love it. They take it home and slice it over a salad, or they add a little Parm and marinara sauce and make chicken Parm out of it."
At the end of our Meet the Expert interviews, we always ask people what they love about their jobs — what gets a chef or a manager out of bed and into the store in the dark hours of the morning? David answers without pause: "Well, I have five children, ages 2 to 9, so that's my motivation," he says. "It's not just that I can't miss work because I've got to provide for them, it's that my kids are always asking, 'What are you doing, what are you cooking?' I want to show them that with hard work, you can get where you want to be, and that through hard work, I give myself a good name and a good reputation."
It's not all about hard work for David, it's also about the food. "I love it when people say, 'I brought this home to my family, and they loved it,'" he says. "I love seeing the look on their faces — their satisfaction and joy gives me energy."
And finally, it's about the people, our customers. "People tell me things that they struggled with throughout Covid," he says. "They're so grateful there's a place like Gelson's, a place where they can get their holiday meal because they just couldn't do it this year. Hearing those stories is so heartwarming, and it has definitely helped me get through all the hard times."