Announcements
/

/

Meet don plautz order writer for the stars and their hound dogs
Meet Don Plautz: Order Writer for the Stars … And Their Hound Dogs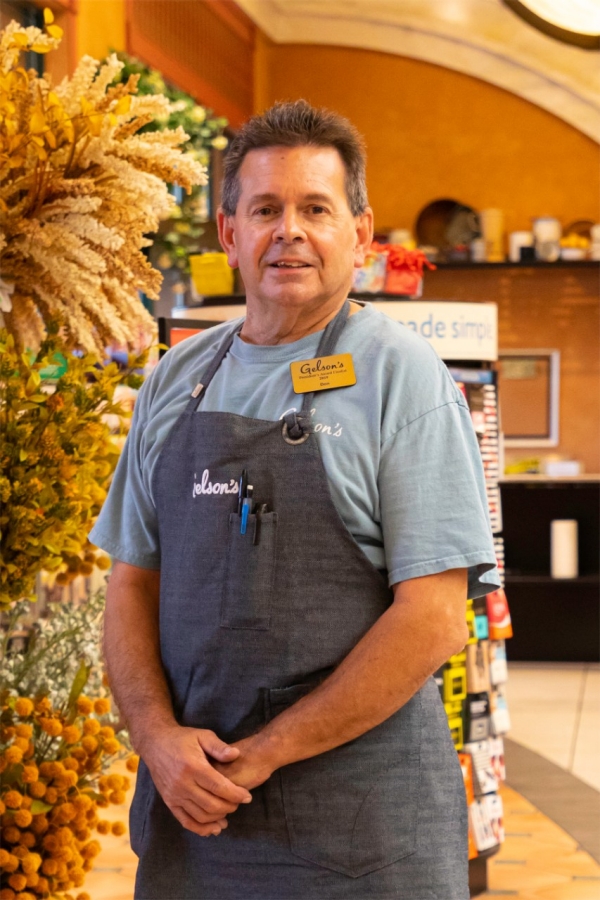 If you don't work at a supermarket, you may be drawing a blank on "order writer" — and you're forgiven if you think it has something to do with the pastry counter or the deli. In fact, Don Plautz is the fellow who orders all the 'center of store' goods at our Irvine store. More lingo! Ask Don what's in the center, and he'll calmly rattle off a formidable list of essentials that starts in olive oil, charges through pet foods, cleaning products, and toothpaste, and lingers in cold drinks, ice cream, energy bars, rice, pasta sauce, canned foods, nuts, candy, baking supplies, spices, coffee, peanut butter, and jam.
He's so comprehensive that one wonders if he's staring at a computer screen or out strolling the 10 aisles under his charge: "No, no, I'm just seeing it in my head," he laughs. "I've been doing this so long — I opened the Irvine store back in 2000, and I'd been doing it for a while before that, so 24 years — I probably dream about the center aisle."
To sum it up, we like to say that Don feeds our Irvine community. "The stars ... and their hound dogs," he says.

In part, his job is about watching what sells and doesn't sell — the food trends that affect how people shop — and adapting with bigger or smaller orders. For example, a trending recipe or diet can trigger a run on seemingly random products, like almond flour or keto ice creams. It's also about getting up really early in the morning. "I come in at 4 a.m. because I've got to get the orders in at 6:45 a.m.," he says. "That's 10 aisles, side A and side B, and you gotta hustle and get it in on time, or you won't get the food the next day. I enjoy it though. I like keeping the stock at level and the shelves full — that's what makes us the best of the best. People come here because they know we'll have it."
And what if we don't have it, whatever it is that you want? It's kind of like you know a guy: Don will special order any foods or essentials we don't carry. And, if you happen to want a full case of something we do carry — say, your favorite cold brew — Don will order it for you. "I like to help our customers get what they want, and I think they come to me because I can get it in a timely fashion, and I'll follow up with a call and tell them when to expect it," he says. "Plus, if they buy a case, we'll give them the sales price if it's on sale, or a 10% discount if it's the regular price. That's a good deal."
There are times, though, when getting things in a timely manner is not easy. "Covid-19 has been very challenging, and this has been a challenging year for me," Don admits. "We were having a tough time keeping the shelves full, mostly due to our suppliers not having what we needed. I went into action — I'd place orders in the early morning, and then come back at night to place more orders. All our suppliers were doing special orders for us."
"But it was a team effort, really," he adds. "Everyone in the store pitched in to get us back on track. That's why Gelson's has a niche in the food industry: we really go above and beyond to take care of all our customers."
The holidays, Don says, can be super busy too. He often comes in at 2 a.m. to do the ordering, so he's the first person in the store, the one who makes sure everything is tip-top — and if it's not, that it will be before we open.
All this to say, order writing is quietly, in a behind-the-scenes way, a very important role. And the reason that Don is so good at it is that, over the course of his long tenure with us, he's built up a warm rapport with the Irvine store and its community. He knows our customers, and he's in tune with what they want and need. He's also close to his coworkers, many of whom have worked in the Irvine store for just as long as he has — we're looking at you, Sherine! — so they're a highly communicative, well-oiled team.
A strong relationship with our suppliers is important too. "Gelson's has been around since 1951," Don says, "so we definitely have long-standing, great relationships with our suppliers. As we've grown, so has our buying power, and now we have the warehouse in Santa Fe Springs, which helps us get better pricing for our customers."
Of course, the real reason Don is such a stellar order writer is that he enjoys all of it, even the hustle — especially the hustle! "I'll be honest," he says, "if you spend a day with me, I'm running from the minute I get there 'til I get home. I order in the morning, the truck comes with the previous day's order, and then I'm throwing loads to get the shelves full for our customers. So every day is busy, every day is a little different, and there's always a new challenge. I don't get bored. The best part of the day for me is all day."