Announcements
/

/

Meet jessica siegel our registered dietitian
Meet Jessica Siegel: Our Registered Dietitian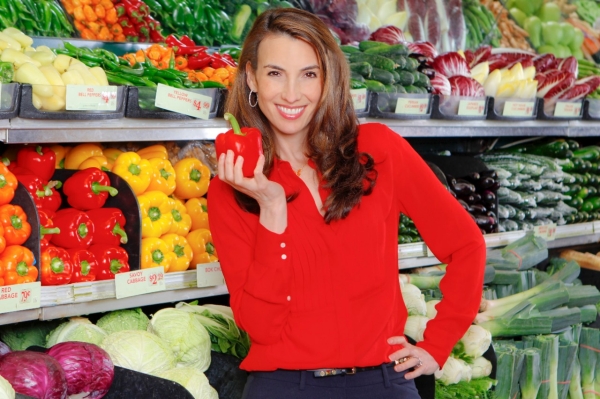 Jessica Siegel is our Registered Dietitian. If you've been to the Gelson's Kitchen, you're probably familiar with her healthy salad creations, and you may even have met her in the store. If you haven't, there's something you should know: she eats dark chocolate every day. Why? Because she loves it, and the enjoyment of food is at the very heart of her approach to helping people eat healthfully at Gelson's. "For over a decade, we've been using the Mediterranean Diet as a framework," she says, "and central to that philosophy is taking pleasure in food and feeling positive about what you eat. You know, it actually mandates sitting down with others to enjoy a meal, to have a glass of wine, relax, and talk."

In fact, it was her affinity for food and cooking, coupled with a love of helping people, that brought Jessica to Gelson's almost 18 years ago.

Jessica went to UC Berkeley for all of her higher education, including a Bachelor of Science in dietetics and a master's degree in public health. While she was there, she developed a real passion for food. "It's hard not to when you live in Berkeley," she says. "There are so many great restaurants, and Alice Waters is there, and she's had such a strong influence on the way we think about food."

In Berkeley, she lived behind a fantastic supermarket, and she liked being there so much, she'd shop every day. She taught herself to cook and threw dinner parties for friends. Along the way, she discovered that it was really satisfying when, at parties or other social events, people would pick her brain about nutrition. By the time she was ready to leave school, she'd put it all together. "I thought, 'If I could sit in a supermarket all day and talk to people about nutrition, that would be my perfect job,'" she says. "It's really the ideal setting to have those conversations because that's where we make our choices about food."

Gelson's didn't invent the role of supermarket dietitian, but we were one of the early pioneers on the West coast — and when Jessica came to work with us, she was one of the first supermarket dietitians in the country. "Service and customer satisfaction are such important values to Gelson's," says Jessica. "And the service I provide helps our customers eat healthier and have a higher quality of life, it elevates their shopping experience, and it's complimentary."

Our customers can call Jessica with dietary questions, and after so many years, she has long-standing relationships with some of them. "When people go to the doctor with a concern, I'm often the first person they think of calling when they get home," she says. "If they have high cholesterol or blood sugar, if they have gained some weight, they can call, and I'm here to help them with their diets."

But most of our customers know Jessica through her line of healthy salads in the Gelson's Kitchen, which she likes to call "healthy fast food." She develops all her recipes using the Mediterranean Diet as a guideline, so they're full of whole grains, veggies, fruits, beans, nuts — and healthy fats, like olive oil and avocado. They're also delicious. In keeping with good nutrition, Jessica focuses on making dishes taste great without leaning on sugar and salt, and builds flavor in other ways. "I always start with the aromatics, like onions, garlic, and mushrooms, and then I'll layer in the spices, fresh herbs, and salt," she says, noting that a little salt is not a bad thing. "Healthy food is only healthy if it's in your body, so you need a little olive oil, Parmesan, and salt to make it taste good enough to eat."

Speaking of salt! We've been putting together our new salt guide, so we got Jessica's recommendation for salting with a light hand. "I like to use Le Saunier de Camargue fleur de sel," she says. "It has 370 milligrams of sodium per quarter teaspoon, as opposed to the 580 you'd get from table salt — that adds up! So if you substitute fleur de sel one for one, you're not sacrificing flavor, but you're definitely having less sodium."

When we ask Jessica what she's been working on lately, she tells us about Gelson's new Mediterranean Diet resources. In February, her newsletter focused on describing the diet; March talks about how to implement it, with menus and recipes. She's also putting up shelf tags throughout the stores to help people find foods that meet the guidelines of the Mediterranean Diet. "We're really working hard to give people the tools to embrace this diet," she says. "I feel so excited about this because I'm sharing important life skills."

"Learning about the Mediterranean Diet is just so freeing," she adds. "One of the things I love about it is that it's not a deprivation diet — you can enjoy food, you can be excited about cooking and eating, and you can still be a healthy weight."

Jessica is also very passionate about helping families eat well. "I have two daughters," she says, "and becoming a parent made me realize that how I eat is so important for how the girls will eat. I'm really conscious of the fact that I'm modeling eating for them, and I try to teach through example."

Her advice for parents who are trying to teach their kids healthy eating habits? Try to eat breakfast and dinner together as a family every day — and just cook one meal for everybody. "I plan the what and when, and then once the food is on the table, my job is done," Jessica says. "The girls decide how much of it they want to eat. They might eat a little of everything or a lot of just one thing, but that autonomy builds eating confidence. This approach can also be life-changing for parents if they've been short-order cooking and chasing kids around with food."

Want more cooking tips, more ideas for planning healthy meals for your family, or more information about the Mediterranean Diet? Call Jessica, she'd love to talk to you. "The best part of my day is when I get to connect with our customers," she says. "When I feel I've helped someone live their best life by helping them with what they eat, it's just so incredibly gratifying to me. Sometimes it's just a quality of life thing. If they save time by eating a healthy Jessica salad instead of cooking, and they get to spend more time with their family, that's really gratifying, too."

You can reach Jessica at nutrition@gelsons.com.