Announcements
/

/

Meet julien fayard the winemaker behind our ros%c3%a9
Meet Julien Fayard, the Winemaker Behind Our Rosé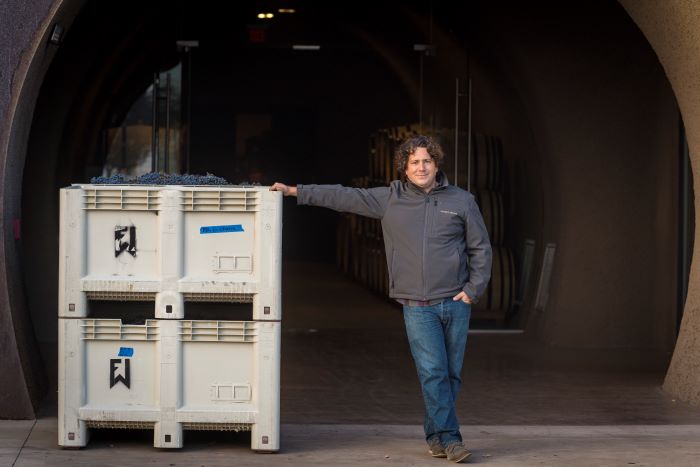 Photo credit: Suzanne Becker Bronk
If you've been following Gelson's private label wines, you know that we've just released our newest vintages. Among them are three outstanding new wines we created in collaboration with Julien Fayard of Azur Wines, including a full-bodied Malbec, a rerelease of our opulent rosé, and, particularly thrilling, the Coombsville Reserve Cabernet Sauvignon. We're so excited about all of the wines, it seemed like a great time to sit down and talk with Julien about winemaking.

A native of Provence, Julien learned how to make wine working at some of the grand Bordeaux chateaux, like Lafite Rothschild and Smith Haut Lafitte. In 2006, he came to Napa Valley; when we asked him why he'd chosen California, he also said it's an exciting place to make wine right now. "Winemaking is still young here," he said. "Americans are drinking more wine, and there is a better outlook — it hasn't reached its potential. People have always been drawn to lush, sweeter wines, now we have the opportunity to create wines that are more layered and austere — wines that pair better with food."

In Napa, Julien spent a few years at Melka Estates, honing his terroir-forward winemaking style with the distinguished French winemaker Philippe Melka. He's now gone on to launch his own projects, making wine for wineries like Purlieu and Le Pich, as well as his own labels — Azur, Covert Estate, and Empreinte. And, of course, projects like Gelson's private label wines.

As a noninterventionist winemaker, Julien spends a lot of time out in the fields with the grapes — he farms about ten acres of grapes in Coombsville, and the rest he sources. "The growers really want all the effort they put into the grapes to translate into great wine," he explained. "To do that, you have to meet with them year-round, to spend time with the grapes, and then when the grapes are harvested, they're already a good quality product, I don't have to work as much in the winery."

For Julien, that's the ideal: he prefers to take a light hand in the winemaking process, so that the grapes hold onto their terroir, the imprint of where they were grown. He compares grapes to coffee beans — the origin impacts the coffee's color, body, and flavor. "With wine, you want that same identity," he said. "Of course, with wine there is more difference year to year, but the most consistent thing we have is the vine root, and the location of the vineyard can drive the wine in a direction."
"If you talk about a Cabernet Sauvignon from Pritchard Hill in Napa Valley or Sauvignon Blanc for New Zealand, people know what to expect," he added. "And they collect them for that reason."
Julien brings all of this winemaking skill to the bottles he creates for Gelson's private label. "My reputation is to make wines that are true to where they are from, that have the varietal richness and texture of California," he says. "So the Cabernet Sauvignon needs to taste like where it comes from, but it also needs to have good structure. These are really crafted wines."
Everyone at Gelson's is very excited about the Coombsville Reserve Cabernet Sauvignon. "My winery is in Coombsville, so I sourced a lot of the fruits," he said. "We use a European approach, so it's fermented in steel, and them matured in oak for 20 months. It's an expensive process, and then we really let it sit after."
In terms of flavor, he says the wine is full of fresh, dark fruit — think blackberries and blueberries — sage, and a little spice from the oak. "It's a dark, intense wine, something that's meant to age, and you can lay down for a long time," he added. He'd pair it with flavorful foods with a fairly high fat content, like a roasted rack of lamb or a rich bolognese.
We were also thrilled to have Julien create a rosé for us, because he's very well known for creating French style rosé using first-growth California grapes. (Wine that's served at some of the wine country's best restaurants, like French Laundry, Meadowood, Auberge du Soleil, Morimoto, and Bouchon.) "We predominantly use Syrah and Grenache grapes grown in granite soils in the Fair Play/Sierra foothills — so high altitude, fresh cold weather, but also sun," he said. "And then we use the same technique as in Provence, picking the grapes early, putting the clusters in the press right away, in cold temperatures, fermenting in stainless steel, and aging in bulk."
The result, Julien says, is a light, fresh wine full of flowers and aromatics. "It's so versatile you can pair it with anything," he added. "If the food is light, the wine will complement it, if the food is spicy, it's a foil, and even if you make a nice steak on a warm day it fits."
Perhaps because his style of winemaking is so minimalist, Julien thinks of wine as food rather than alcohol. "Really, between a cluster of grapes and a bottle of wine, we don't have a lot of physical transformation," he explained. "We don't use heat or cold to ferment the grapes, and the wine is stored in a barrel, so it's a complex but natural process, and a lot of the nutrients remain. It's meant to be consumed at the table, with friends and family, and always with other food."