Announcements
/

/

Meet ralph mendoza our delightful checker
Meet Ralph Mendoza: Our Delightful Checker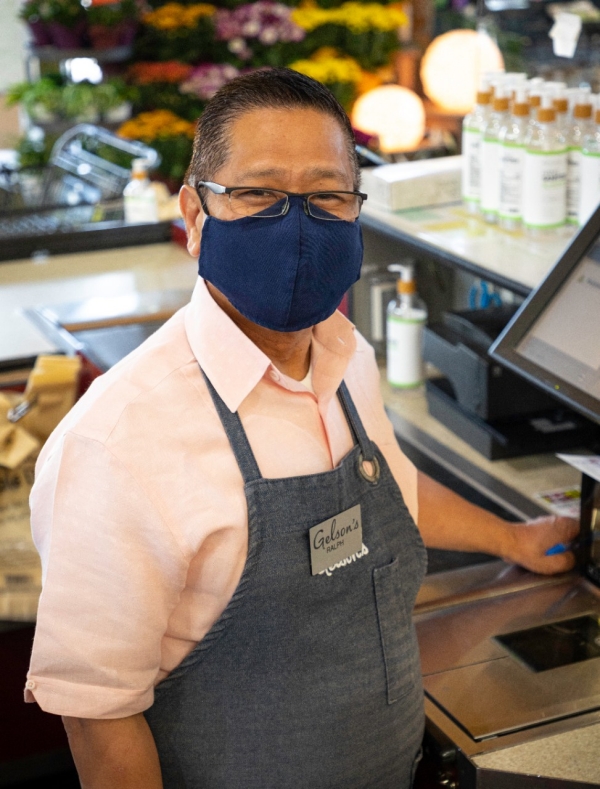 At the Calabasas store, there's a phenomenon we like to call The Ralph Effect. It happens all the time: When the store is busy, when the store is slow. And it doesn't seem to matter how many checkstands are open — some customers will actually choose to wait in line at Ralph Mendoza's checkstand rather than go to an open lane.
Why? They just want to say hi.
What makes Ralph such a favorite? For one thing, he's been with Gelson's for more than 14 years, and in that time he's worked at a bunch of stores: Westlake Village, Calabasas, Encino, and West Hollywood. "Oh my goodness," he says, "I know so many people."
For another, Ralph is pretty much always in a good mood. "I have a lot of positive energy," he says. "It's my personality to be friendly with my coworkers and customers to begin with, but I also want to be as attentive as I can be because that's what makes us special — impeccable customer service and a shopping experience you can't find anywhere else in SoCal."
"I love working with people," he adds. "I'm a people people!"
Ralph says great customer service — from the perspective of his checkstand — means going the extra mile, like helping folks bag up their groceries and carry them out to the car. When we ask for a few bagging tips, he rattles them off: separate cold items from dry or hot items, pack soft perishables like tomatoes on top, and pack all the heavy stuff in the bottom. But really, he says, it's all customer preference. "You ask them: light bag, heavy bag, it's up to them."
Watching Ralph interact with people, though, it's really about connection — people love talking to him. If he's standing in front of his checkstand, people stop to ask him where to find things. If they're curious about something in the Gelson's Kitchen, they'll ask him if he's tried it. If they're looking for a dinner idea, Ralph's got one.
Over time, and all these short conversations, he gets to know his customers by name. "We'll talk about what we ate last night and exchange recipes and travel stories," he says. "I say, 'How's your mom?' They say, 'Where were you last week? Oh, vacation, you deserve to do that.' It's very nice. We chat."
Ralph says Covid-19 has been challenging for him. "I don't want our customers to feel I am afraid of them, and I don't want them to be afraid of me," he says. "The only way is to take precautions — to wear the gloves and mask, and to stay positive."
The plexiglass barriers at our checkstands make it easy to maintain a safe distance, but Ralph has to work a little harder to connect — to create what he calls the energy of the checker and the customer. "But we do. It's funny because we can't hear each other through our masks, so all day long, it's like, 'What did you say? What did you say?'"
Ralph doesn't have a favorite customer. "From day to day, people come and go, and you'd think you'd have a special customer that you like, that you help more," he says, "but not really. I like them all, and I give everything that I can with a smile. A smile goes a long way."
He says the best days are when his customers smile back at him with a joke or a thank you. "Some people like to tease me because my name is Ralph and I work at Gelson's, that makes me feel good. Or when they say, 'You made my day, Ralphie.' That makes my day."
"If I help someone else, and it makes them happy, I feel good, and I have no regrets about the day," he explains. "I'm happy just to make them happy, and our customers are the best — they're always grateful, they always say thank you."