Announcements
Order Your Gourmet Thanksgiving Dinner Today
November 07, 2018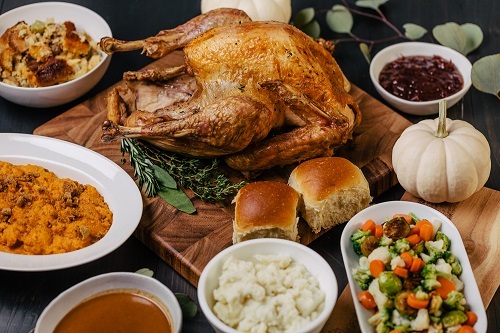 At Gelson's, we believe food is at its very best when we share it with friends and loved ones, so we put a lot of care into our Thanksgiving dinners. We offer all the classic dishes prepared to culinary perfection by some of the best chefs in Southern California — so your family can share a beautiful gourmet meal with very little fuss.
This year, our Thanksgiving dinner includes:
Whole Roasted Turkey: tender and juicy (and plenty of leftovers for your late-night sammies!)
Cornbread Stuffing: sweet cornbread and mildly spicy Italian sausage
Vegetable Medley: broccoli, cauliflower, and brussel sprouts in a creamy cheese sauce
Gingered Yam Soufflé: rummy, whipped yams topped with a gingersnap crumble
Mashed potatoes: buttery, smooth — and ready for gravy
Plus, turkey gravy, cranberry sauce, and dinner rolls
We offer Thanksgiving dinners for 2, 8, and 12 people — and we even have a reduced-sodium option. If you're thinking about doing some of the cooking yourself, all of our menu items are available à la carte, too.

Ordering is simple: Just fill out the online orderin form before midnight on November 21st.

If you'd like a Gelson's dish or meal that's not on our holiday ordering menu, give us a call at your local Gelson's deli. We'll see what we can do!