Announcements
/

/

Our new ginger and turmeric promontory cheese made for gelsons by beehive cheese co
Our New Ginger and Turmeric Promontory Cheese - Made for Gelson's by Beehive Cheese Co.
November 07, 2018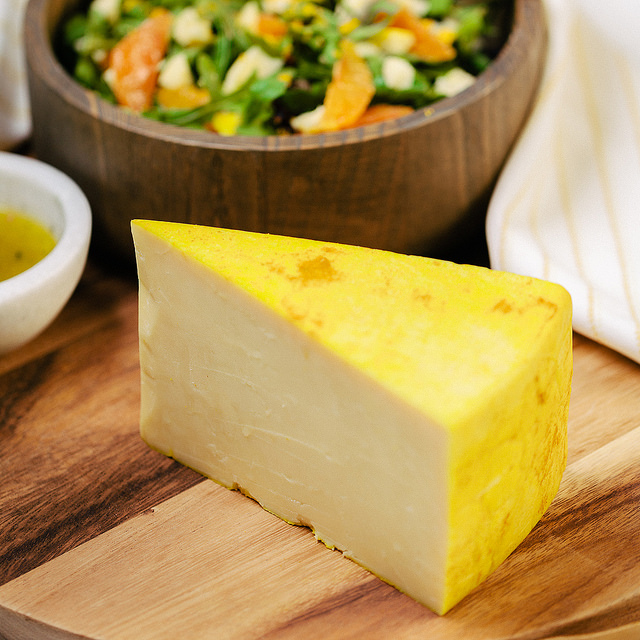 At Gelson's we're passionate about great cheese, and we take it seriously. So when we decided to create a one-of-a-kind, handcrafted holiday cheese for our stores, we partnered with Beehive Cheese Co., an award-winning artisan cheese producer in Northern Utah. And we didn't just commision the cheese — we helped make it!

Earlier this year, we sent our American Cheese Society Certified Cheese Professionals® — Lisa Ali, Tiffany Kim, and Gayle DeCaro — out to make 125 wheels of cheese with the folks at Beehive. They went "elbows-deep" into each step of the cheese-making process, from expelling the whey to "cheddaring" the curds, pressing them into molds, and rubbing the new cheese wheels with turmeric and honey. "We're really proud of the effort we've taken to create this cheese," says Tiffany. "We got to experience first-hand the amount of patience, attention to detail, and hard work that goes into making any artisan cheese."

All that hard work has come home: Our wheels of Gelson's exclusive Beehive Cheese Ginger & Turmeric flavored Promontory Cheese have arrived, and we're pleased to say, the cheese has aged beautifully. Promontory is an Irish-style cheddar with a creamy, smooth texture, and the turmeric really shines through in our holiday version of it, as well as a hint of ginger and honey.

Our Cheese Professionals chose these flavors with both the cheese and our customers in mind. "We felt the hints of ginger and bold flavor of turmeric would be a natural match with the full-bodied texture and citrus undertones of the cheddar," Gayle says. "Plus turmeric is known for its medicinal qualities, and we knew our health-conscious Southern California customers would enjoy it."

It's wonderful sliced on something sweet, like an apple or Carr's Whole Wheat Crackers. And its salty-sweet profile is great in foods, too. We shaved it over a light citrus arugula salad — blood oranges, Cara Cara oranges, and grapefruit — and it was lovely.

But don't take our word for it, come in and try it yourself. And don't wait too long: we previewed the cheese in October and folks snapped it up in a matter of days.