Announcements
Taste Test: Pickles
Taste Test: Pickles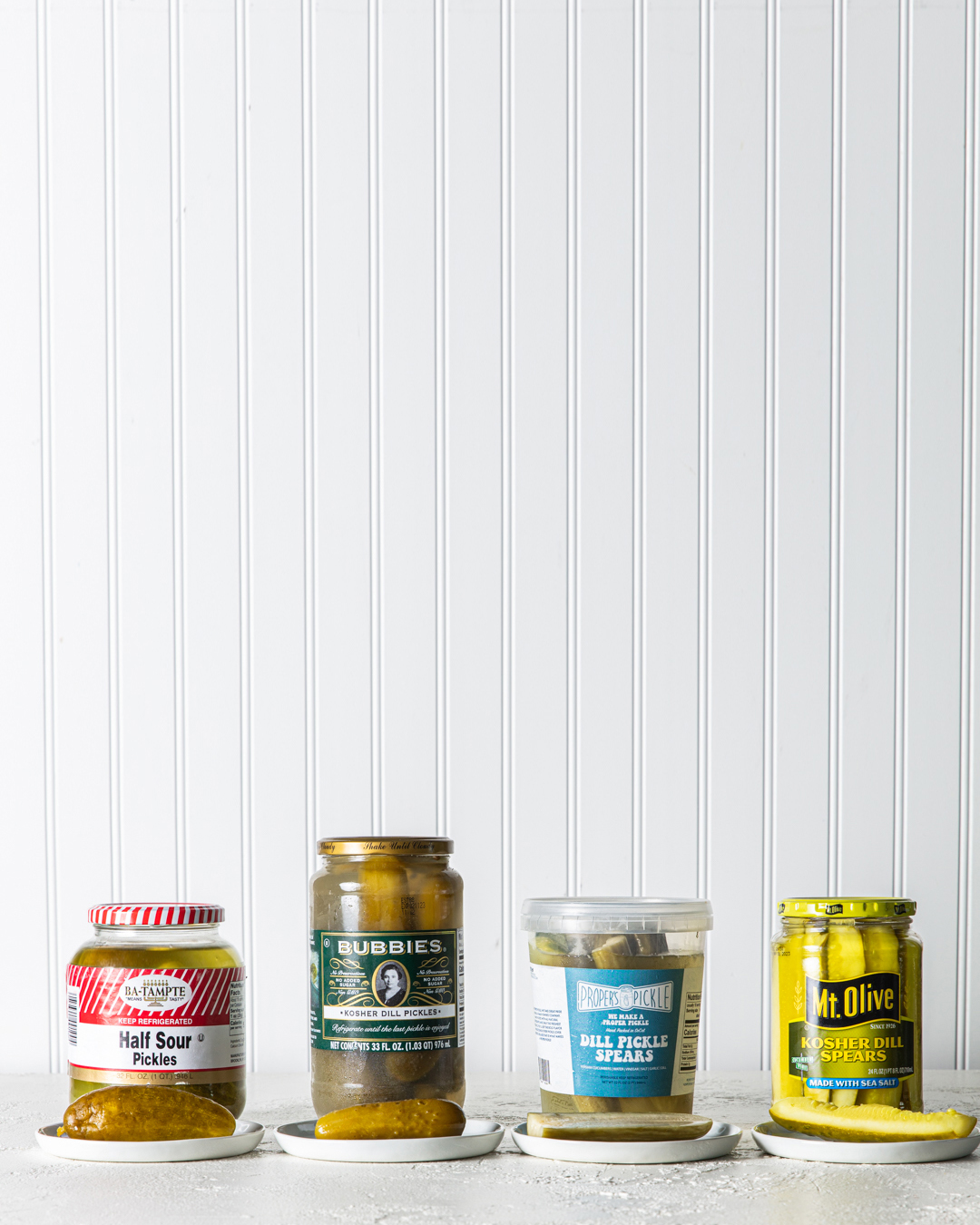 In the test kitchen, we love pickled veggies of all types — making them, eating them, and talking about them. They add so much to our recipes and plates. They're the bright, zippy layer of pickled red onions in our sandwiches, grain bowls, and salads. They're the crunchy, effortless side dish (looking at you, giardiniera). And at happy hours, they're the garnish on our cocktails and the snappy bite that makes our charcuterie colorful, like a pickled red tomato.
So, yeah, we're committed to all the fermented veggies — and most especially the classic pickle, the pickled cucumber. That's the one we add to every burger, chop into our potato salads, and whirl up in dips. It's also one of our favorite snacks. So, when it came time to dig into the pickles we sell on our shelves, our crack team of taste testers was 100% up for it. Not surprisingly, all the pickles we tasted and ranked came with a good story too.
Is this the sum of Gelson's pickle offerings? No, just a few of our favorite savory pickles — so next time you're in the store, be sure to peruse ALL the pickles.
Best Overall Pickle: Proper's Dill Pickle Spears
Pejmon and Bijan Noori launched Proper's Pickle right here in Long Beach, California. Apparently, they come by their pickling chops honestly: their father was an avid pickler of everything, so they grew up with not only an affinity for the ferments, but a keen sense of what makes a good one.
Proper's dill pickles are fermented in a classic vinegar, water, and salt brine with fresh dill and garlic. One of our tasters said they "look natural," which is probably because they're made with such simple, good stuff. They're nice and crunchy with a balanced flavor — tangy, delightfully puckery, and big on dill. If we could only have one pickle in the fridge (gasp!), it would be this one because it's so versatile: the snack pickle you can add to recipes without worrying it'll take over.
Best Crunchy Pickle: Ba-Tampte Half Sour
This one is also a family affair! Ba-Tampte was founded in 1955 by Meyer Silberstein, who grew up in the pickle business — his father and grandfather sold pickles from stands and push carts on the Lower East Side of Manhattan. Today, Silberstein runs Ba-Tampte with his sons and grandsons.
What makes this pickle special? It has a dynamo crunch. It's a New York-style half sour pickle that's naturally fermented with a bunch of garlic and spices. "Half sour" means they're made without vinegar, and they acquire their tanginess through a longer (6 to 8 weeks, in general) fermentation process. The result is a crispy pickle with a super fresh flavor — it's salty and full of garlic, for sure, but you can really taste the cucumber. These are the pickle spears we'd serve next to a sandwich, on a charcuterie platter, or with an ice cold beer at the end of the day.
Best Sweet & Tangy Pickle: Mt. Olive Kosher Dill Spears
This company isn't local to us, they're in North Carolina, but they do have a great local story. Back in the 1920s, Shikrey Baddour, a Lebanese immigrant, had the idea to buy up excess cucumber crops from local Mt. Olive farmers. His plan was to brine the cucumbers and sell them to pickle companies, but nobody wanted to buy them. Undeterred, Baddour and his partner decided to package and sell the pickles themselves. They were able to convince a group of 37 community members to invest in the venture — and the Mt. Olive Pickle Company was formed.
Ninety years later, they're still making really tasty dill pickles. We love everything about them, from the brilliant green-yellow color to the soft crunch and impossible-to-parse sweet, tangy brine. This is the one we'd chop into picnic salads — potato, egg, or macaroni — where its sweet zing would provide a nice (but not alarming) break in the creaminess. Those same qualities would be fantastic in a croque monsieur or a cubano.
Best Burger & Sandwich Pickle: Bubbies Kosher Dill Pickles
Ever wondered whose bubbie adorns the label of Bubbies pickle jars? Here's the scoop: John and Cathy Gray, a couple of San Francisco bankers, bought the pickle company from its founder sometime in the 80s. The pickles were amazing, but the company itself was failing — the Grays thought it sounded like their ticket to the good life! In the process of rebranding the pickles, they mounted a search for the perfect bubbie to adorn the bottles … and found her in a framed photo on their very own mantlepiece.
We love these pickles: they remind us of Grandma's dill pickles in the best way. They're garlicky, herby, tangy, and just the right amount of briny and bright. Bubbies dill pickles are softer than some, but we don't mind — they taste wonderful sliced in a burger or a sandwich, where they meld with the other layers and add some awesome, pickle-y funk. P.S. The Bubbies brine makes a mighty fine dirty martini!