Announcements
/

/

Thanksgiving side dishes
Thanksgiving Side Dishes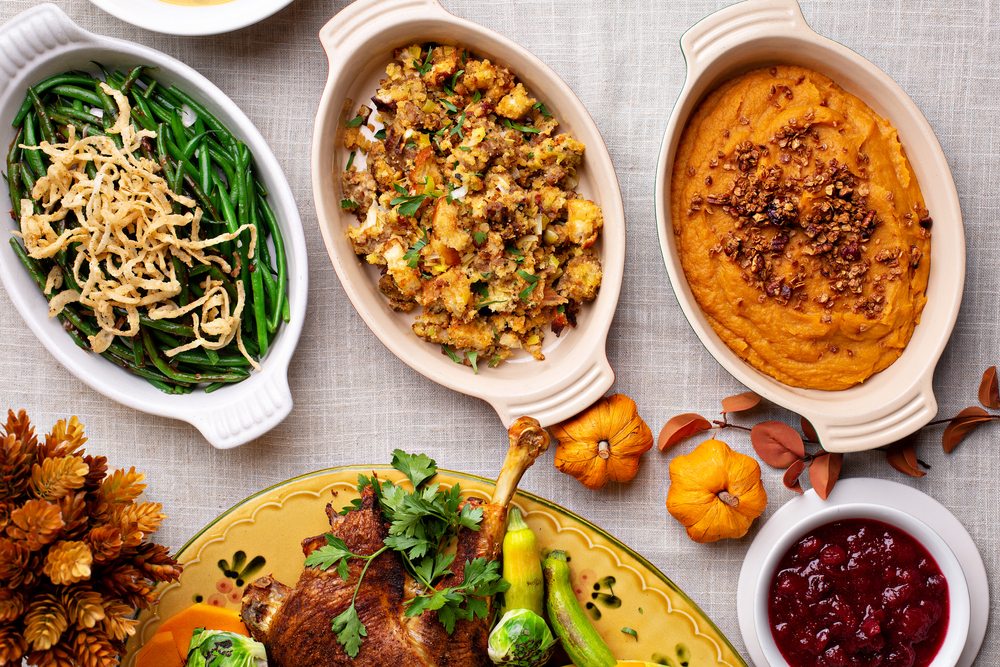 Even though the Thanksgiving turkey is typically featured as the centerpiece of the holiday table, the side dishes are the true stars of the show for many people. Whether you prefer to stick to tradition or enjoy switching it up with creative Thanksgiving side dishes, there's no doubt that variety is the spice of life – and the "turkey day" dinner.
We've put together a guide to the best Thanksgiving sides to try this year, from classic holiday staples to reinvented favorites.
Thanksgiving Side Dish Ideas for Your Holiday Gathering
Sweet and savory, vegetables and hearty carbs, and everything in between: our list of Thanksgiving sides is checking all the boxes.
If you spend all year looking forward to the buttery, crunchy, and decadent dish that is sweet potato casserole, you aren't alone – there's a reason it's a tasty tradition. This recipe has you roast the sweet potatoes instead of boiling them so that you can really maximize the flavor and spend less time in the kitchen. If you're looking for Thanksgiving prep tips, roast the sweet potatoes up to three days ahead of time. Then, all you have to do is finish up the casserole, assemble the topping, and get ready to eat!
Green bean casserole is an amazing balance between healthy (after all, it does feature green beans) and indulgent. In other words, it's a perfect side dish for your Thanksgiving table. This online recipe has earned more than 1,000 glowing reviews and a flawless five-star rating, so you know it's going to be good. But don't be fooled by the layered flavors; you're only going to need four ingredients and less than a half-hour from start to finish.
What's the old saying – don't fix what isn't broken? That could certainly be said of this recipe for homemade mashed potatoes, which skips any extra frills in favor of old-fashioned flavor. You can finally settle the debates of milk vs. cream, butter vs. sour cream, and every other spud-centered disagreement because these rich, creamy potatoes are tough to beat. A mix of Russet and Yukon Gold potatoes is an easy way to achieve that perfectly smooth texture, and full-fat ingredients, generous seasonings, and creative mix-ins take the taste to the next level.
Stuffing is a must at any Thanksgiving dinner, and this recipe is a great one to have in your repertoire. It keeps things pretty simple but doesn't disappoint – from the first bite, you'll be thinking about going back for seconds. Fresh herbs and leeks (instead of regular onions) add a little something extra, while a base of crusty sourdough bread sets this stuffing apart from all others you've had in the past.
When you're looking for healthy Thanksgiving side dishes that don't necessarily taste healthy, this recipe is it. Fill up on deliciously caramelized Brussels sprouts, and you'll feel good that you got your greens… but don't worry, because there's some bacon and maple in every bite as well. With just a single skillet and minimal time, you can wow your guests with this great Thanksgiving vegetable dish.
If you're used to cranberry sauce out of the can, trying this easy homemade version will be a total game-changer. It requires just three easy-to-find ingredients and is worlds away from anything you'd find in the canned food aisle.
Get All Your 2021 Thanksgiving Necessities at Gelson's
Are you feeling inspired by these unique ideas for Thanksgiving side dishes? We certainly hope so – and there's no rule that you have to wait until holiday dinner to start trying out a few of these recipes!
When you make your Thanksgiving dinner shopping list, you shouldn't have to worry about traveling to multiple stores, searching for ingredients, and heading home empty-handed. Instead, make Gelson's your go-to grocery store for the holiday season (and year-round!). Here, we carry an extensive selection of top-quality brands and products, including farm-fresh produce, premium meats and seafood, pantry staples, baked goods, and so much more. Whether you're planning a homemade holiday or hoping for something quick and convenient, we have you covered.
Find everything you need for a delicious, memorable, and stress-free Thanksgiving at your neighborhood Gelson's today!
Image Source: Elena Veselova / Shutterstock