Announcements
/

/

Making your big game party the real mvp at gelsons
Making Your Big Game Party the Real MVP at Gelson's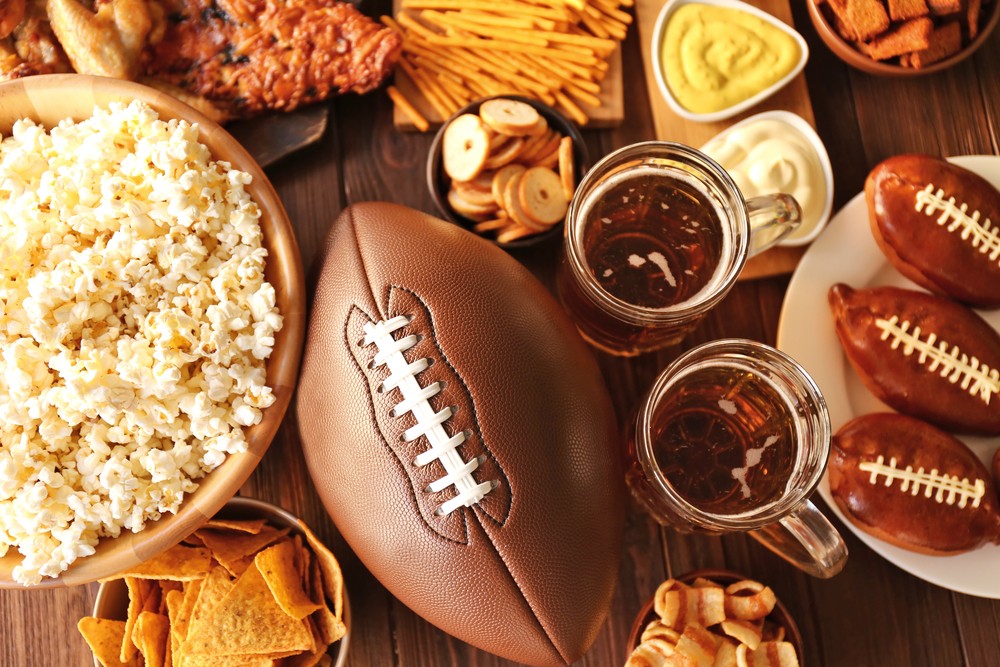 This February, two of the top football teams in the league will battle it out on the gridiron for the most anticipated game of the season. There are few things more American than football, so why not celebrate the occasion with a big game party? Make 2020 the year you claim the title of MVP party planner and host with these big game party ideas.
Stock Up on Crowd-Pleasing Snacks & Favorites
The best game-day snacks have a few key characteristics in common: they're easy to eat while cheering on your favorite team, have the perfect mix of classic and creative elements, and are packed with flavors that will make your taste buds do a victory dance.
Chips, veggies, and dips
There's a reason that dip is a go-to game time snack – together with chips and fresh veggies, it offers a delicious, bite-size flavor touchdown. You can't go wrong with a seven-layer dip served with tortilla chips, as well as a traditional ranch dip to pair with carrots and celery.
Buffalo wings
Wings are non-negotiable when it comes to game day eats, and spicy Buffalo sauce will give the on-field action a run for its money. If your guests aren't big on heat, swap out Buffalo for a rich honey barbecue or teriyaki sauce instead.
Sliders
Sliders transform some of the best sandwiches of all time into their equally-delectable mini versions, perfect for a mess-free meal during halftime. Whether you go with classic cheeseburger sliders or choose chicken, ahi tuna, or another less traditional ingredient, the possibilities are virtually endless.
Make Sure You Have Your Beverages Covered
Think of food as the quarterback of your game day party and drinks as the star receiver – both equally important to taking home a win. Stock your cooler with a variety of beers (including your favorite craft brews), then elevate your beverage game with one of these creative cocktails.
Football Fanatic Punch
Stir together with a mix of vodka, beer, club soda, and limeade, then jazz it up with fresh lime slices. In minutes, you'll have a fizzy and refreshing alcoholic punch that makes a great addition to your party.
Spiked Sweet Tea
Add a touch of Southern-style charm to your festivities with spiked sweet tea, made with sweet tea vodka, lemonade, and fresh mint.
Hot and Spicy Jelly Shots
Give this frat party favorite a grown-up spin by elevating it with premium-quality tequila and zesty lime, serving each shot in a jalapeño for an extra kick of heat.
Score a Sweet Win with Fun Desserts
A decadent dessert can help you sweeten a game-winning play or indulge in some sugar-coated comfort after a tough loss. Make something with a fun football theme to score extra points with guests. Use a cookie cutter to make football-shaped brownies, complete with icing stitching. Or, dip strawberries in chocolate and decorate with a white chocolate seam for a fruity favorite that will make everyone smile.
Get Ready for Your Big Game Party with Help from Gelson's
Even if your team doesn't claim the win, you can still take home a hosting victory. Make it easy to bring your big game party ideas to life by shopping at Gelson's, where you'll find everything you need to treat your guests to a touchdown-worthy celebration. Don't feel like tackling the task of making game day food from scratch? Trust the Gelson's catering and deli team to whip up delicious dishes that everyone is sure to love.
Start planning your big game day celebration now and make Gelson's your one and only stop for all your party necessities.