Recipes
Banana, Coffee, Cashew & Cocoa Smoothie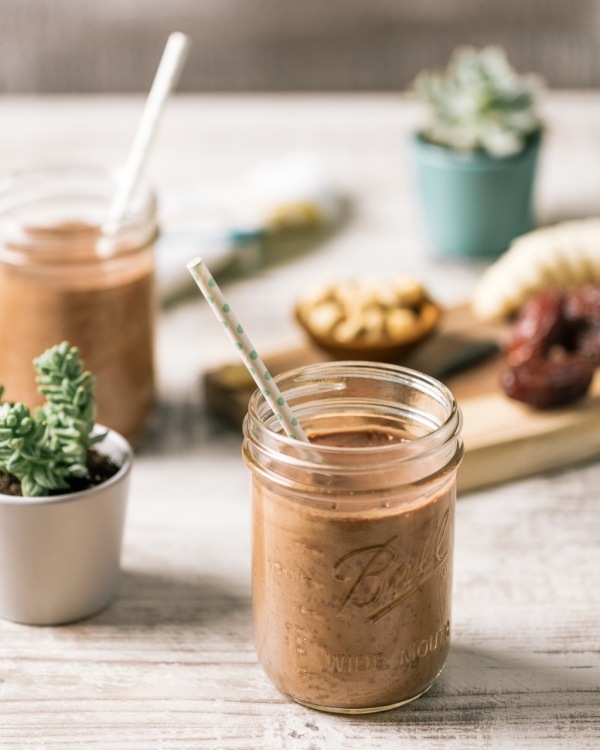 This one is for those sleepy mornings when you wake up feeling all wishy-washy about breakfast. You kind of want oatmeal, you kind of want a banana with nut butter … you kinda want a piece of that leftover chocolate cake. Whirl up this smoothie, and you can have it all — and a little coffee!
It's naturally sweet bananas, dates, oats, cashews, and cocoa blended up with coffee and cashew milk. It tastes chocolaty and banana-forward, and it has a super luxe texture that falls somewhere between mousse and a milkshake. But for all that scrumptiousness, it's not terribly sweet, and it's just enough protein and caffeine to pick you up and carry you through the morning.

We also love this smoothie after a workout — it's a satisfying, healthy stand-in for a chocolate bar when we're trying to be good. And, for that matter, it makes a pretty great after-dinner treat, especially if you're hoping to get a little more work done before bed.

Servings: 1
Ingredients
1 banana, preferably frozen
2 Medjool dates, pitted
½ cup cold-brew coffee
¼ cup cashew milk
¼ cup raw cashews, preferably soaked overnight
3 Tbsp old-fashioned oats, preferably soaked overnight
1 Tbsp unsweetened cocoa powder
Pinch ground cardamom
Pinch kosher salt
½ cup ice
Directions
In a blender, purée all the ingredients together using the smoothie or ice crush setting.
Recipe source: Epicurious