Recipes
Blueberry & Corn Crisp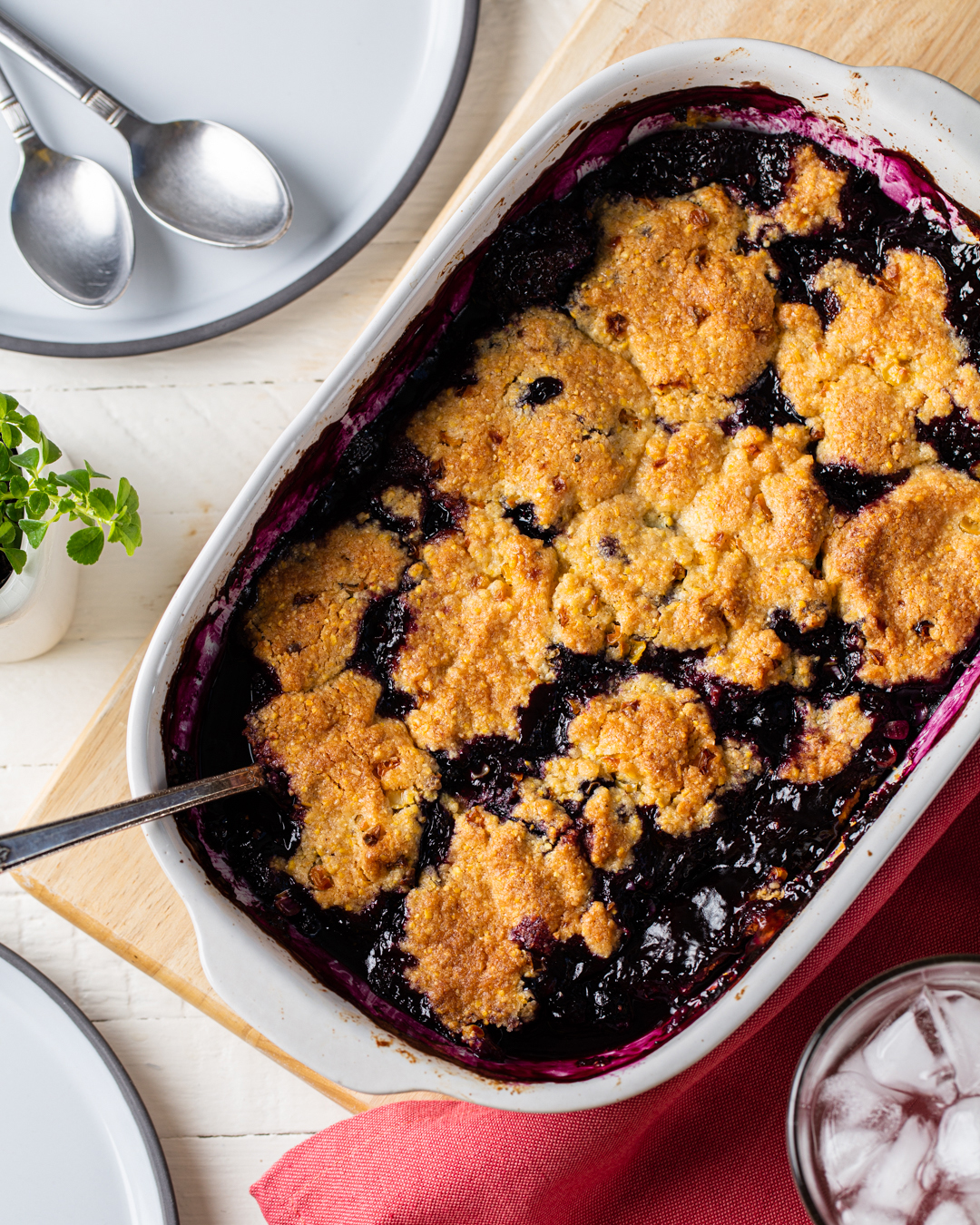 When it comes to crisps, we're always in: we love any combination of bubbling hot summer fruit and buttery crumble topping. But this blueberry and corn crisp is especially irresistible. It's full of fresh lemon, which tempers the blueberry's natural inclination toward sweetness and brings out all its tangy complexity. The crumble is made with cornmeal, sweet corn, and butter. In the oven, it bakes up equal parts soft, buttery, crisp, and crunchy — the perfect corny companion to the gooey blueberries.
Like all crisps, this one is so quick to put together, it makes an easy last-minute dessert. But if you're more on top of it than that, you can make it up to one day ahead. Either way, it's a fantastic end to a casual meal: think Sunday suppers on the patio. And, yes, it's even better with a big dollop of whipped cream or a scoop of vanilla ice cream.

Servings: 8
Ingredients
5 cups fresh (or frozen, thawed) blueberries
⅓ cup sugar
2 tsp finely grated lemon zest
3 Tbsp fresh lemon juice
1 Tbsp cornstarch
1 ¼ tsp kosher salt, divided
⅔ cup all-purpose flour
⅔ cup coarse-grind cornmeal or polenta
⅓ cup sugar
10 Tbsp chilled unsalted butter, cut into pieces
1 cup fresh corn kernels (from about 1 large ear)
Directions
Preheat oven to 375°.

To make the filling: in a shallow, 2-quart baking dish, toss together the blueberries, sugar, lemon zest, lemon juice, cornstarch, and ¼ teaspoon salt. Set aside.

To make the crumble topping: In a medium bowl, whisk together the flour, cornmeal, sugar, and remaining teaspoon of salt. Using your hands, work the butter into the dry ingredients until no dry spots remain and the mixture holds together when squeezed.

Add the corn to the topping and use your fingers to work it into the topping, which will have a dough-like consistency, until it is evenly distributed.

Press the topping between your fingers and break it into large pieces over filling.

Bake the crisp until topping is golden brown and the juices are thick and bubbling, 50 to 60 minutes. Transfer it to a wire rack and let it cool for 30 minutes before serving. If you make it ahead, store it tightly covered at room temperature.

Recipe source: Bon Appetit