Beverage Recipes
Blueberry Shrub Cocktail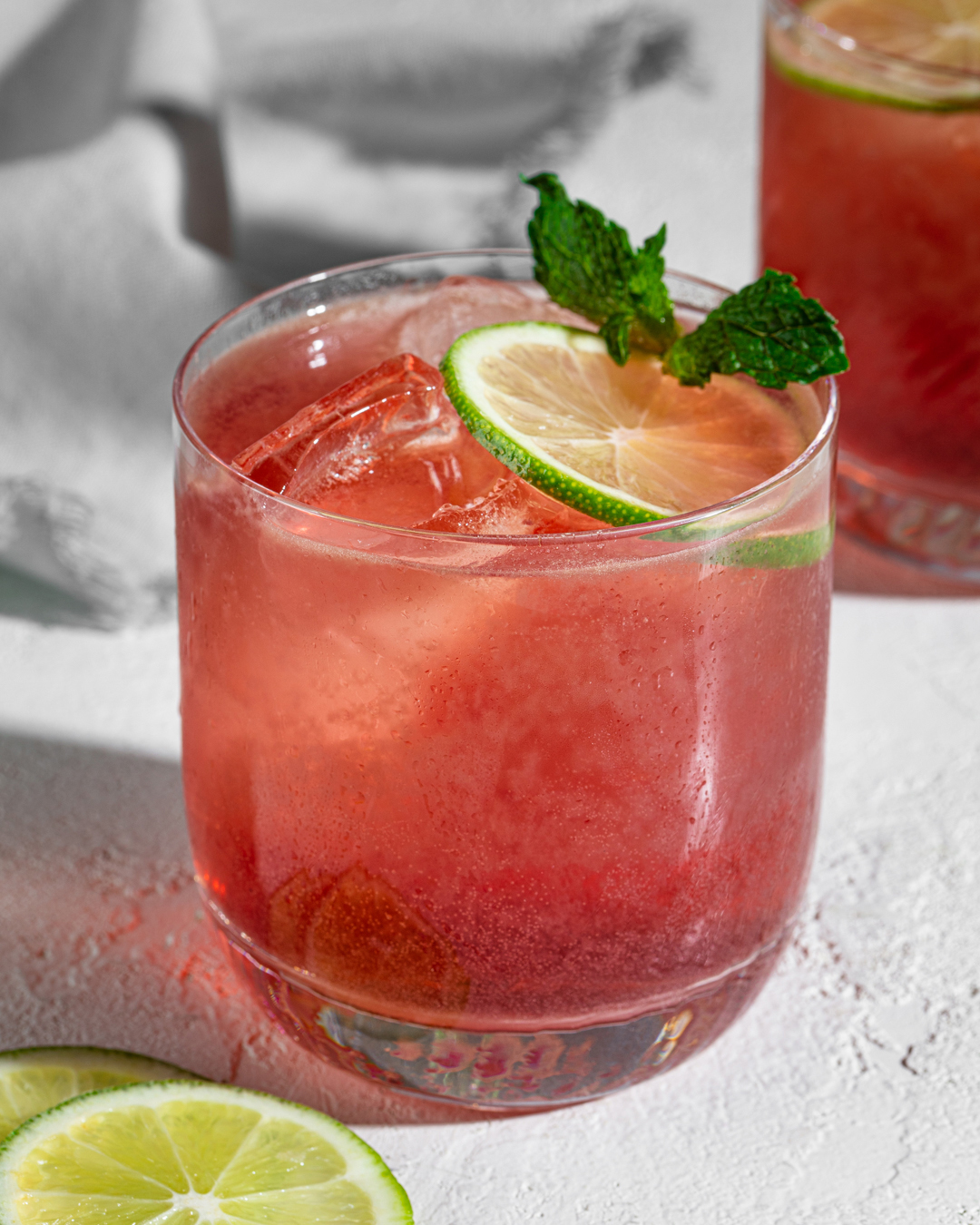 In summertime, we love keeping a jar of shrub, or drinking vinegar, in our fridge for some grown-up, refreshing potables. What is a shrub, exactly? At its most basic, a blend of fruit juice, sugar, and vinegar — though you can also add any number of herbs or spices.
To make this shrub, we blend fresh blueberries, raw apple cider vinegar, water, and honey, and then infuse the mixture with fresh, spicy ginger. You can drink the shrub as is or add a splash of soda water. But here, we give it a cocktail glow-up with a couple ounces of herbaceous, floral Hendrick's gin.
Two ounces of gin in a single drink sounds like it'd make any imbiber a little pie-eyed. Combining it with the kicky apple cider vinegar-laced shrub? Well, it's enough to make this cocktail taste fall-asleep-in-a-lawn-chair boozy … but it really isn't. (What a deceptive little bugger!) Mostly, it's juicy, subtly sweet, and — thanks to a splash of bubbly water — refreshingly fizzy.
For garnishes, we went with a lime wheel for a hint of tartness, as well as a sprig of mint. We just love how you get a gentle waft of cool, minty freshness with every sip — the perfect foil to the punchy shrub.
Altogether, it's a lovely sipper for a hot summer's day. We have a habit of shaking one up after an afternoon spent working in the garden under that scorching SoCal sun, but it's also a great drink for group happy hours: just set out a bucket of ice and a pitcher of the shrub and gin mixture, and then let folks add their own bubbly water and garnishes.
Our tips: If you'd prefer a no-proof drink, just skip the gin! Not in the mood for blueberry or gin? Try our strawberry shrub and rum cocktail.

Yield: 1 ½ cups shrub / 1 cocktail
Ingredients
For the blueberry-ginger shrub:
1 cup blueberries, rinsed
½ cup water
½ cup raw apple cider vinegar
⅓ cup honey
6 peeled ginger coins (1" x ¼")
For the cocktail:
2 oz Hendrick's gin
2 oz blueberry-ginger shrub
Rocks ice
Sparkling water
Lime wheel, for garnish
Gelson's organic mint sprig, for garnish
Directions
To make the shrub: Combine the blueberries, water, apple cider vinegar, and honey in a 1-quart mason jar or liquid measuring cup. Using an immersion blender, blend until smooth.

Add the ginger coins, cover the jar tightly, and shake to incorporate. Chill the shrub in the refrigerator overnight.

The next day, shake the shrub to reincorporate it, then strain through a sieve lined with cheesecloth. Tap the sides of the sieve to help the liquid pass through. Discard the pulp and transfer the shrub to a clean jar. Note: the shrub can be stored in an airtight container in the refrigerator for up to 2 weeks.

To make the cocktail: Fill a shaker halfway with ice cubes. Add the Hendrick's gin and blueberry-ginger shrub, and shake until chilled through, about 30 seconds.

Strain the cocktail into a lowball glass filled with rocks ice. Top with sparkling water and garnish with a lime wheel and mint sprig. Enjoy!
Calculate nutrition information for this recipe.