Breakfast Recipes
Breakfast Muffin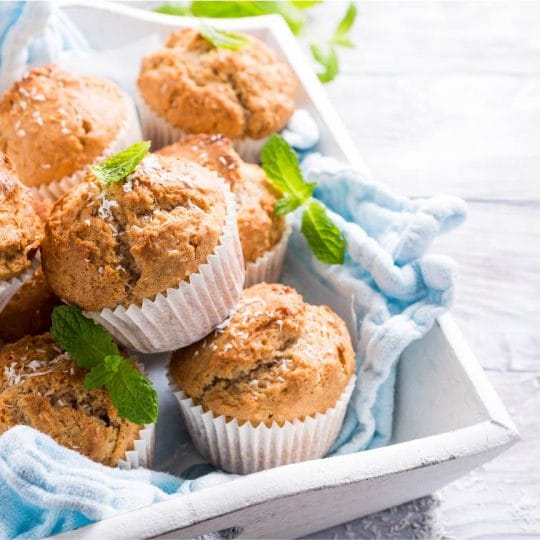 Breakfast
Breakfast Muffin
Serves: 12
Ingredients
1 cup King Arthur organic unbleached whole wheat flour
3/4 cup ground flaxseed meal
1 1/4 cup Kind granola cinnamon oat clusters
1/4 teaspoon Le Saunier de Camargue fleur de sel sea salt
3/4 cup shredded carrots about 1 large
3/4 cup shredded zucchini about 1 medium
1 medium organic apple with skin cored and shredded
1/2 cup Flanigan Farms chopped walnuts
1/2 cup Organic Valley egg whites 4 whites
3/4 cup Straus Family Creamery organic plain whole milk yogurt
1 teaspoon vanilla extract
1 tablespoon Bob's Red Mill chia seeds optional
6 ounces Friendship fresh cut farmer cheese
Directions
Preheat the oven to 350º Fahrenheit. Spray a standard size muffin tin 2 1/2 inch diameter sheet with cooking spray.
In a large mixing bowl, combine flour, flax seeds, granola, sugar, baking soda, baking powder, salt, cinnamon, carrots, zucchini, apple, and walnuts. Mix well.
In a medium mixing bowl, beat the egg whites together with a wire whisk. Add the yogurt and vanilla and whisk together. Add to the dry ingredients and mix just until the dry ingredients are moist and everything is combined. The batter will be thick and chunky.
Divide the batter among the 12 muffin cups. Do not smooth over the tops. Sprinkle the tops of each muffin with a pinch of chia seeds, if desired. Bake for 17 to 20 minutes, until a wooden toothpick inserted into a muffin comes out clean or the top springs back when pressed gently. Remove from oven and let stand three minutes before removing muffins from tins.
While muffins are cooling, mix farmer cheese and honey together. Serve muffins with cheese to spread on top or freeze any portion you will not eat within three days.