Recipes
Brussels Sprouts in Ponzu Sauce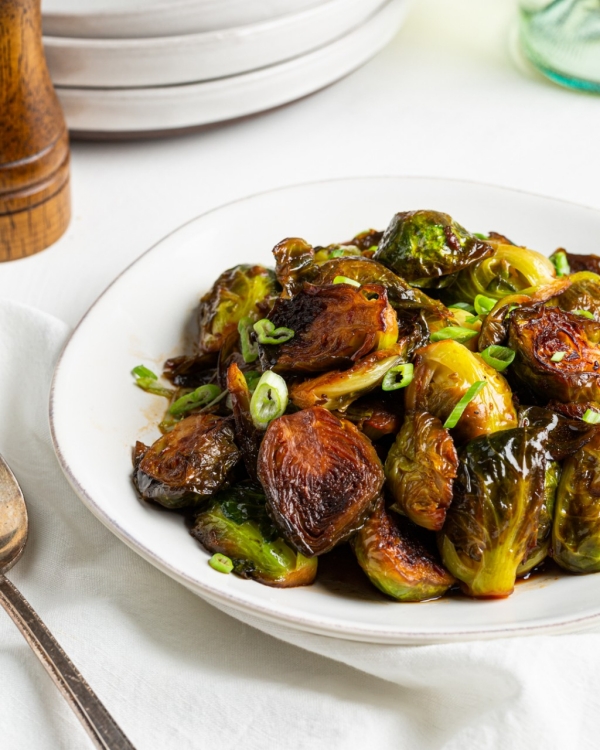 For a while now, Brussels sprouts have been the darling of the bar and appetizer menu, showing up nearly everywhere, coated in all kinds of bright savory sauces and seared to a crisp. We couldn't be happier — we can't get enough of them! In fact, we've developed a bit of a habit, so here's a recipe.
Ponzu sauce is a rollicking combination of soy, citrus, chili sauce, honey, sesame oil, and rice wine and vinegar. It hits the five basic tastes — sweet, sour, bitter, salty, umami — and it's pleasantly spicy too. In the pan, it combines with the olive oil to give the Brussels sprouts a shiny, glazed coating that seals in all the seasoning and moisture. The finished sprout is perfectly tender on the inside, golden brown and crisp on the outside, and full of deep, tangy sweet flavor.


Our tip: These sprouts will pair beautifully with a very simply prepared steak. They're also, as mentioned, a fantastic appetizer, perfectly suited to a beer or a bourbon drink. We like them with a crisp Kona Brewing Co. Longboard Island Lager. Its spicy hops are a strong match for the sprouts.


Ingredients
1 lb fresh Brussels sprouts, trimmed
3 Tbsp soy sauce
1 ½ tbsp lime juice
1 Tbsp lemon juice
2 tsp sambal oelek (chili sauce)
1 tsp honey
½ tsp mirin
½ tsp rice vinegar
¼ tsp sesame oil
2 Tbsp olive oil
Black pepper to taste


Directions
Fill a large bowl with ice and cold water and set it in the sink.
Bring a large pot of water to a boil, and then blanch the Brussels sprouts for about 2 minutes. Using a slotted spoon, immediately remove them from the water and plunge them in the ice bath.
Drain the Brussels sprouts, cut them in half from top to bottom, and set them aside.
To make the ponzu sauce: In a medium bowl, combine the soy sauce, lime juice, lemon juice, sambal oelek, honey, mirin, rice vinegar, and sesame oil. Whisk together and set aside.
In a large nonstick skillet or sauté pan, heat the olive oil over medium-high heat and add the Brussels sprout halves, cut side down. Sear until golden brown, about 5 minutes.
Pour the ponzu sauce over the Brussels sprouts, toss together, and continue cooking until the sauce is reduced and the sprouts are glazed.
Season with black pepper and serve hot.