Appetizer Recipes
Buffalo Wings and Blue Cheese Dressing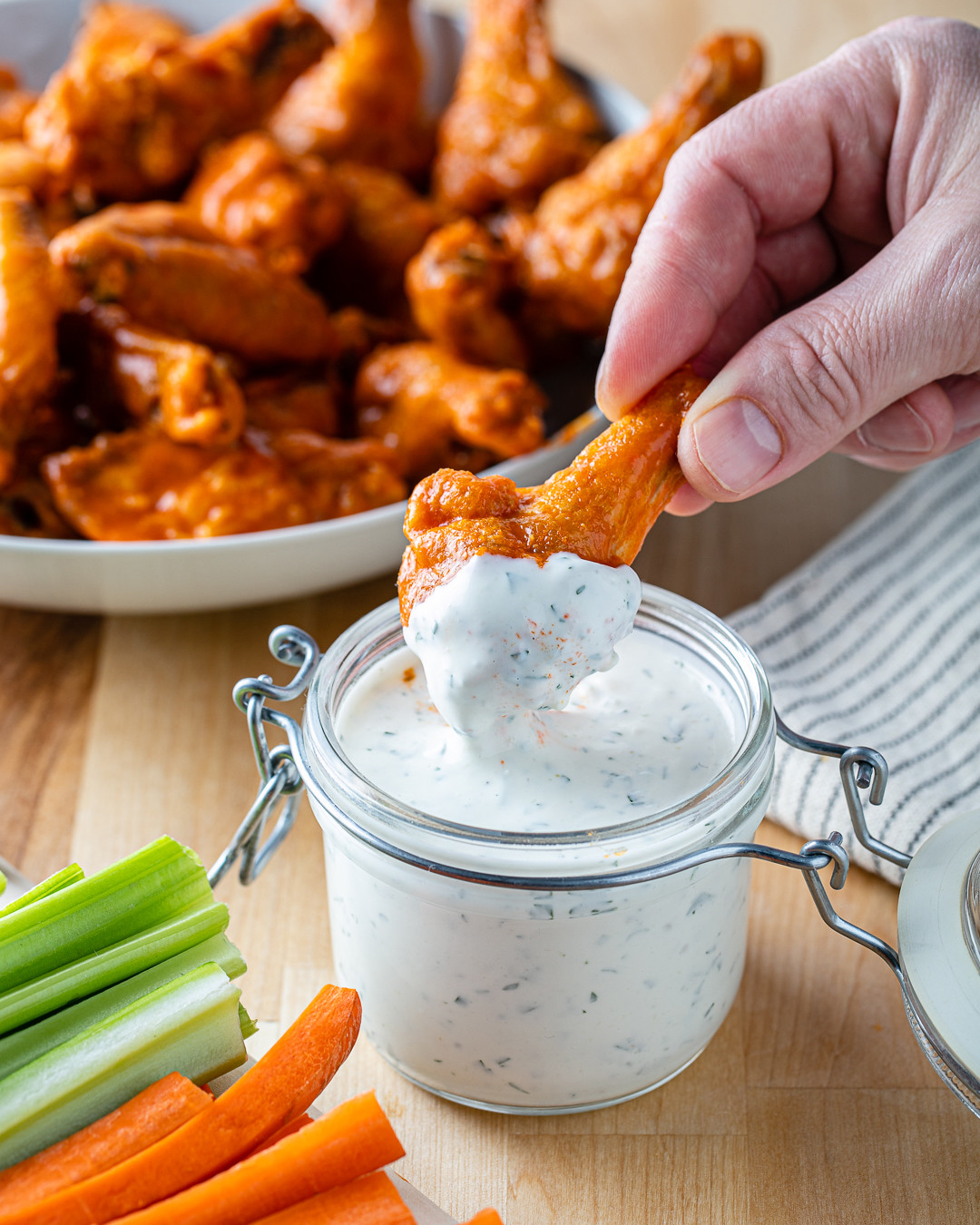 It's that time of year: we're all thinking about chicken wings. Even people who don't know a goal post from an Instagram post are pondering how delicious a platter of spicy wings and rich blue cheese dip would be just about now. If you're with us, but you don't really have the inclination to get into deep-frying, here's some great news: This recipe delivers all the crispiness of your favorite restaurant wings, but there's no frying involved. Instead, we give them a long, slow oven bake.
The secret, believe it or not, is to coat the wings in baking powder, which creates a crunchy exterior that perfectly mimics what a deep-fry delivers. The oven setting plays an important role too: Baking on very low heat for the first half hour allows the skin to crisp up. In the second half hour, we turn the oven up, slather on the Buffalo sauce — buttery, tangy, and full of spice — and let the crispy-crusty exterior develop, just like it would in a deep fryer.
Of course, as much as a platter of chicken wings is about the meat, it's also about the blue cheese dressing. Ours is made with blue cheese crumbles, mayo, sour cream, buttermilk, and just a titch of white wine vinegar. It's super creamy and tangy — with just exactly enough mild blue cheese funk. There's a little garlic and parsley in there too, and we like how they balance out all the rich flavors. This is a recipe to keep around: it's light like a dressing and perfect for dipping and tossing.
In fact, this whole recipe set is a keeper. It's quick and easy, and there's hardly any clean up — and yet it is pretty much a guaranteed game day win. You can make the sauce and dressing ahead of time, then put the wings in the oven at the start of the big game. By halftime, you'll be ready to roll.
Our tip: If you manage to have any leftovers of the blue cheese dressing, there are so many ways you can use it in the days ahead, including as a topping for baked potatoes, in place of mayo in sandwiches and wraps, or mixed into your next batch of just-for-grownups mac and cheese.
Servings: 6
Ingredients
For the wings:
4 lb chicken wings and drumettes
5 tsp baking powder
¾ tsp kosher salt
For the Buffalo sauce:
4 Tbsp unsalted butter, melted
½ cup Frank's RedHot Original sauce
1 Tbsp brown sugar
¼ tsp kosher salt
Directions
To make the wings: Pat the chicken dry with a paper towel.

Preheat the oven to 250° and place one oven rack in the top quarter of the oven and one in the bottom quarter.

Line a rimmed baking sheet with foil and set a cooling rack on top of it.

In a large bowl, sprinkle the wings with the baking powder, tossing to evenly distribute the baking powder.

Transfer the wings to the baking sheet and bake on the lower rack for 30 minutes.

While the wings are baking, make the Buffalo sauce: In a small saucepan, whisk together the melted butter, hot sauce, brown sugar, and salt. Bring to medium heat and whisk until the sugar has dissolved. Keep warm.

Move the wings to the higher rack and turn the oven up to 425°. Bake for 30 minutes more, or until golden brown and very crispy.

Toss the wings in the Buffalo sauce and serve immediately with blue cheese dressing (see below).
Recipe source: RecipeTin Eats
Blue Cheese Dressing
Yield: 2 cups
Ingredients
¾ cup mayonnaise
½ cup sour cream
¾ cup buttermilk
¾ cup blue cheese crumbles
2 tsp white wine vinegar
2 Tbsp minced fresh parsley
½ tsp Gelson's garlic powder
Kosher salt, to taste
Freshly ground Gelson's black pepper, to taste
Directions
In a medium bowl, mix together the mayonnaise, sour cream, buttermilk, blue cheese, vinegar, parsley, and garlic powder until incorporated and smooth.

Season with salt and pepper.

Store in an airtight container in the refrigerator for up to two weeks.
Calculate nutrition information for this recipe.