Appetizer Recipes
Cauliflower Tabbouleh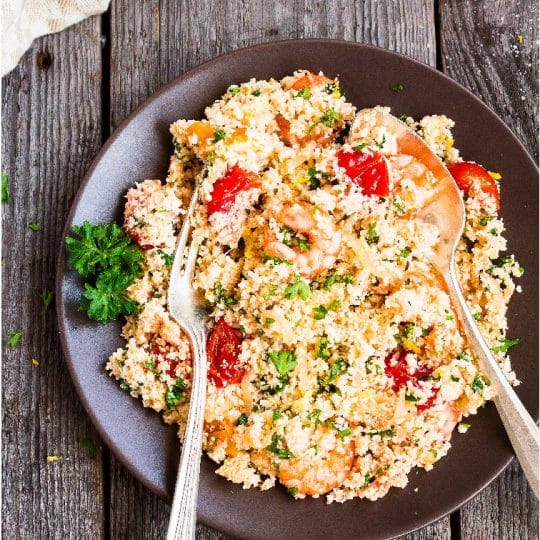 Appetizer
Cauliflower Tabbouleh
Serves: 5
Ingredients
1 large clove Melissa's organic garlic minced
1/3 cup fresh lemon juice
1/3 cup Napa Valley organic olive oil
1/4 teaspoon ground cinnamon
1/2 teaspoon Le Saunier de Camargue fleur de sel sea salt
1/2 teaspoon black pepper
1 pint Del Cabo organic heirloom cherry tomato medley tomatoes quartered
1 organic English cucumber seeded finely chopped
2 1/2 cups about 2 bunches Italian parsley leaves finely chopped
1 cup mint leaves about 1 large bunch finely chopped
4 green onions green and white parts thinly sliced crosswise
Directions
In a small bowl, combine garlic, lemon juice, olive oil, cinnamon, cumin, salt, and pepper. Let stand while you prepare the rest of the ingredients.
Place cauliflower in a microwave safe dish. Mix dressing well and toss two tablespoons of the dressing with the cauliflower. Set the rest of the dressing aside. Cover cauliflower dish with plastic wrap and microwave on high for three minutes. Uncover, mix, and cool slightly in the refrigerator.
Meanwhile, combine tomatoes, cucumber, parsley, mint, and onions in a large bowl. Add cooled cauliflower and toss with remaining dressing. Allow to stand at least 30 minutes before serving.