Appetizer Recipes
Chicken Shawarma Skewers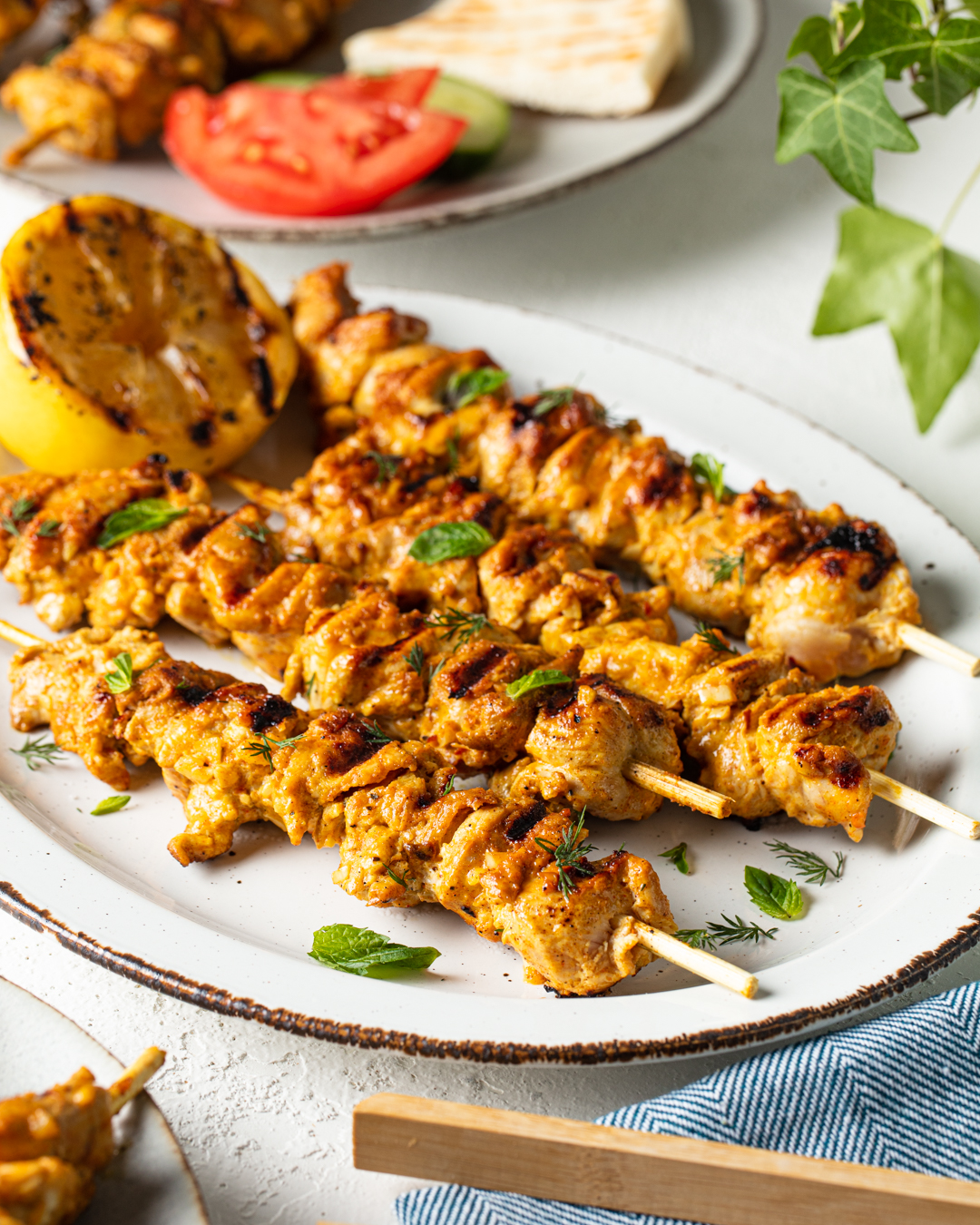 You probably associate shawarma with your favorite Middle Eastern joint; that vertical spit of meat slowly rotating, the cook expertly shaving off slices for your pita sandwich or rice plate. The name "shawarma" is actually an Arabic version of the original Turkish cevirme, which means "turning."
Meanwhile, good news for home cooks: A spit is not strictly necessary to achieve shawarma's marvelously tender texture, which owes much of its magic to a yogurt-based marinade. Yogurt tenderizes meat more slowly than acid-based marinades, which gives it a real melt-in-your-mouth texture. Grilling also causes the yogurt's proteins to caramelize a bit, so you get a slightly tangy crust around that super-tender meat.
These shawarma skewers offer all that marinated magic. The chicken is moist and juicy thanks to the Greek yogurt, and the warming flavors of cumin and coriander — plus a wee bit of heat from the red pepper flakes — make for a mouth-watering crust. A garnish of mint and dill creates a fresh contrast to keep it summery.
There's an endless list of ways to eat this: straight from the skewers with a side salad of cucumbers and tomatoes, tucked into a pita with some tzatziki and olives, or served over a bed of rice with bell peppers and fresh greens. Enjoy this dish for special occasions or put it in your regular rotation — it's easy and satisfying enough to do both.
Yield: 8 skewers
Ingredients
½ cup Greek yogurt
2 Tbsp extra virgin olive oil
2 Tbsp freshly squeezed lemon juice
6 garlic cloves, minced
1 Tbsp Gelson's ground cumin
1 Tbsp ground coriander
½ Tbsp Gelson's smoked paprika
½ Tbsp kosher salt
½ tsp Gelson's crushed red pepper
¼ tsp freshly ground Gelson's black pepper
¼ tsp Gelson's ground turmeric
⅛ tsp Gelson's ground cinnamon
2 lb Gelson's boneless, skinless chicken thighs, trimmed and cut into 2" pieces
Grapeseed oil, for brushing the grill
2 lemons, halved
For serving
Gelson's organic fresh mint
Gelson's organic fresh dill
Pita
Sliced cucumber
Sliced tomato
Gelson's tzatziki
Special equipment: 8 wooden skewers
Directions
In a medium bowl, combine the Greek yogurt, extra virgin olive oil, lemon juice, garlic, cumin, coriander, smoked paprika, kosher salt, crushed red pepper, black pepper, turmeric, and cinnamon. Stir until combined.

Add the chicken and stir until fully coated. Cover the bowl with plastic wrap and refrigerate for at least 2 hours, or up to 1 day.

When you're ready to grill the shawarma, soak the skewers in water for 30 minutes.

Skewer the marinated pieces of chicken to fill up each whole skewer, leaving 1" on each end.

Heat the grill to high heat, and brush with grapeseed oil. Cook the skewers on the grill for 7 to 8 minutes. Flip the skewers over and continue cooking for 7 to 10 minutes more, or until the chicken is cooked through and browned. Add the lemon halves and grill until charred, 3 to 4 minutes.

Transfer the skewers to a platter. Garnish with fresh mint and dill, and serve hot with the charred lemons, pita, cucumber, tomato, and tzatziki.
Recipe adapted from Call me PMC