Recipes
Chili Cheese Fries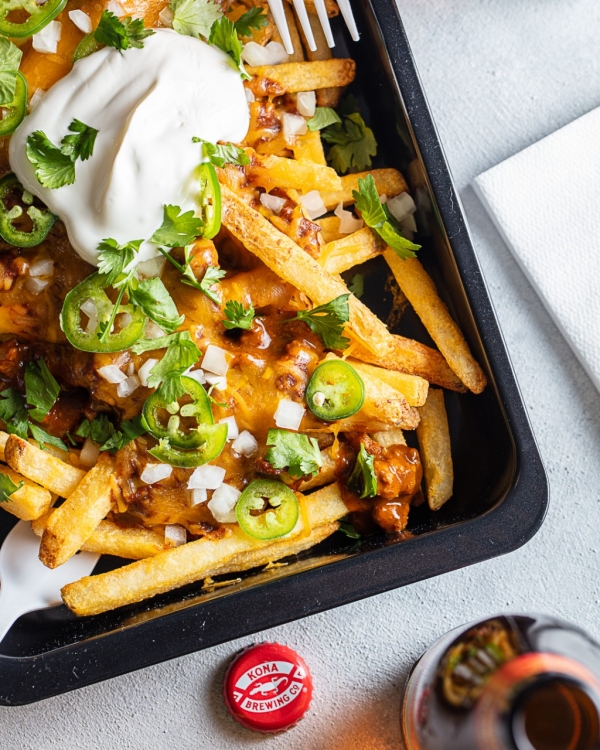 Chili cheese fries are in the same league as Frito pie, corn dogs, fried pickles, and all the other foods we'd make a beeline for at the fair, but we'd never think to make at home. Until now! The pandemic has kept us from summer fairs, and truth be told, we're always on the hunt for easy, comforting meals. (Read: a lot of cheese.) And we're here to tell you that nothing is easier than frozen fries and canned chili — and both go a looong way when you have the right toppings.
In the test kitchen, we air fried our frozen fries. They were super crispy on the outside, light and fluffy on the inside — and they held up well under a generous pile of goodies. Which is to admit that we pretty much smothered them in rich, savory chili, sharp cheddar cheese, sweet onions, spicy wheels of jalapeño, fresh cilantro, and great big dollops of sour cream. The result? Finger food extraordinaire: meaty, spicy, crunchy, cheesy, cool, and creamy.
Chili cheese fries are for the nights you'd rather not cook. Think of them as a snack if you're having beers and rehashing the day with the S.O. — or as an alternative to mac and cheese, if it's an easy, kid-pleasing dinner you're after.
Our tip: The test kitchen kiddos like to garnish their own chili cheese fries. We set up the fries and chili for them, and then let them go to town with the toppings. Hold the jalapeños, Mama!
Servings: 1 to 6
Ingredients
1 15-oz can chili (without beans)
16 oz straight-cut frozen French fries
½ cup finely shredded Gelson's sharp cheddar cheese
¼ cup sweet onion, diced small
1 jalapeño, thinly sliced
¼ cup sour cream
¼ cup cilantro, roughly chopped
Directions
Warm the chili in a small saucepan over medium heat.

Air fry the French fries to 400°, 12 to 14 minutes.

Place the French fries on a small sheet pan and spoon the chili over the fries.

Add the cheddar cheese, slide the sheet pan into the oven, and broil until melted, 1 to 2 minutes.

Garnish with the onions, jalapeños, sour cream, and cilantro. Serve warm.