Dinner Recipes
Crispy Gnocchi with Tomato & Mozzarella
There's a lot to love about this dinner. With crispy-on-the-outside, pillowy-on-the-inside gnocchi, creamy mozzarella, bright grape tomatoes, and fresh basil, it's the perfect combination of fresh and comforting flavors. It's also incredibly easy to make: the only prep is a bit of garlic-slicing and basil- and cheese-tearing, and it all comes together in a single pan. The weeknight dinner of our dreams? Definitely.
There are a lot of soft textures in this dish — so you're going to want to make sure to crisp up the gnocchi as much as possible. The key is to continually toss the little dumplings in olive oil until they turn from a cream color to a beautiful golden hue with darker brown bits here and there. (Depending on how much gnocchi you use, you may need a little more olive oil to make this magic happen.) Another visual cue to look for: the gnocchi will have a subtle, translucent layer on the exterior.
Everything else comes together lickety-split. We sauté the tomatoes in butter, garlic, and crushed red pepper, smashing here and there as we go to release their wonderful juices. Then, we stir in the crisped-up gnocchi and basil leaves, and top it all with the mozzarella.
The finishing touch: We slide the skillet under the broiler, so the mozzarella browns a little and gets good and gooey. The gnocchi also gets some extra toastiness; the tomatoes, a hint of caramelization. (Another great thing about this dinner? You can make it year-round, not just during tomato season. Sautéeing and roasting ensures those little red tomatoes taste fabulous no matter what.)
You might pair this crispy gnocchi with a green side to get a little bit more veg onto the plate — lightly sautéed green beans, a Tuscan kale Caesar, and mixed greens with lemon vinaigrette are great candidates. Also: a lighter red wine, like a Beaujoulais or Barbera d'Asti, complements both the starchy gnocchi and the bright veggies.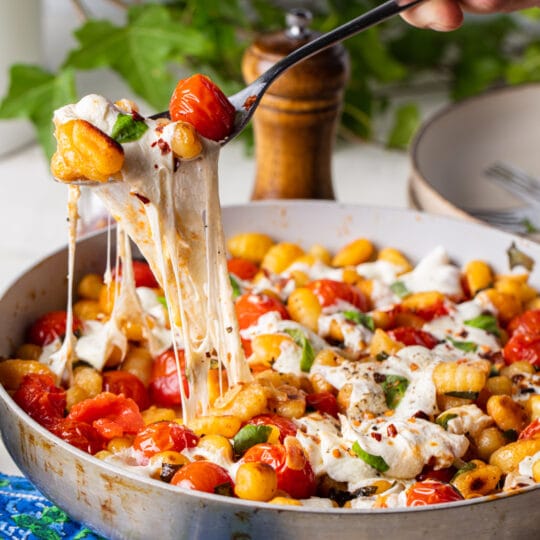 Dinner
Crispy Gnocchi with Tomato & Mozzarella
Serves: 4
Ingredients
4 Tbsp extra virgin olive oil, plus more as needed
2 (12- to 18-oz) pkg shelf-stable or refrigerated potato gnocchi
4 garlic cloves, thinly sliced
¼ tsp Gelson's crushed red pepper, plus more for garnish
Freshly ground Gelson's black pepper, to taste
¼ cup torn Gelson's organic basil leaves, plus more for garnish
8 oz fresh mozzarella cheese, torn into ½" pieces
Directions
Heat the broiler, placing a rack about 6" from the heat source.

In a large oven-safe skillet, heat 2 tablespoons extra virgin olive oil over medium-high heat until shimmering. Add half the potato gnocchi to the pan, breaking up any that are stuck together. Toss and stir the gnocchi until each piece is separated and coated in oil.

Cover and cook, tossing and flipping occasionally, until golden brown and crispy on all sides, 6 to 9 minutes. Transfer to a sheet pan and set aside. Repeat with the remaining olive oil and gnocchi, transfer to the sheet pan, and set aside.

Add the unsalted butter to the skillet and cook over low heat, stirring often, until foamy and lightly browned. Stir in the garlic, crushed red pepper, kosher salt, and a few grinds of black pepper.

Increase heat to medium and add the grape tomatoes and water. Cook, shaking the pan occasionally, until the tomatoes have softened and the liquid has slightly thickened, 6 to 8 minutes. Smash the tomatoes as they burst to help them along.

Add the gnocchi and basil leaves, stirring to coat, then shake the gnocchi into an even layer. Top with the mozzarella cheese and drizzle lightly with extra virgin olive oil.

Place the skillet in the oven and broil until the cheese is melted and browned in spots, 2 to 4 minutes. Garnish with additional basil, crushed red pepper, and black pepper as desired.
Recipe source: The New York Times