Lunch Recipes
Dill & Chive Egg Salad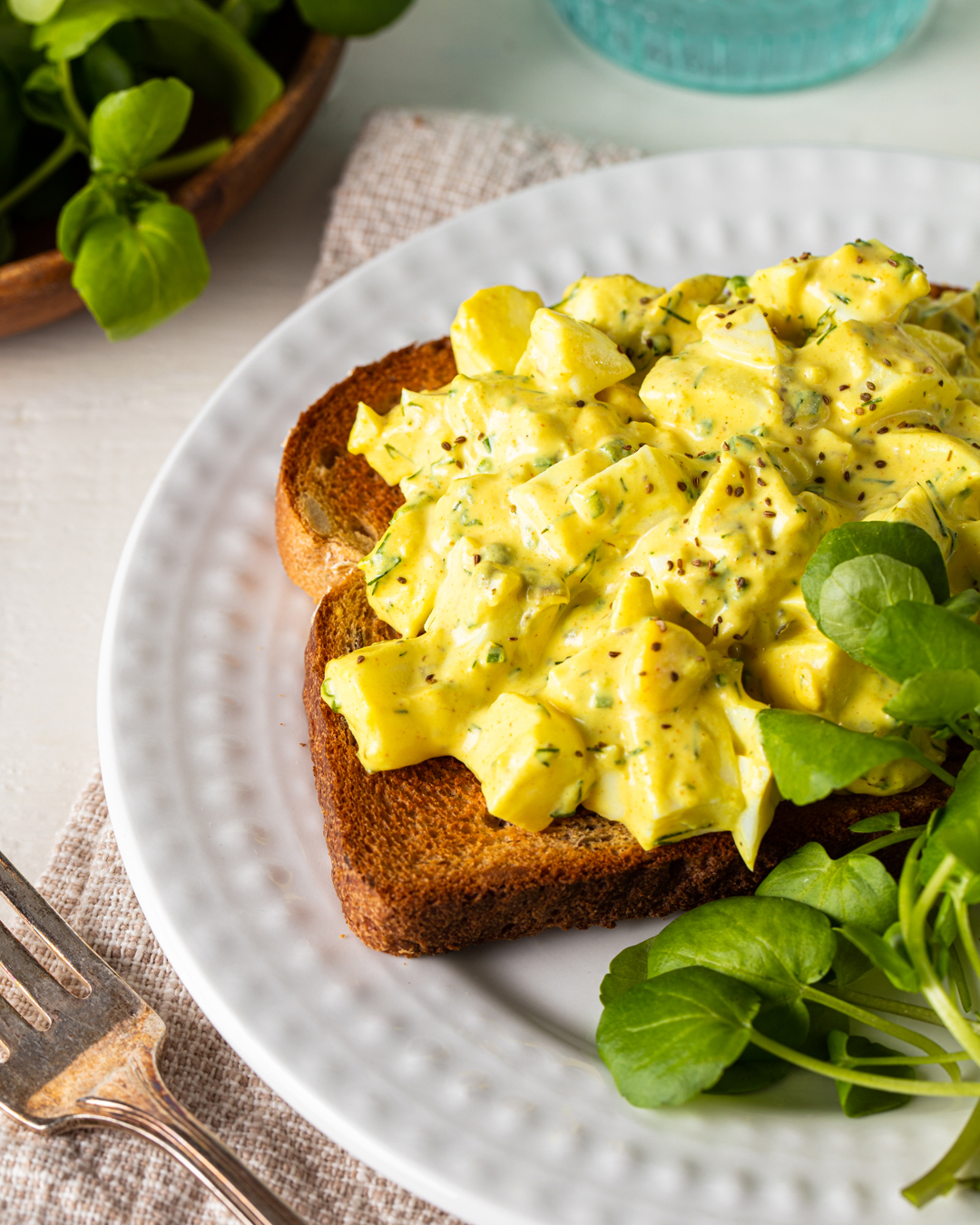 Why is it that egg salad never quite makes the leap to everyday? It's something most of us have a fondness for, but rarely ever make — the kind of thing you stumble over at the deli and think, "Yes! I'll have egg salad." Yet it's so simple to make, so deeply satisfying and comforting, it really should be on the same last-minute weeknight recipe list as mac and cheese. This one is so creamy and full of herbs, it's definitely going on our list!
(Please note: This is not a recipe for the famous Gelson's tarragon egg salad, but an herby cousin you can make at home.)
It's made with a handful of delicious savories: capers, garlic, celery seed, Dijon mustard, lemon juice, dill, and chives. It's also got a generous pinch of turmeric in it, which of course is what gives it that lovely color, a shout- out to the sunny yolks. The spice also helps balance the bright acids from the mustard and lemon, so the delicate herbs can shine.
What this salad doesn't have is tons of mayonnaise. For six eggs, there's just a quarter cup of the stuff, which is enough to make the salad creamy, but not heavy. Don't get us wrong, we heart mayo, but it's nothing short of sublime to bite into an egg salad that's light and full of fresh, summer herbs — this might be the most flavorsome egg salad we've ever eaten.
This summer, we'll be making egg salad for everything from Wednesday night dinner to Sunday luncheon with the parents. It's lovely scooped over a green salad — try it with some peppery watercress or arugula — but we like it best on toast. Feeling extra luxe? Egg salad is pretty much heaven piled on a toasted sesame bagel.
Servings: 2
Ingredients
¼ cup mayonnaise
1 tsp extra virgin olive oil
2 tsp Dijon mustard
1 tsp drained capers, minced
1 tsp freshly squeezed lemon juice
1 garlic clove, minced
¼ tsp Gelson's ground turmeric
¼ tsp kosher salt
Freshly ground Gelson's black pepper
6 Gelson's eggs, hard-boiled and diced
2 Tbsp chopped Gelson's organic fresh dill
2 Tbsp chopped Gelson's organic fresh chives
Celery seeds
Watercress, for serving
Whole grain bread, for serving
Directions
In a large bowl, whisk together the mayonnaise, extra virgin olive oil, Dijon mustard, capers, lemon juice, garlic, turmeric, kosher salt, and several grinds of black pepper.

Mix in the eggs, then lightly mash them. Stir in the dill, chives, and a pinch of celery seeds.

Serve with watercress and whole grain bread.
Recipe source: Love and Lemons (Jeanine Donofrio)
Calculate nutrition information for this recipe.