Recipes
Dried Fig and Arugula Salad with Stracciatella Cheese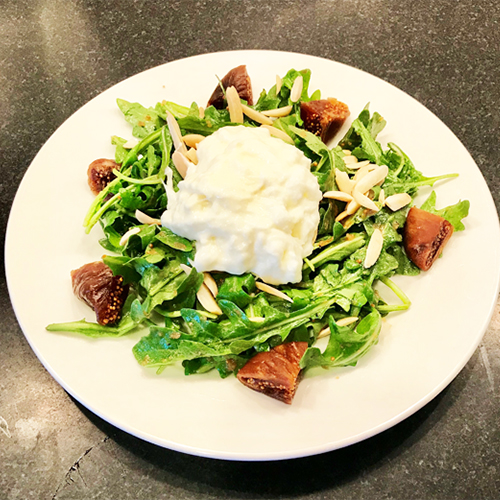 Stracciatella is the creamy, rich cheese that is found in the center of burrata cheese balls. Eating it is kind of a transcendent experience. All of the ingredients I include in this composed salad are high in nutrients that support good bone health. I blend some of the figs into this special dressing to help bring together and compliment the sweet, peppery, and milky flavors of the salad.
Serves 4
Ingredients:
10 Amphora dried organic calimyrna figs
2 tablespoons La Posada sherry vinegar
2 ½-3 tablespoons reserved fig water
1/8 teaspoon Le Saunier de Camargue fleur de sel sea salt
1/8 teaspoon pepper
2 tablespoons Napa Valley organic olive oil
5 ounces organic arugula
¼ cup Flanigan Farms slivered almonds, lightly toasted and cooled
8 ounces Di Stefano Stracciatella cheese, divided
Directions:
1. Place figs in a small, heavy bowl and pour boiling water over to just completely cover them; let stand for five to seven minutes. Remove figs with a slotted spoon to a paper towel and reserve some of the soaking water for the dressing. Remove stems from figs and cut them in quarters. Put six figs aside and use four for the dressing.
2. Make the dressing in a small food processor or blender. Combine four figs (16 quarters), sherry vinegar, reserved water, salt, and pepper in a work bowl and pulse several times to make a paste. Pour in the oil and process until smooth. The dressing should be thick, but you can thin it a little with ½ tablespoon extra fig water if needed.
3. Place arugula in a large bowl and toss with the dressing. Divide arugula among four plates. Sprinkle one tablespoon of almonds on each bed of arugula, arrange six fig pieces around the outside of each plate and top with two ounces of cheese in the center of each bed of arugula.
Each serving of salad contains:
Calories 350
Fat 23g
Saturated Fat 9g
Trans Fat 0g
Cholesterol 0mg
Sodium 120mg
Total Carbohydrate 21g
Dietary Fiber 4g
Sugars 18g
Protein 15g
Vitamin A 32%
DV Vitamin C 14%
DV Calcium 50%
DV Iron 17% DV