Dinner Recipes
Easy Pad Thai
The magical thing about pad thai is the way it layers flavor with texture. It's bright, hot, nutty, salty, sweet, and full of umami, a perfectly balanced complexity that belies the stir-fry ease of the dish. It's also the rare dish that everyone agrees on: we've yet to meet anyone who doesn't love pad thai. For all those reasons, it's a home cook's dream — it's really fun to make it for other folks because you always get more than 100% appreciation back on your cooking effort.
For all that love, when we started digging into the dish, we realized we didn't know that much about it.
According to food histories, pad thai is actually based on the Chinese culinary tradition of stir fries. In fact, some posit that it may have originated in China: its full name is kway teow pad thai. Kway teow is Chinese for rice noodles and pad is fried in Thai, so the name roughly translates to 'Thai-style stir-fried noodles.' It was either invented or introduced to Thailand in the 1930s, a pivotal time in the country's politics, when its leaders were trying to both westernize and build national unity. Street vendors were apparently encouraged to make pad thai as an expression of Thai cuisine, but also to help the country through an economically difficult time — rice noodles, stir fried veggies, and protein add up to a satisfying yet inexpensive meal.
Traditionally, the dish takes the bulk of its flavor from a sauce made with tamarind paste, fish sauce, soy sauce, and brown sugar. If you don't have tamarind paste, you can replicate its signature sour-sweet flavor with pomegranate molasses and lime juice — as we've done here. The result is a close approximation to tradition: a tangy, umami-riffic sauce that clings to the noodles and the dish's many other ingredients.
For protein, we've used both firm tofu and chicken. In the test kitchen, we just couldn't choose. The tofu is a must because it soaks up the sauce, and tastes so good with the stir-fried green onion, but the chicken is nice and chewy and brings some fat to the dish. Is doubling up overkill with the eggs? If it is, we're not going to be the ones to complain. The proteins get tossed into a wonderful jumble with the aromatics, chewy noodles, veggies — mung bean sprouts, shallots, and green onions — and that beautiful sauce. Add the crunchy peanuts and bright cilantro leaves, and you're all set.
Pad thai is a fantastic dinner no matter what's going on: you can make it for the new neighbors you badly want to impress, for your partner at the end of a nutty week, or for yourself on bad (good) TV night. It's also awesome for weekend lunches and, given the egg, we'd even fry up a big batch for brunch. In all cases, it pairs really well with deep, dark, roast-y beers, like porters or stouts — or a glass of either pinot noir or riesling.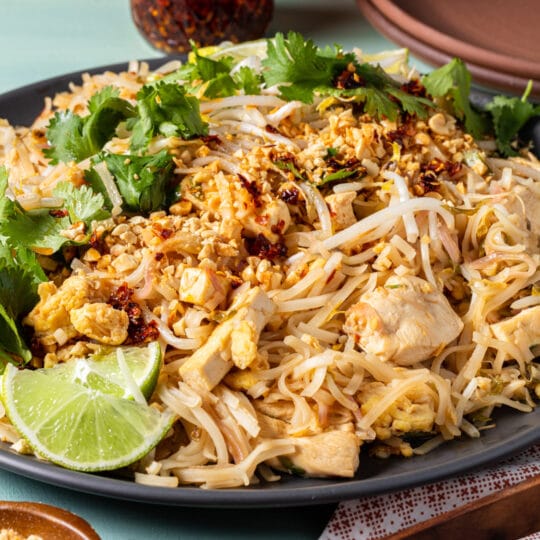 Dinner
Easy Pad Thai
Ingredients
2 Tbsp packed light brown sugar
2 Tbsp pomegranate molasses
2 Tbsp freshly squeezed lime juice
Gelson's ground white pepper
4 oz dry pad thai rice noodles
3 tsp vegetable oil, divided
1 Gelson's chicken breast, sliced into ¼"-thick strips
6 oz extra-firm tofu, patted dry and cut into ½ x ½ x 2" batons
2 shallots, thinly sliced
½ tsp Gelson's crushed red pepper
2 cups mung bean sprouts, plus more for garnish
4 green onions, thinly sliced on the bias
½ cup roasted peanuts, finely chopped, for garnish
¼ cup Gelson's organic cilantro, leaves only, for garnish
Directions
1. To make the pad thai sauce: In a small bowl, whisk together the light brown sugar, fish sauce, pomegranate molasses, lime juice, soy sauce, water, and a pinch of white pepper. Set aside.
2. To make the pad thai: Bring a large pot of water to a boil. Place the pad thai noodles in a large heatproof bowl and pour the hot water over the noodles, making sure they are submerged. Let sit until al dente, 3 to 5 minutes.
3. Stir to loosen the noodles, then drain and rinse with cold water to stop the cooking process. Set aside.
4. Heat 2 teaspoons vegetable oil in a large nonstick skillet over medium-high heat. Add the chicken and extra-firm tofu strips, sprinkle with 2 pinches of kosher salt, and cook, tossing occasionally, until the chicken is cooked through, 5 to 7 minutes. Transfer the chicken and tofu to a plate.
5. Heat the remaining 1 teaspoon vegetable oil in the skillet. Add the shallots and cook until softened, about 3 minutes. Stir in the garlic and crushed red pepper, and cook until fragrant, about 30 seconds. Push the shallot mixture to the side and reduce the heat to medium-low.
6. Meanwhile, in a small bowl, whisk the eggs and a pinch of salt. Pour the eggs into the empty side of the skillet and cook, stirring occasionally, until scrambled and mostly cooked through, 1 to 2 minutes. Push the eggs to the side.
7. Add the noodles, chicken, tofu, mung bean sprouts, green onions, and pad thai sauce. Increase the heat to high, toss to combine, and cook until heated through, about 2 minutes.
8. Transfer the pad thai to a large serving dish. Garnish with additional bean sprouts, chopped peanuts, cilantro leaves, and lime wedges. Drizzle with chile oil if desired.