Dinner Recipes
Easy Weeknight Pasta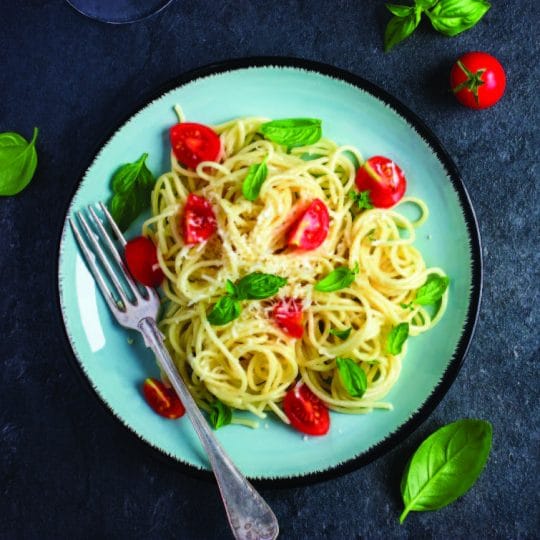 Dinner
Easy Weeknight Pasta
Serves: 4
Ingredients
1/4 cup Melissa's organic pine nuts
3 tablespoons Napa Valley organic olive oil divided
1 16 ounce package Houweling's cocktail tomatoes on the vine preferably smaller tomatoes cut in eights
1 5 1/2 ounce package Field Fresh diced organic red onion or 1 small red onion diced
1/2 teaspoon crushed red pepper flakes or to taste
1/2 teaspoon Le Saunier de Camargue fleur de sel sea salt
5 large cloves Melissa's organic garlic chopped
1 large sprig basil leaves
1 8 ounce box Explore Cuisine organic edamame spaghetti pasta
1/2 cup white wine mixed with 2 cups hot water
3 ounces organic baby spinach washed but not dried
1/4 cup finely grated imported Parmigiano reggiano parmesan cheese plus more for serving
Directions
Toast pine nuts until light brown and fragrant in a 10 inch sauté pan with straight not sloped sides over medium heat, about three minutes. Remove pine nuts and set aside to cool. Carefully wipe out skillet with a towel.
Heat two tablespoons olive oil in the skillet over medium high heat. Add the tomatoes and onions. Season with crushed red pepper, salt, and pepper. Cook, stirring frequently until vegetables begin to soften, about four minutes. Add garlic and basil sprig, cook one more minute.
Push sauce to the sides to make room to add spaghetti to the bottom of the pan and pour wine and hot water over it. Raise heat to high and drizzle remaining tablespoon of olive oil over pasta. Cook, stirring frequently, making sure pasta is mostly submerged, while most of the water boils off and pasta softens, about four minutes. Pasta should be al dente firm, not soft. Discard basil sprig and fold in baby spinach. When spinach has wilted, after about 90 seconds, remove pan from heat. There should still be some liquidy sauce in the pan to coat the noodles. Slowly stir in the cheese and toss well with tongs. Transfer to a serving dish and top with toasted pine nuts. Serve with extra cheese for garnish.