Recipes
Eggs Benedict with Crispy Prosciutto & Arugula Salad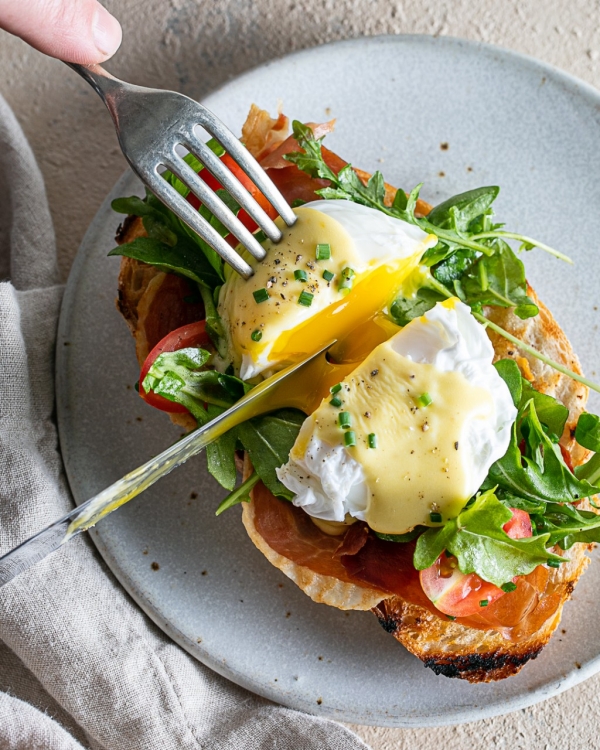 Each day of the week has its own particular food vibe, from Meatless Monday to Taco Tuesday to Pizza Night Friday. We'd like to offer a long, slow clap to another meal that deserves more attention — Sunday Brunch at Home. Sure, we've all had the Sex in the City brunches, wherein one sips on flutes of bottomless mimosas while never smudging one's lipstick. But, in these pandemical times, we're embracing the joys of a cocooning brunch, the kind where you stay in jammies all day and skip the lipstick.
This version of eggs Benedict provides the comfy, no-hurry vibe to nudge you gently into the day, even if that doesn't happen until well after noon. The lemony hollandaise provides just enough creaminess to coat the greens and brighten the soft-yolked poached eggs. We love the way super thin prosciutto adds a layer of savory crispness to the finished dish. And using sourdough bread instead of English muffins gives you even more nooks and crannies to collect the jammy yolk and sauce overflow. Pour yourself another mimosa, read another section of the newspaper, and enjoy a delicious and relaxed brunch.
Our tip: When you've made this dish once, you'll want to expand it beyond your Sunday Brunch repertoire into every meal of the day. Try it for Saturday lunch, weeknight dinner, or a late-night snack. In fact, it's a good choice whenever you want to prepare a meal that's worth lingering over.
Servings: 4
Ingredients
2 tsp extra-virgin olive oil, divided
8 slices prosciutto
½ cup halved grape tomatoes
2 cups lightly packed arugula
1 Tbsp sliced Gelson's organic fresh chives, plus more for garnish
½ tsp red wine vinegar
Pinch salt
1 crack black pepper, plus more for garnish
½ cup hollandaise sauce
4 large poached eggs
4 slices sourdough bread
Directions
In a medium sauté pan, heat 1 teaspoon of the olive oil over medium heat. Lay the prosciutto flat in the pan and cook until crispy, 3 to 4 minutes. Flip, and cook for 2 to 3 minutes more. Note: the prosciutto will smoke, so regulate the heat to be sure it does not burn.

Transfer the cooked prosciutto to a paper towel-lined plate and set aside.

In a medium mixing bowl, gently toss together the tomatoes, arugula, chives, vinegar, remaining olive oil, salt, and pepper.

In a small saucepan, make the hollandaise sauce. Cover it to keep it warm, and set it aside.

In a medium pot, poach the eggs, two at a time, and set them aside.

Toast 4 slices of sourdough bread.

Top each slice of toast with 2 pieces prosciutto, ⅓ cup arugula salad mixture, 1 poached egg, and 2 tablespoons hollandaise sauce. Garnish with additional fresh chives and a crack of black pepper, and serve hot.