Appetizer Recipes
Garlic Braised Brussels Sprouts
We're delighted to see that Brussels sprout phobia is on the decline. These little guys are everywhere, being enjoyed for their earthy, mildly nutty flavor and versatile texture. They're also an incredibly healthy choice: they're packed with vitamins C and K, fiber, and cancer-fighting antioxidants.
Jessica Siegel, our in-house Registered Dietitian, came up with this must-try recipe that's easy enough for a weeknight but delightful as a holiday side, too. The sprouts are braised in a garlic-infused broth for a wonderfully savory flavor and a tender consistency. They make a terrific companion to our mahi mahi & southwest succotash recipe.
Our tips: Cook your sprouts with care, so they don't get mushy: Brussels sprouts are done when the center stem is fork-tender. And great news: Gelson's Rewards members can schedule a complementary virtual nutrition counseling session with Jessica at nutrition@gelsons.com.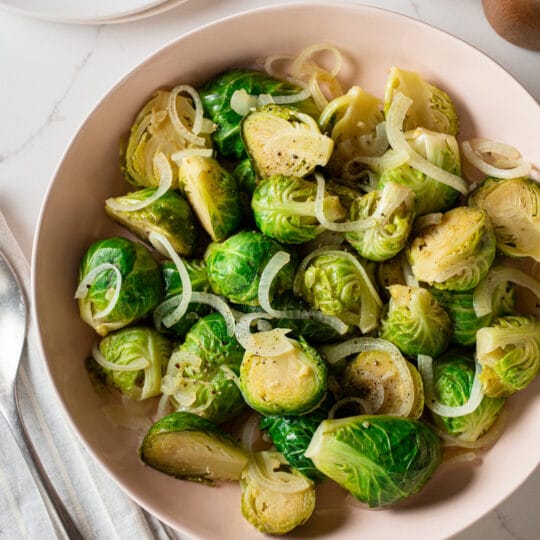 Appetizer
Garlic Braised Brussels Sprouts
Serves: 4
Ingredients
2 Tbsp Napa Valley Naturals organic olive oil
½ to 1 cup Pacific Foods organic free-range chicken broth
20 large Brussels sprouts, halved through the stem end
½ onion, thinly sliced into half moons
Directions
Add olive oil and chicken broth to a skillet, and heat to medium-low. [Note: Use a 10-inch skillet with a lid: it must be large enough to hold all the Brussels sprouts in a single layer.]
Add garlic and cook until it begins to brown, about 1 minute. Remove as much garlic as you can with a slotted spoon.
Add the Brussels sprouts, cut side down and scatter the onion slices in between the sprouts. Cover and reduce heat to low. Cook about 20-30 minutes until sprout stems are tender when pierced with a fork. Add more chicken broth as necessary so the pan does not get dry.