Dessert Recipes
Gluten-Free Toffee-Pecan Cookie Bars
There's something so scrumptious about cookie bars — we suspect it has to do with their thick, chewy texture. These bars are no exception. In fact, their gluten-free nature enhances that comforting, satisfying chewiness. And then you have the mix-ins: rich dark chocolate chips, toasty pecans, and chunks of crunchy, caramelly Heath bar.
Gluten-free toffee-pecan cookie bars have a chocolate chip cookie vibe, but with more nutty flavor — so they're perfect fodder for barbecues, picnics, and the like. But we also make them anytime a sugar craving hits, even if it's on a busy weeknight. (The recipe's so quick and easy!) And be forewarned: we WILL go to the mat for the corner pieces.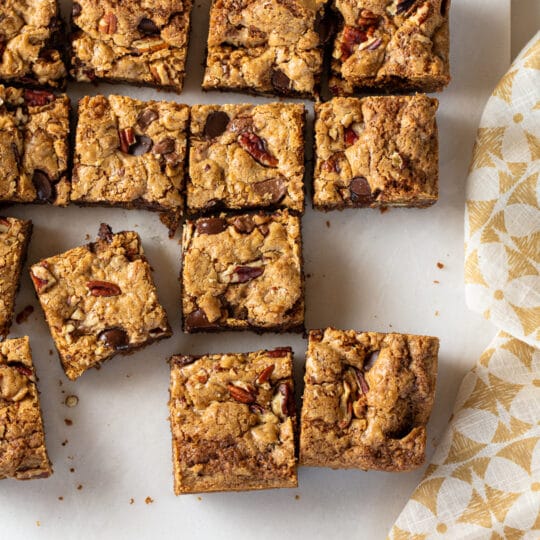 Dessert
Gluten-Free Toffee-Pecan Cookie Bars
Serves: 16
Ingredients
1 ½ sticks unsalted butter, room temperature, plus more for greasing pan
¾ cups packed brown sugar
1 large egg plus 1 egg yolk, room temperature
1 ½ cups Bob's Red Mill Gluten Free 1:1 Baking Flour
¾ cup Heath bar pieces, plus more for sprinkling
¾ cup dark chocolate chips, plus more for sprinkling
¾ cup toasted pecan pieces, plus more for sprinkling
Directions
Preheat the oven to 350º. Grease an 8x8" baking dish with butter, line it with parchment paper, and grease the parchment. Set aside.

In a stand mixer fitted with a paddle attachment, beat the butter, sugars, salt, and vanilla on medium speed until light and fluffy, 2 minutes.

Add the eggs and beat on medium-low speed until combined.

In a small bowl, whisk together the flour and baking soda. Add the flour to the stand mixer and beat on low speed until just combined.

Add the Heath bar pieces, chocolate chips, and pecan pieces. Mix until evenly distributed.

Transfer the dough to the prepared baking dish and spread it evenly. Sprinkle 1 to 2 tablespoons of Heath bar pieces, chocolate chips, and pecan pieces on top. Sprinkle with flake salt to taste.

Bake the bars for 35 to 40 minutes, or until the top is set and an inserted toothpick comes out clean.

Let the bars cool for 15 minutes. They will set up as they rest. Cut the bars into 16 squares and enjoy! The bars can be stored in an airtight container at room temperature for up to 5 days.