Dinner Recipes
Grilled Impossible™ Kofta
Popular in parts of Asia, the Middle East, North Africa, and the Balkans, kofta (or kafta) come in a bunch of forms and flavor profiles. You might find them rolled up like meatballs in pita, grilled on a stick, or floating in sauce like a dumpling. In some traditions they're made with veggies or cheese; in others, they're made with ground meat, including beef, lamb, chicken, or fish.
Here, we've used Impossible™ Ground Sausage to make vegan kofta with a Greek vibe. The plant-based meat is tossed with a bunch of aromatics, spices, and fresh herbs and then formed onto skewers. As you're working with it, you'll notice the plant-based sausage is pretty loose. To help our kofta hold together, we bake them for 11 minutes or so and then finish them on the grill for some nice char.
The result? The Impossible™ kofta have a wonderful savory flavor, full of dill and mint and warmly spiced. They're unexpectedly juicy and have a lot of smoky depth. And man, do they taste good slathered in some garlicky tzatziki and wrapped in a warm pita or naan with loads of crunchy veggies.
Our tip: Feeling like a fun project? Make your own pita — it's a bit of a game changer.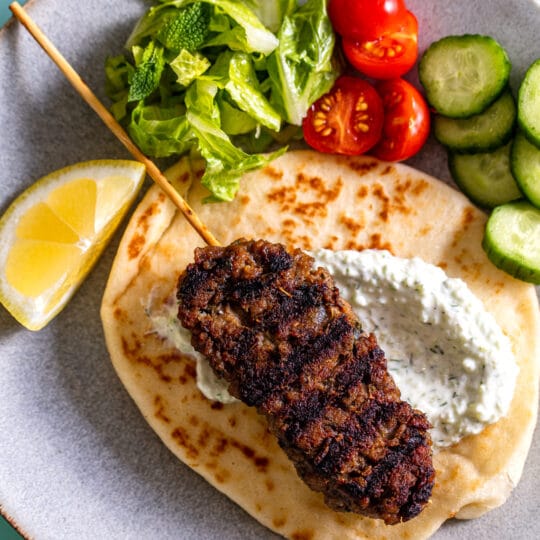 Dinner
Grilled Impossible™ Kofta
Serves: 6
Ingredients
For the Impossible™ kofta:
14 oz Savory Impossible™ Ground Sausage
½ medium red onion, grated
1 ½ Tbsp chopped Gelson's fresh dill
1 ½ Tbsp chopped Gelson's fresh mint
1 tsp Gelson's ground cumin
1 tsp Gelson's ground oregano
½ tsp Gelson's ground cinnamon
¼ tsp freshly ground Gelson's black pepper
Grapeseed oil, for brushing
1 cup chopped cherry tomatoes
2 Persian cucumbers, sliced
Lemon wedges, for serving
Special equipment: 6 8" wooden skewers
Directions
Fill a shallow pan with 1" cold water, add the wooden skewers, and soak for 30 minutes.

Preheat the oven to 400º. Spray a rimmed baking sheet with cooking spray.

In a large bowl, combine the Impossible™ sausage, onion, garlic, dill, mint, cumin, oregano, cinnamon, kosher salt, and black pepper. Mix until completely combined.

Divide the kofta into 6 balls. Wrap one kofta ball around a skewer. Evenly press the ball up the skewer and into a cylinder. Place the skewer on the prepared baking sheet. Repeat with the remaining kofta balls.

Bake the kofta for 11 to 13 minutes, or until firm and starting to brown.

Heat a grill pan to medium-high heat and brush with grapeseed oil.

Grill the kofta for 1 to 2 minutes on each side, until browned.

Serve the koftas hot over a piece of naan with the tzatziki sauce, lettuce, tomatoes, and cucumbers. Garnish with mint and serve with a lemon wedge.
Recipe adapted from: Rabbit and Wolves