Dinner Recipes
Grilled Lamb Chops & Mint Chimichurri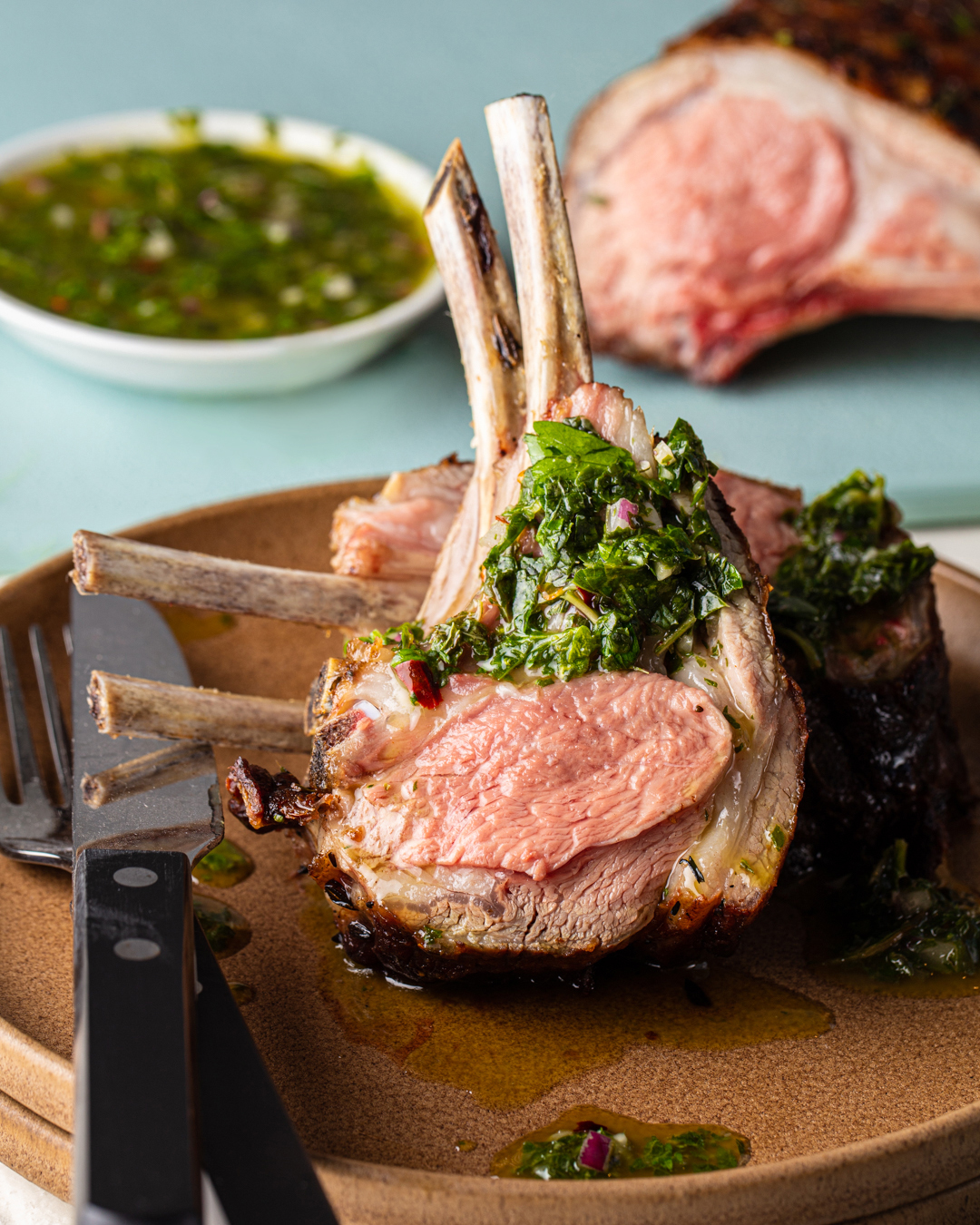 For this version of the Argentinian condiment, we've used mint instead of cilantro. (Naturally: lamb and mint are the culinary equivalent of Hepburn and Tracy.) The sauce is so fresh and aromatic, so full of bright pungency — thanks to the garlic, red wine vinegar, and red pepper flakes — it seems to cut right through the luxurious meat. We may never go back to mint jelly.
We love the look of the little chops, too — that long rib bone is so elegant. A rack of lamb feels like celebratory food even if all you're toasting is the everyday miracle of summer gardens and the rich flavor they bring us.
Our tip: Hold on to your leftover mint chimichurri. It's one of the most hardworking condiments around. You can dollop it on any meat, fish, or poultry. You can whisk it into your scrambled eggs. You can spread it on your sandwiches. You can swirl it through orzo or soft cheese. Everywhere it goes, it makes food better.
Servings: 4
Ingredients
Mint chimichurri:
½ cup mint, packed
½ cup Italian parsley, packed
2 garlic cloves, chopped
½ cup extra-virgin olive oil
⅛ cup red wine vinegar, or more to taste
½ tsp red pepper flakes, or to taste
½ tsp kosher salt
¼ cup red onion, diced
For the lamb:
1 rack of lamb, cleaned and frenched
1 clove garlic, chopped
1 tsp thyme, chopped
1 tsp rosemary, chopped
1 Tbsp canola oil
Kosher salt, to taste
Freshly ground pepper, to taste
Directions
To make the mint chimichurri: In a food processor, combine the mint, parsley, garlic, olive oil, red wine vinegar, red pepper flakes, and salt and pulse until the ingredients are well chopped, but not puréed. Note: Be careful not to blend for too long as the blades can heat up and cause the mint to turn black. Use a spatula to scrape down the sides to get an even chop.

Transfer the sauce to a small bowl and stir in the diced red onion.

Taste for seasoning and add more salt, red wine vinegar and pepper flakes as needed.

Cover the sauce with plastic wrap, pressing it against the top of the sauce, and store the sauce in the fridge until you're ready to use it.

To make the lamb: In a small bowl, combine the garlic, thyme, rosemary, and canola oil.

Rub the mixture over the lamb and let it come to room temperature.

Prepare a charcoal grill or heat a gas grill to high.

Season the lamb heavily with kosher salt and freshly ground pepper.

Sear the lamb, bone side down first, with the rib bones facing away from the flames so they don't char. They should be over a medium-hot part of the grill and cook for about 5 minutes per side with the lid closed. Be very careful of fat flare-ups.

Once you have nice grill marks, move the rack of lamb to indirect heat to finish cooking. The meat is done when the internal temperature reaches 120º to 125º for medium-rare or 130º to 135º for medium on an instant-read thermometer.

Rest the lamb for 10 to 15 minutes on a cutting board tented with aluminum foil, then slice between the rib bones.

Serve with the mint chimichurri. Sprinkle some kosher salt on each piece of lamb before serving.
Recipe adapted from: SaltPepperSkillet