Sauces & Seasonings Recipes
Herbed Compound Butter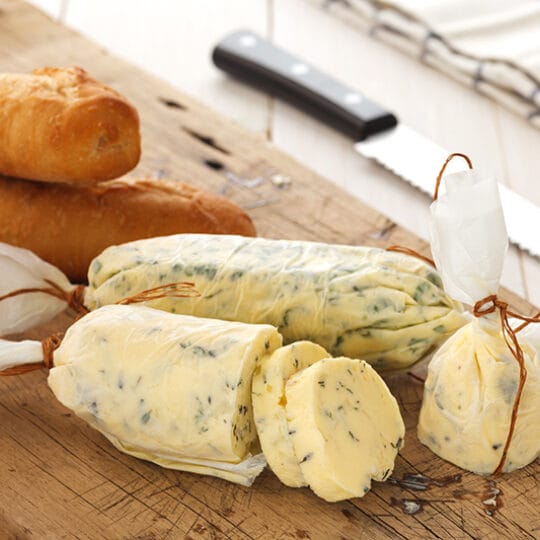 Sauces & Seasonings
Herbed Compound Butter
Ingredients
1-pound/16 oz Unsalted Butter
3 Tbsp Extra Virgin Olive Oil
1 Tbsp Gelson's Herbs (see separate recipe)
2 tsp Kosher Salt, coarse
1 tsp Black Pepper, ground
2 tsp Fresh Lemon Juice (1/4 lemon wedge)
Directions
1. Do ahead: Pull butter from refrigeration one hour prior to use and unwrap to soften at room temperature.
2. Transfer butter to large mixing bowl, and using a fork or spoon, mix until smooth.
3. Incorporate olive oil and continue to mix with fork/spoon.
4. Add garlic, salt and pepper, and fresh lemon juice. Continue to mix to blend ingredients into butter.
5. When all ingredients are fully incorporated, add fresh herbs and gently fold into butter.
6. Ensure that the butter is not overworked at this point to prevent the butter from turning green from the herbs.
7. Lay out 1.5 feet of plastic wrap onto clean working surface and mound blended butter into the center of the plastic.
8. Lay plastic wrap over the butter and use your hands to gently spread butter to a 3-4" rectangular shape.
9. When shaped, roll the butter into a cylinder using your hands. Twist the ends of the plastic wrap to tighten the cylinder of the compound butter.
10. Use immediately or refrigerate. If refrigerated, remove butter 30 minutes prior to use.