Appetizer Recipes
How to Make Labneh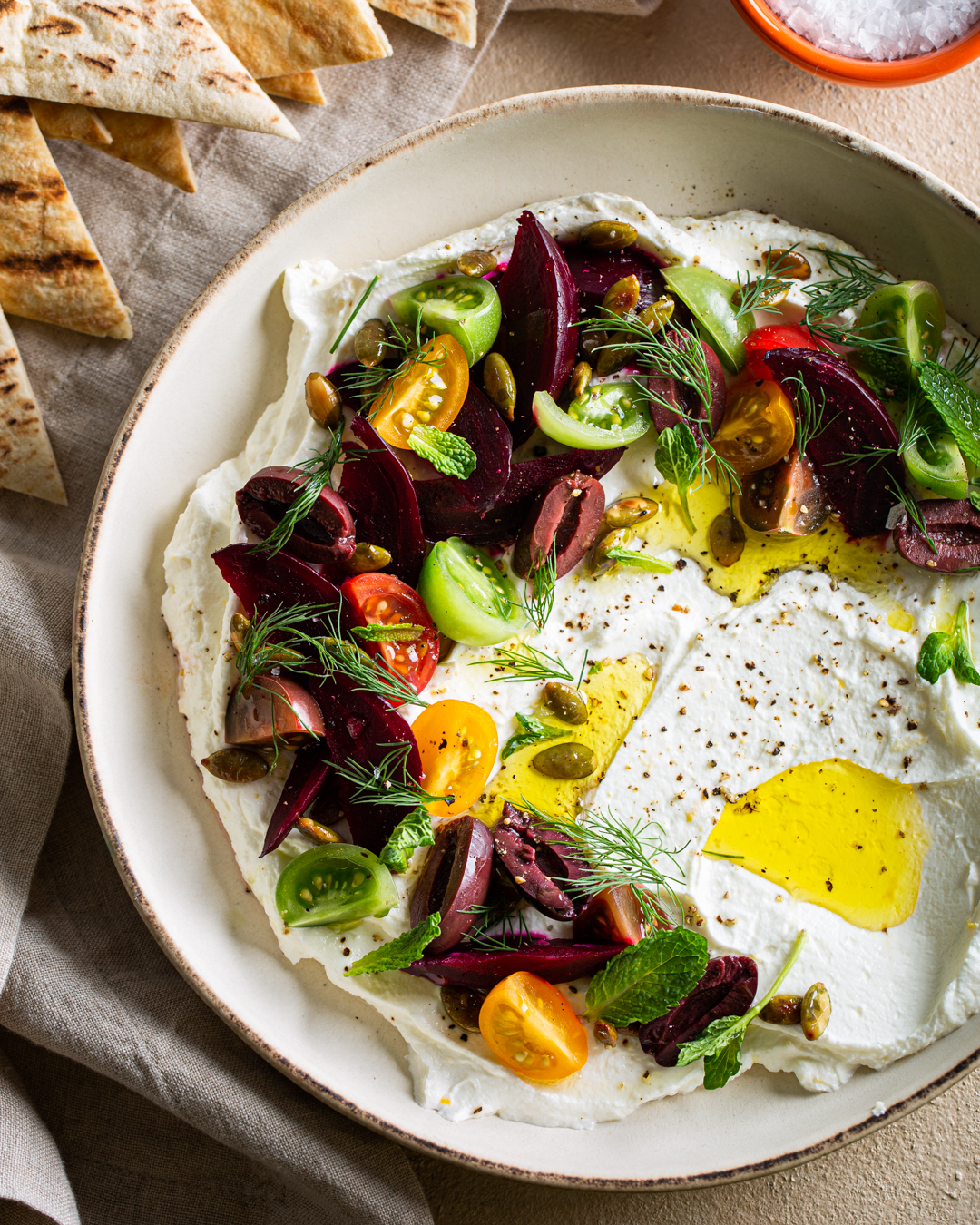 Depending on where you are in the world, strained yogurt has many different monikers: it's known as chakka in India and parts of Central Asia, ymer in Denmark, and strangistó giaoúrti in Greece. But in Egypt, the Levant, and the Arabian Peninsula, it's called labneh — and it's tart and tangy, with a texture that falls somewhere between mascarpone and chèvre.
How does it get that texture? The straining process removes most of the yogurt's whey — otherwise known as the cloudy liquid that pools at the top of your open quart of yogurt. The longer you let the yogurt drain, the thicker it becomes, and it can even reach the density of a solid block of cream cheese.
To make labneh at home, all you need is cheesecloth and a strainer, and then gravity does all the work for you! We like to use Greek yogurt and let it drain for just 24 hours, so we end up with labneh that's rich and creamy, but still soft and spreadable. And once it reaches that perfect texture, all that's left is folding in a bit of lemon zest to brighten its natural tartness — and deciding how you're going to eat it.
In the Middle East, it's a popular mezze, or appetizer — often drizzled with olive oil, dusted with za'atar, and eaten like hummus with pita. Add fresh cucumber and tomato slices, and you've got a proper Israeli breakfast! But because labneh is so versatile, you can serve it with everything from pomegranate seeds to caramelized onions.
Here, we've adorned it with floral olive oil, earthy roasted beets, briny Kalamata olives, juicy heirloom cherry tomatoes, crunchy pepitas, and fresh dill and mint. It's so pretty on the plate — a veritable garden of colors, textures, and flavors. In the test kitchen, our tasters were so in awe, no one wanted to destroy this work of culinary art. But once they dug their first pieces of grilled pita into the labneh, the plate was wiped clean within just a few minutes; its bright, fresh complexity is too irresistible.
This decked-out labneh makes an excellent lunch — it's certainly satisfying enough to constitute an entire meal. But of course, it's also a perfect appetizer for outdoor happy hours: we love it as a wonderfully colorful centerpiece for a spread of smoky baba ganoush, grilled artichokes, and sparkling white wine.
Yield: 1 ½ cups
Ingredients
For the labneh:
2 cups plain Greek yogurt
½ tsp kosher salt
Zest of 1 lemon
For the garnishes:
10 Kalamata olives, halved
10 heirloom cherry tomatoes, halved
1 Tbsp torn Gelson's organic fresh mint
2 Tbsp torn Gelson's organic fresh dill
1 red beet, roasted, peeled, and cut into 1" wedges
1 Tbsp pepitas, toasted
3 Tbsp extra-virgin olive oil
1 pinch flake salt
2 cracks Gelson's black pepper
4 pita breads, grilled, each cut into 6 triangles
Special equipment: Cheesecloth
Directions
To make the labneh: Open up the cheesecloth, fold it in half, and lay it in a strainer. Place the strainer in a large bowl, leaving room at the bottom for the yogurt to drip.

Place the Greek yogurt in the cheesecloth, cover it with plastic wrap, and put it in the refrigerator for 24 hours.

Transfer the drained yogurt to a new mixing bowl and discard the water the yogurt has pitched. Add the kosher salt and lemon zest, and fold it together until well incorporated.

Spread the labneh out on a plate or flat bowl — roughly ¾" thick. Top it with all of the garnishes and serve immediately with triangles of warm, grilled pita bread.
Calculate nutrition information for this recipe.