Appetizer Recipes
Instant Pot Hummus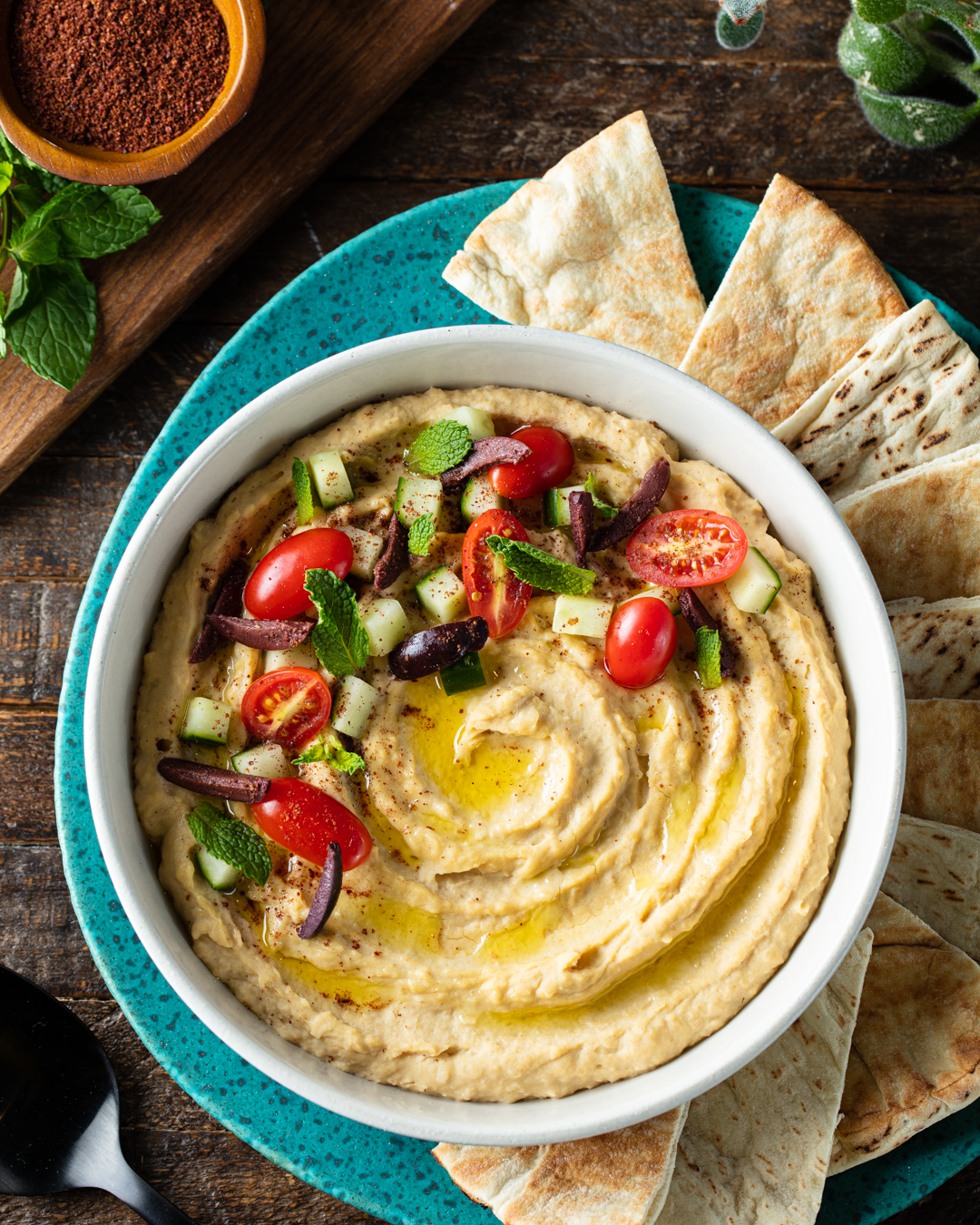 If we had to pick one dip to eat for the rest of our lives (which, fingers crossed, we'll never actually have to do), we'd probably pick hummus. After all, it goes well with everything from bell peppers and baby carrots to wheat crackers and pita chips, and sandwiches always taste better with a smear of it. Our favorite way to do DIY hummus? In the Instant Pot — hands down. It makes for some incredibly creamy (but not mushy!) chickpeas, which in turn make for some incredibly creamy hummus.
Besides the chickpeas, we also put some garlic, bay leaf, and a pinch of salt in the Instant Pot to create an aromatic base for the hummus. One note from the test kitchen: you'll wind up with around six cups of cooked chickpeas, so you can either make a double batch of hummus or use the leftovers to make a hearty salad, crispy fritters, or a cozy spiced soup, like this one with lemon and fennel.
Once the chickpeas are cooked through, we whirl them up in the food processor with tahini, lemon juice, cumin, paprika, cayenne pepper, and a little more garlic. The resulting hummus is light and airy, with the perfect balance of citrusy high notes and earthy low notes.
We like to finish our hummus with a sprinkle of Gelson's sumac and a drizzle of olive oil. Also good: topping it with fresh vegetables and herbs. We pile on briny kalamata olives, crunchy cucumber, juicy tomato, and fresh mint, and then scooped it all up with warm pita bread for lunch.
Our tip: this recipe makes a basic hummus, but feel free to add other ingredients to the food processor, like roasted garlic or red peppers, to make flavored hummus.
Yield: 1 quart
Ingredients
For the chickpeas:
1 lb dried chickpeas, rinsed and picked through
12 cups filtered water
2 garlic cloves, smashed
1 bay leaf
Kosher salt
For the hummus:
3 cups cooked chickpeas
½ cup chickpea cooking liquid
¼ cup extra virgin olive oil, plus more for garnish
¼ cup tahini
¼ cup plus 1 tsp freshly squeezed lemon juice
2 garlic cloves
1 tsp kosher salt, plus more to taste
½ tsp Gelson's ground cumin
¼ tsp Gelson's ground paprika
Gelson's cayenne pepper
Gelson's sumac, for garnish
Directions
To cook the chickpeas: Combine the dried chickpeas, filtered water, garlic cloves, bay leaf, and a pinch of kosher salt in an Instant Pot. Close the lid, seal the vent, and set the Instant Pot to manual for 35 minutes.

When done, allow the Instant Pot to naturally release the pressure (this can take up to 30 minutes). Carefully drain the chickpeas, making sure to reserve ½ cup cooking liquid. Discard the garlic cloves and bay leaf.

To make the hummus: Transfer 3 cups of the warm chickpeas to a food processor. Add the chickpea cooking liquid, extra virgin olive oil, tahini, lemon juice, garlic cloves, kosher salt, cumin, paprika, and a pinch of cayenne pepper. Process until smooth. Season with additional kosher salt, to taste.

Garnish with additional extra virgin olive oil and sumac, and serve with your favorite vegetables. The hummus may be stored in an airtight container for up to 5 days.
Recipe adapted from: Everyday Maven
Calculate nutrition information for this recipe.