Lunch Recipes
Lentil and Arugula Salad with Goji Berry Vinaigrette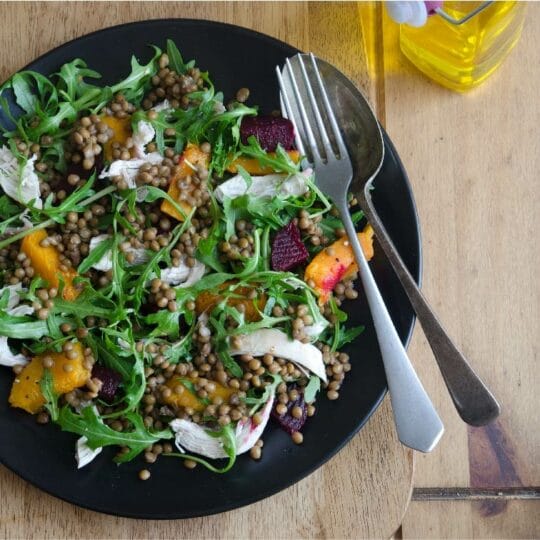 Lunch
Lentil and Arugula Salad with Goji Berry Vinaigrette
Serves: 4
Ingredients
1 8 ounce package Earth Exotics cooked fresh lentils rinsed and drained
1/2 cup red wine vinegar divided
1/4 teaspoon black pepper divided
2 tablespoons Napa Valley organic olive oil divided
1 large shallot about 1 1/2 ounces minced
1/2 cup Good Sense sweetened goji berries
1 5 ounce box Earthbound Farms organic arugula
2 ounces Valbreso Feta Cheese crumbled
Directions
Place the lentils in a small bowl and season with three tablespoons red wine vinegar and 1/8 teaspoon black pepper. Let stand at room temperature while you prepare the rest of the salad.
Heat two teaspoons olive oil in a small saucepan over medium low heat. Add shallots and cook, stirring often, until golden, about seven minutes. Pour in remaining five tablespoons red wine vinegar, water and goji berries. Cook about eight more minutes until reduced by half, stirring occasionally. Remove from heat and stir in remaining four teaspoons olive oil and 1/8 teaspoon each pepper and salt.
Toss warm dressing with arugula and add in lentils and feta cheese. Toss gently and serve.