Dinner Recipes
Mediterranean Pan-Seared Sea Bass
Mediterranean Pan-Seared Sea Bass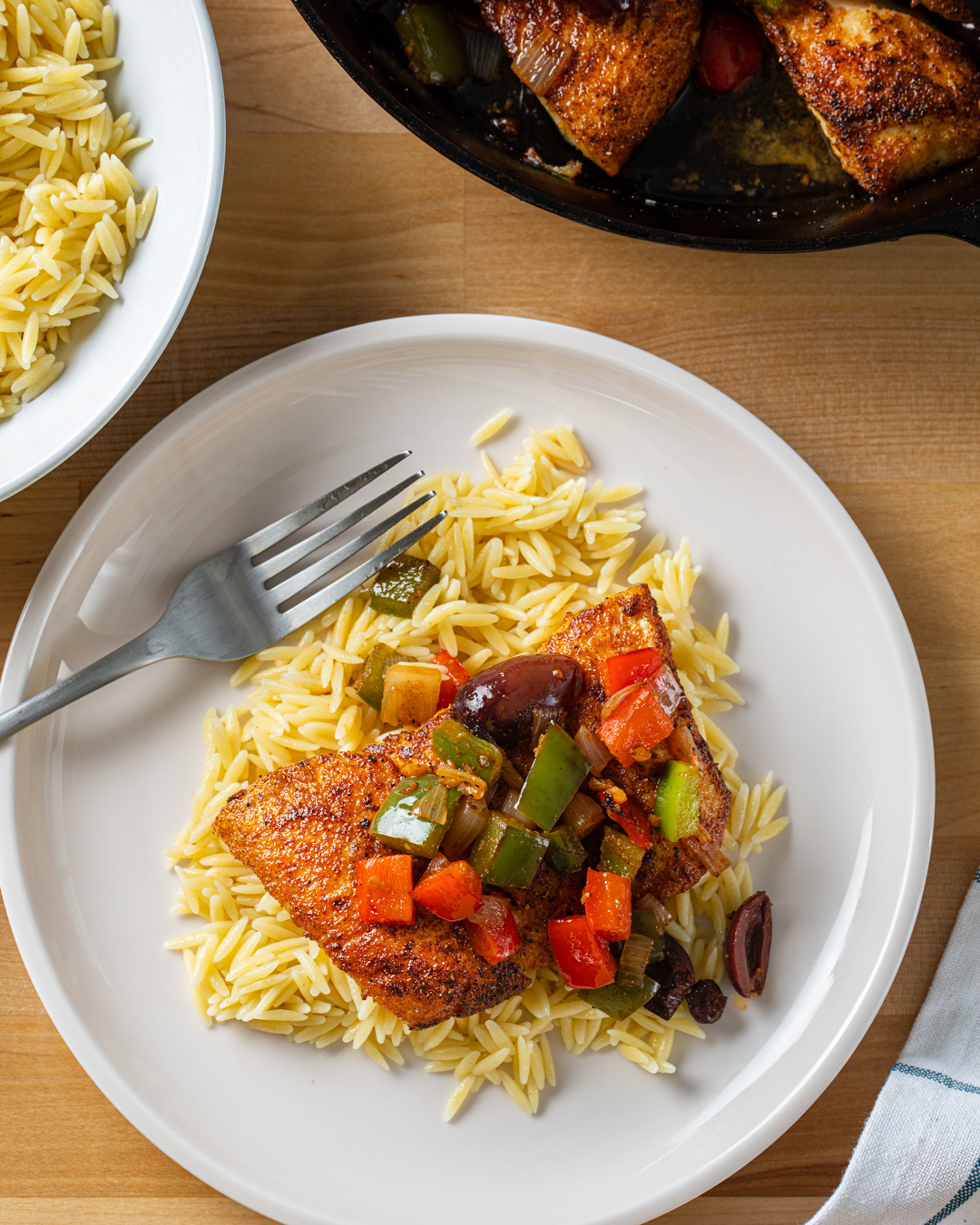 Sometimes the right name can make all the difference. If we told you that this recipe is "skillet fish and pasta," you'd think, "Hot diggity! Perfect for a relaxed dinner outside, eaten family style right from the skillet." But if we told you that it's freshly caught sea bass pan seared in Mediterranean spices and served on a bed of tender orzo, then you might think, "Ooh-la-la! Special occasion dinner worthy of the cloth napkins and the least-chipped china."
Either way, you'd be right, because while sea bass certainly deserves its la-di-dah reputation as one of the world's most delicious fish, this particular cooking method — ta da! — makes it super simple to prepare.
Sea bass is a sweet, mild, and meaty fish, so it's the perfect option if you have a seafood skeptic at the table. And as fish fans, we love what happens to this mild-mannered sea bass when it hits the skillet: after less than 10 minutes of simple pan frying, the fillets transform into a fantastic crispy-on-the-outside, flaky-on-the-inside texture situation. And while clearly delicious on its own, sea bass really shines when it's paired with the bold flavors of the Mediterrean — paprika, cumin, sweet bell peppers, kalamata olives, and loads of garlic. The spices and veggies create a pan sauce that softens in the skillet and provides a bold, deeply flavored accompaniment to all those delightful little oblongs of orzo.
It's up to you whether you'll serve the sea bass as a family style skillet or a special occasion meal (and we're cool with whatever you want to call it). Either way, it definitely requires a nice glass of wine.
Servings: 4
Ingredients
For the spice blend:
½ Tbsp ground coriander
1 tsp sweet paprika
1 tsp Gelson's ground cumin
½ tsp freshly ground Gelson's black pepper
For the sea bass:
1 ½ lb sea bass, skin removed and cut into 6-oz fillets
Kosher salt, to taste
¼ cup extra virgin olive oil
1 green bell pepper, cored and diced medium
1 red bell pepper, cored and diced medium
3 shallots, diced medium
4 garlic cloves, minced
½ cup pitted kalamata olives, halved
1 Tbsp freshly squeezed lemon juice
2 cups dried orzo pasta, cooked to package instructions
Directions
Take the sea bass out of the fridge about 20 minutes before cooking, pat dry with a paper towel, and sprinkle kosher salt on both sides. Set aside.

To make the spice blend: In a small bowl, whisk together the coriander, paprika, cumin, and black pepper. Set aside.

To make the sea bass: In a medium skillet, heat the extra virgin olive oil over medium-high heat until shimmering.

Add the bell peppers, shallots, and garlic, and season with 1 teaspoon of the spice blend. Cook, stirring regularly, for 5 minutes, or until the peppers and garlic are fragrant and tender.

Pat the sea bass dry with a paper towel, and then coat both sides in the remaining spice blend. Discard any remaining spices.

Reduce the heat to low and stir in the kalamata olives. Cook on low heat, stirring occasionally, while you prepare the fish.

In a large cast-iron skillet, heat the remaining extra virgin olive oil over high heat until the oil is shimmering. Gently add the fish fillets, placing them away from you, and lightly press down on them with a spatula. Cook for 3 to 4 minutes, pressing on them as you go, until they are golden brown. Flip the fillets over and cook for 3 to 4 minutes more.

Transfer the fish from the skillet to a paper towel-lined plate, and drizzle with the lemon juice.

Divide the orzo among 4 plates and top each with a sea bass fillet. Garnish with the bell pepper mixture and serve hot.
Recipe source: The Mediterranean Dish
Calculate nutrition information for this recipe.