Beverage Recipes
Palm Springs Date Milkshake
Is it possible for a milkshake to be refined? Yes, and here is the perfect example. To make it, we combine vanilla ice cream with Medjool dates, toasted walnuts, cinnamon, ginger, and a pinch of salt — and then whirl it all up with milk and plenty of ice.
It's a little bit of heaven: In an age where ultra thick and rich shakes are dominating the fast-food scene, we love this shake's light, refreshing texture and salty-sweet balance. The gingery warmth of the spices and the caramelly sweet dates are so nice with the vanilla ice cream. And mixing in the toasted nuts, a new one on us, gives the whole thing some nutty depth.
In the test kitchen, one of our chefs was heard to say, with admiration, that date milkshakes taste like the leftover milk from a bowl of Cinnamon Toast Crunch cereal. We're taking that as a giant compliment and proof that while this milkshake has some grown-up sophistication, it's also exactly the kind of scrumptious dessert your kids will love.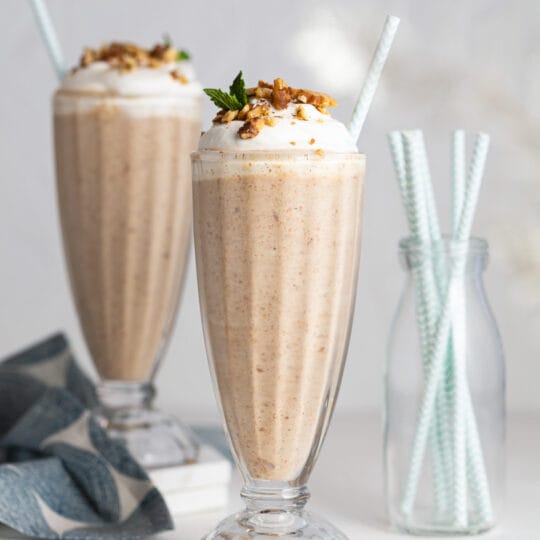 Beverage
Palm Springs Date Milkshake
Serves: 2
Ingredients
6 Tbsp walnut halves, divided
½ cup loosely packed Medjool dates, pitted
¼ tsp Gelson's ground cinnamon
⅛ tsp Gelson's ground ginger
Whipped cream, for garnish
Gelson's organic mint sprigs, for garnish
Directions
Preheat the oven to 400º.

Spread the walnut halves on a small rimmed baking sheet. Toast in the oven for 7 to 10 minutes or until fragrant and lightly browned. Cool for 5 minutes. Roughly chop 2 Tbsp of the walnuts, and reserve them for garnish.

In a medium bowl, combine the dates and hot water. Stir until the dates are fully submerged, and soak for 10 minutes.

In a blender, combine the remaining toasted walnuts, dates and their soaking liquid, cinnamon, ground ginger, salt, vanilla extract, and milk. Blend for about 30 seconds until the ingredients form a paste and are well combined.

Add the ice cream and ice, and blend until smooth, 15 to 30 seconds.

Divide between 2 milkshake glasses. Top each date shake with whipped cream, chopped walnuts, and a mint sprig. Enjoy immediately.
Recipe adapted from: Bon Appetit