Recipes
Parmesan & Herb Dutch Baby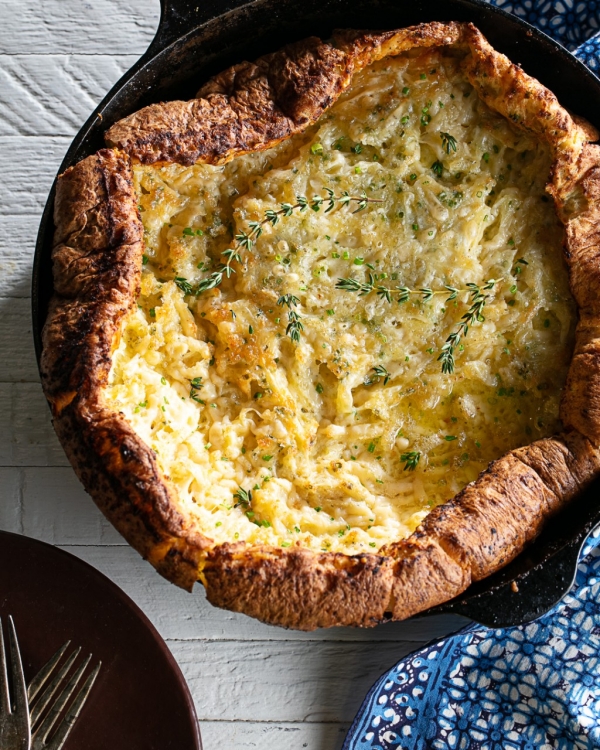 When we think about Dutch Babies, we typically picture large, fluffy, popover-like pancakes topped with fresh berries and a dusting of powdered sugar. (In fact, we've made one just like that.) But lately, we've been imagining this savory Dutch Baby, too. It's just as light and custardy as its sweet sibling, but instead of fruit and sugar, we add fresh thyme and chives, plus a hedonistic grating of Parmesan cheese.
Usually, when you make a Dutch Baby, you simply melt the butter in your cast-iron skillet before pouring in the eggy batter. But for this iteration, we browned the butter to give the whole thing a rich, nutty depth — and to accentuate the nuttiness of the Parmesan. Meanwhile, the floral earthiness of the thyme and the delicate, onion-like flavor of the chives add just enough herbaceousness to counter all that butter and cheese.
Best of all, this savory Dutch Baby is refreshingly easy to make — by which we mean, it's just as ideal for a lazy Saturday brunch as it is for a quick Tuesday dinner. For either meal, we'd pair it with a bright, lemony salad, a few ribbons of prosciutto, and a flute of something crisp and bubbly, like prosecco.
Our tips: Use room temperature eggs to ensure an evenly mixed batter and a perfectly light, fluffy texture. Also, feel free to experiment with different herbs, like basil, rosemary, parsley, or oregano.

Servings or yield: 4 to 6
Ingredients
1 cup plus 2 Tbsp all-purpose flour
½ tsp kosher salt
½ tsp freshly ground black pepper
8 large Gelson's eggs
¾ cup whole milk
2 Tbsp finely chopped fresh thyme leaves, plus more for garnish
2 Tbsp minced Gelson's organic fresh chives, plus more for garnish
6 Tbsp unsalted butter
¾ cup grated Parmesan cheese
Flake salt, for garnish
Louisiana hot sauce, for serving
Directions
Preheat the oven to 425°.

In a large bowl, whisk together the flour, salt, and pepper.

In a separate medium bowl, whisk together the eggs and milk.

Add the egg mixture to the flour mixture and whisk until just combined. Stir in the thyme and chives.

Melt the butter in a 12" cast-iron skillet over medium-high heat. Continue to cook until the butter smells nutty and turns brown, 3 to 5 minutes, being careful not to burn it.

Swirl the skillet so the butter coats the bottom and the sides of the pan. Pour the batter into the skillet and scatter the cheese and flake salt over the top. Bake until the Dutch Baby is puffed and golden, 20 to 25 minutes.

Garnish with thyme and chives, and serve with Louisiana hot sauce.
Recipe adapted from: "Dinner: Changing the Game" by Melissa Clark