Lunch Recipes
PB&J Chicken Wings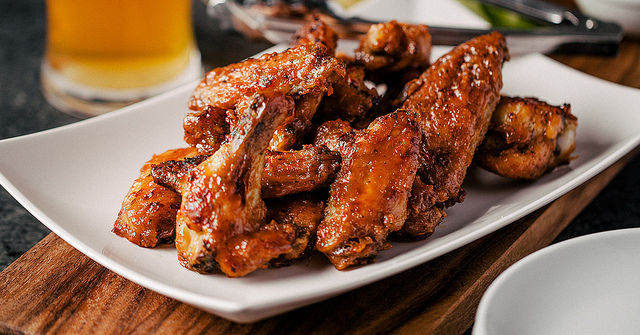 Chicken wings are the quintessential game day finger food precisely because they are terrifically messy and the work-to-meat ratio is all out of whack — they're meant to be gnawed on in an undignified, deeply satisfying way. They're also meant to be shared, and there's something fun about unceremoniously working through a pile of them with your pals.

In this recipe, the wings are slathered in what is essentially peanut butter and apricot jelly, which may sound more like a kid's sandwich than a grown-up appetizer, but trust us — the PB & J comes together like a super smooth, pleasantly sweet peanut sauce. It's wonderful on the crispy chicken, and a nice change from the usual spicy Buffalo or barbecued wings. That said, if you find you miss the spice, add a few teaspoons of your favorite chili paste or a half teaspoon of chili flakes to the sauce.

Our tip: Wings and beer are, of course, a match made in heaven. We'd pair our PB & J wings with a toasty Newcastle Brown Ale — it's malt and sweet caramel notes are a perfect fit. Pick some up at your local Gelson's Market today!
Servings: 4
Ingredients
1 ½ pounds chicken wings (cut in half at joint, tips removed)
2 Tbsp vegetable oil
Salt and pepper
½ cup Stonewall Kitchen Apricot Jam
2 Tbsp Stonewall Kitchen Creamy Peanut Butter
½ tsp fresh ginger, grated

Directions
Preheat oven to 400°.
Spread the wings out on a large baking sheet, brush them with oil, and season with salt and pepper. Bake for 30 to 40 minutes until golden brown, turning wings halfway through the baking time.
In a medium saucepan, combine the apricot jam, peanut butter, and ginger and warm them over low heat. Stir until smooth. Remove from heat.
Add the wings to sauce and stir to coat. Drain the fat from baking sheet. Shake excess sauce off each wing and place them back on the sheet.
Set the oven rack 6 to 8 inches away from broiler. Broil wings until sauce begins to bubble and turn golden brown. Serve immediately.
Recipe source: Stonewall Kitchen.