Recipes
Peel & Eat Shrimp with Old Bay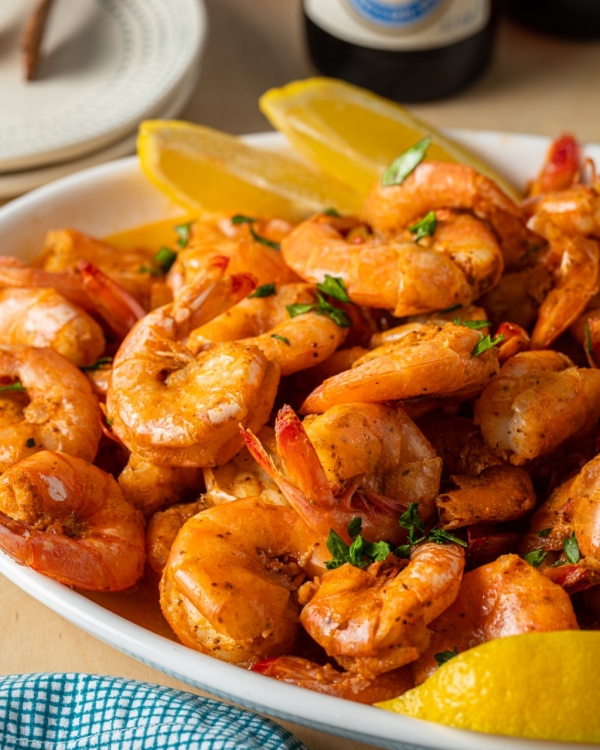 Tender shrimp coated in peppery Old Bay spice, poached in butter, and finished in beer — and then peeled and eaten while they're still warm. This is comforting, nostalgic finger food at its most satisfying.
The shrimp comes together in minutes, and it's terrifically messy, so it's perfect for a late afternoon happy hour on the patio with the S.O. — or a snacky dinner with the whole family. If you want to add to it, think about a green salad, some grilled corn, and a baguette to sop up all that buttery beer broth.
Our tip: Serve the shrimp with a big stack of napkins and a lighter beer. We'd suggest a Deschutes Pacific Wonderland lager — its light, citrusy notes will be just the right complement to the zesty shrimp.
Servings: 6 to 8
Ingredients
2 lb shrimp, deveined and shells split
2 ½ Tbsp Old Bay seasoning
1 Tbsp olive oil
¾ cup beer (or ½ cup dry white wine)
3 Tbsp unsalted butter
1 cup water
Lemon wedges, for serving
Directions
In a large bowl, toss the shrimp together with the Old Bay and set it aside.
In a large sauté or cast-iron pan, heat the olive oil over medium-high heat. When the pan is smoking, add the shrimp and let it sit for 30 seconds, or until the meat is seared.
Toss or stir the shrimp quickly and add the beer or wine.
Let the shrimp cook for another 30 seconds, and then add the butter and water.
When shrimp are pink, remove them from the heat.
Season with salt, pepper, and more Old Bay (if need be) and serve immediately with lemon wedges.
Recipe source: TASTE