Breakfast Recipes
Pesto Egg & Ricotta Toast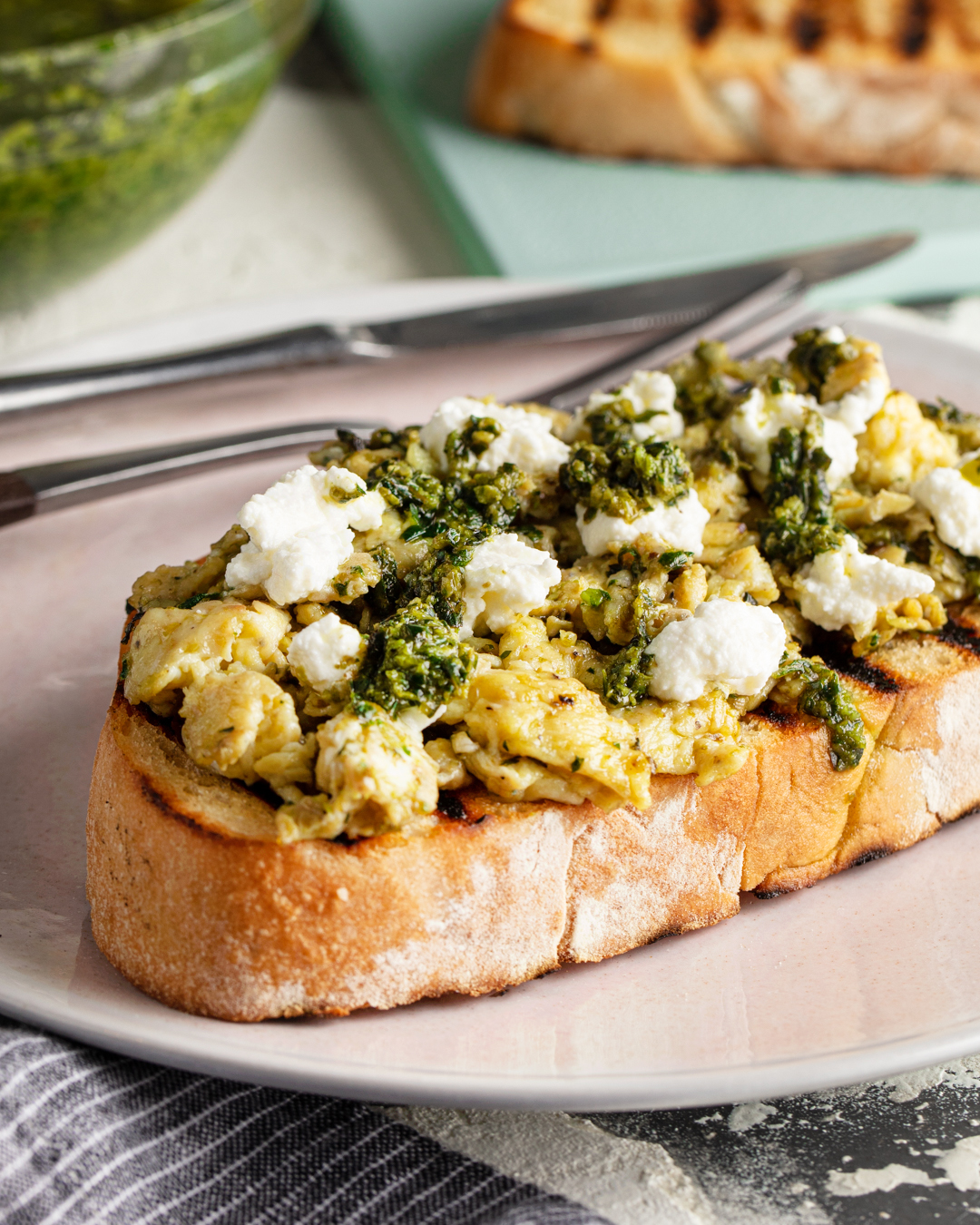 Perhaps one of the best hacks to come out of the whirlwind world of TikTok is pesto eggs. They're perfect for breaking the fast during summer — and delightfully easy. A lot of folks have been using pesto to fry their eggs, but here, we've swirled that herby business into a Parmesan-laced scramble.
We like to use homemade pesto for our eggs. A quick whirl of basil, Parmesan, garlic, pine nuts, and olive oil in the food processor, and you've got a super fresh, super peppery sauce to zhuzh up that scramble. That said, a jar of pesto will do in a pickle … or if you're (understandably) feeling too sleepy to haul out the food processor in the morning. Either way, those whisked, cheesy eggs will cook up light, fluffy, and full of green goodness.
You could absolutely eat those basil-speckled scrambled eggs as is. Or you could do this: pile them on grilled toast with great big dollops of ricotta cheese for a textural one-two punch — the crispy, slightly charred toast and super milky, super creamy cheese set off the herby eggs wonderfully. (Plus, it's a great way to shake up your avocado toast routine.)
This pesto egg toast is a great breakfast during the week: It's filling, but doesn't weigh you down. And it's quick — you can make it in five minutes and scarf it down before dashing out the front door. However, we wouldn't hesitate to serve it for weekend brunch with the crew. Add a pitcher of raspberry mimosas and a colorful fruit salad, and voilà! A lovely little spread of easy luxury.
Servings: 2
Ingredients
2 slices Italian bread, about 1" thick
2 ½ Tbsp unsalted butter, divided
3 Gelson's eggs
1 Tbsp Gelson's grated Parmesan cheese
Kosher salt
Freshly ground Gelson's black pepper
1 heaping Tbsp basil pesto, plus more to taste
3 Tbsp whole milk ricotta cheese
Directions
Heat a grill pan over high heat.

Spread 2 tablespoons of unsalted butter on the Italian bread, coating both sides. Grill 2 to 3 minutes per side, or until the bread has nice grill marks. Set aside.

In a medium nonstick skillet over medium-high heat, melt the remaining ½ tablespoon butter.

In a medium bowl, beat the eggs with the Parmesan cheese and a pinch each of kosher salt and black pepper.

Pour the egg mixture into the hot skillet, swirl, and reduce the heat to low. Using a heatproof rubber spatula, stir the eggs constantly until very loosely set and slightly runnier than you like them, 1 to 2 minutes.

Remove the pan from the heat and drizzle the pesto over the eggs. Give the eggs one more gentle stir, just enough to finish cooking them and to distribute the pesto in dark green streaks.

Divide the eggs between the slices of toast. Scatter the ricotta cheese on top, then drizzle with more pesto, to taste. Serve immediately.
Recipe adapted from: The New York Times
Calculate nutrition information for this recipe.