Recipes
Pumpkin Cheesecake Bars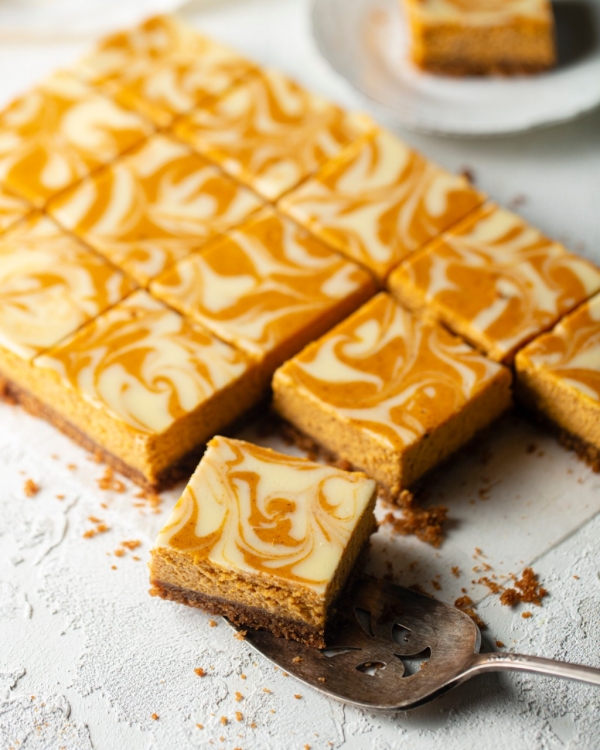 In our test kitchen, folks have strong feelings about pumpkin pie and cheesecake. For some, fall is all about the Great Pumpkin — others lean toward the apple. Some always order the cheesecake; some, not so much. Yet all of us wholeheartedly agree that these pumpkin cheesecake bars are a keeper.
What makes them irresistible to even the naysayers? It may be their smooth, creamy filling, a sublime blend of warm, fall spices, sweet pumpkin, and tangy-tart cheesecake filling. The ratio of filling to dense, graham cracker crust is also perfect. And then there are the mesmerizing swirls: a dessert this pretty must be eaten, and it was, right down to the very last bar.
Pumpkin cheesecake bars will be a blue-ribbon addition at any small, socially distant holiday celebration, from a tiny Friendsgiving to an autumnal barbecue. Afterwards, you can regale your mother with tales of victory — the oohs and aahs, the recipe requests — and maybe, just maybe, she'll let you bring a pan to her Thanksgiving.
Our tip: These bars definitely get better overnight, so go ahead and make them one day ahead. (But only if you think you can resist eating them.)
Servings: 20
Ingredients
For the crust:
2 cups graham cracker crumbs
¼ cup light brown sugar
½ tsp ground cinnamon
½ tsp ground ginger
½ tsp ground allspice
¼ tsp salt
1 stick unsalted butter, melted
For the filling:
1 lb cream cheese, room temperature
¼ cup sour cream
1 cup granulated sugar
4 eggs, room temperature
1 Tbsp lemon juice
1 tsp vanilla extract
½ tsp kosher salt
1 ½ tsp ground cinnamon
½ tsp ground nutmeg
½ tsp ground ginger
¼ tsp ground allspice
⅛ tsp ground cloves
1 15-oz can pumpkin purée
Directions
Preheat the oven to 325º and line a baking pan measuring 9 x 13 inches with parchment paper.

To make the crust: In a large bowl, mix together the graham cracker crumbs, brown sugar, cinnamon, ginger, allspice, and salt. Fold in the melted butter until evenly distributed.

Firmly press the graham cracker mixture into the baking pan, evenly covering the bottom, and bake until fragrant and just starting to brown, about 10 minutes.

To make the filling: In a stand mixer with a paddle attachment, beat the cream cheese, sour cream, and granulated sugar together until smooth.

Beat in the eggs, one at a time, until combined.

Beat in the lemon juice, vanilla extract, and salt until incorporated.

Reserve ½ cup of the cream cheese mixture, and set it aside.

Beat in the spices until incorporated.

Beat in the pumpkin purée until smooth and incorporated.

Pour the pumpkin filling into the baking dish.

Using a tablespoon, drizzle the reserved cream cheese mixture across the top of the pumpkin filling, and then use a toothpick to swirl it across the surface.

Bake the pumpkin cheesecake bars for 40 to 45 minutes. When it's done, the cake will gently shake in the middle, like jello.

Set the bars on a rack to cool to room temperature, and then chill in the refrigerator for 1 hour. Serve cold or at room temperature.