Recipes
Quiche Lorraine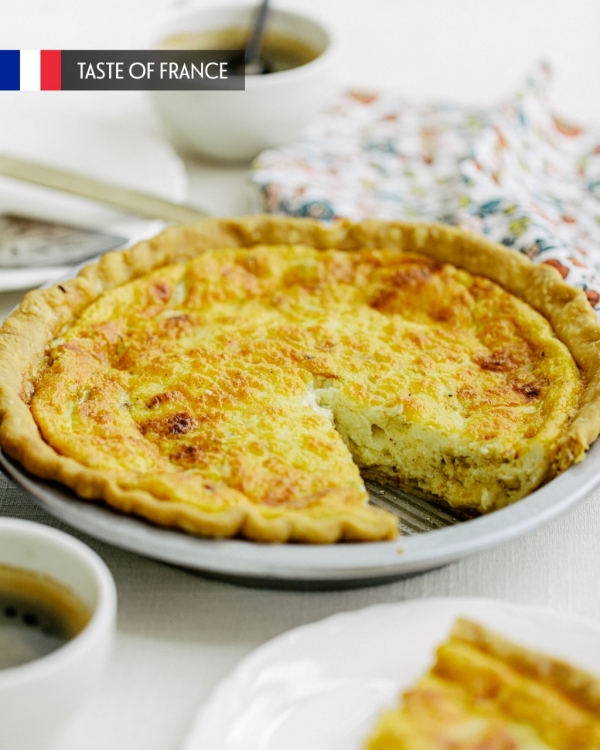 There are a million versions of quiche Lorraine, but they all seem to have a few things in common: a flaky crust, custardy eggs, bacon, and nutmeg. The more traditional recipes don't have cheese (Julia Child's didn't), but this one does, and we think it's all the more glorious for it. It combines Gruyère and Parmesan, which melt into creamy pockets in the custard — and give you a fantastic cheese pull. It also includes sautéed onions. We like the sweetness they add, especially in contrast to all that creamy, crispy, salty stuff.
There's nothing easier than making a quiche, and yet, like all pies, it has a cozy prettiness that feels special. This one would make a fantastic brunch or light lunch. We'd pair it with a leafy green salad or a simple bowl of fruit.

Our tip: If you're the snoozy sort of person for whom brunch is a challenge, pick up a crust in our frozen foods aisle. You can also prep the bacon and onions the night before you need them. In the morning, build the pie while the oven preheats, and you'll have brunch on the table in no time.

Servings: 6 to 10
Ingredients
Pastry dough for a one-crust, nine-inch pie
4 strips bacon
1 onion, thinly sliced
1 cup Gruyère, cubed
¼ cup Parmesan, grated
4 eggs, lightly beaten
2 cups heavy cream, or 1 cup each milk and cream
¼ tsp nutmeg
½ tsp salt
¼ tsp freshly ground pepper
Tabasco sauce, to taste
Directions
Preheat the oven to 400º.

Line a 9-inch pie plate with the pastry dough. Build a rim with the dough and flute it — this is essential for the amount of custard indicated in this recipe.

Cover the dough with a round of parchment paper and add enough dried beans to partially fill the shell. Bake for 10 minutes.

Reduce the oven heat to 375º. Remove and discard the beans and parchment paper, and set the pastry-lined pie plate aside.

Cook the bacon until crispy, remove it from the skillet, and set it on a paper towel to drain. Pour off all but one tablespoon of the fat remaining in the skillet. Cook the onion in the fat until the onion is transparent.

Crumble the bacon, and sprinkle the bacon, onion, and cheeses over the inside of the partly baked pastry.

Combine the eggs, cream, nutmeg, salt, pepper, and Tabasco. Pour the egg mixture over the cheese mixture. Slide the pie onto a baking sheet.

Bake the pie until a knife inserted one inch from the pastry edge comes out clean, about 35 to 45 minutes. Remove to a wire rack and let stand 5 to 10 minutes before serving, so the ingredients have time to set.
Recipe adapted from: NYT Cooking