Recipes
Rice Pilaf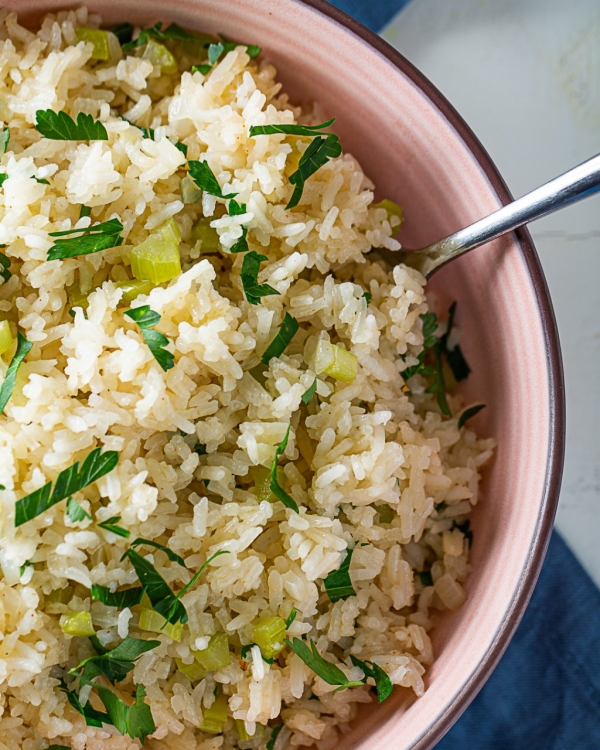 A bowl of fluffy rice pilaf is every bit as carby and comforting as chicken noodle soup, sans the big production and the steaming hot broth — so it's perfect for our busy stay-at-home spring. We cook our rice with onions, celery, chicken broth, and black and cayenne peppers, so it has lots of savory depth. We balance out the peppers' mild heat and pungency with a handful of very pretty, bright green parsley thrown in at the end.
Rice pilaf is a classic fancy dinner side, and it'll be great with any sort of protein, from a lemony swordfish to a grilled salt-and-pepper steak. But in these lazy and good-gosh-I'm-always-cooking days, we're more inclined to put it in a bowl and top it with a perfectly poached egg — or a little pile of tuna in olive oil or herby white beans. It can be lunch or dinner or both.
Our tip: Rice pilaf is as flavorsome as the broth you use to cook it. If you have a leftover rotisserie chicken and a few veggie scraps lying around, and a few minutes to throw them in a pot, go ahead and make your own chicken stock — it'll be worth the effort. Plus, it'll make your house smell delicious.
Serves: 6 to 8
Ingredients:
4 cups chicken stock, vegetable stock, or a mix of ½ water and ½ stock
2 tsp extra-virgin olive oil, butter, or chicken fat
2 cups long-grain white rice
½ cup chopped yellow onion or green onion
½ cup chopped celery
1 tsp kosher salt
¼ tsp black pepper
⅛ tsp cayenne pepper
½ cup chopped fresh parsley
Directions:
In a medium saucepan, heat the stock over medium heat until simmering. Lower the heat and keep the stock hot on the stove.

Meanwhile, in a large skillet, heat the olive oil over medium heat, until shimmering. Add the uncooked rice and toast, stirring occasionally, for 2 to 3 minutes, or until the edges of the grains start to brown in color.

Add the onions and celery and cook, stirring occasionally, until the vegetables begin to soften, about 2 to 3 minutes.

Add the salt, black pepper, and cayenne. Stir until well incorporated.

Pour the hot stock into the skillet. Bring to a simmer, reduce the heat, cover, and cook for 20 minutes. Take the skillet off of the heat, and let it sit, covered, for 10 minutes.

Fluff the rice with a fork and gently fold in the parsley. Serve warm.
Recipe adapted from: Simply Recipes