Dinner Recipes
Roast Chicken with Leeks & Potatoes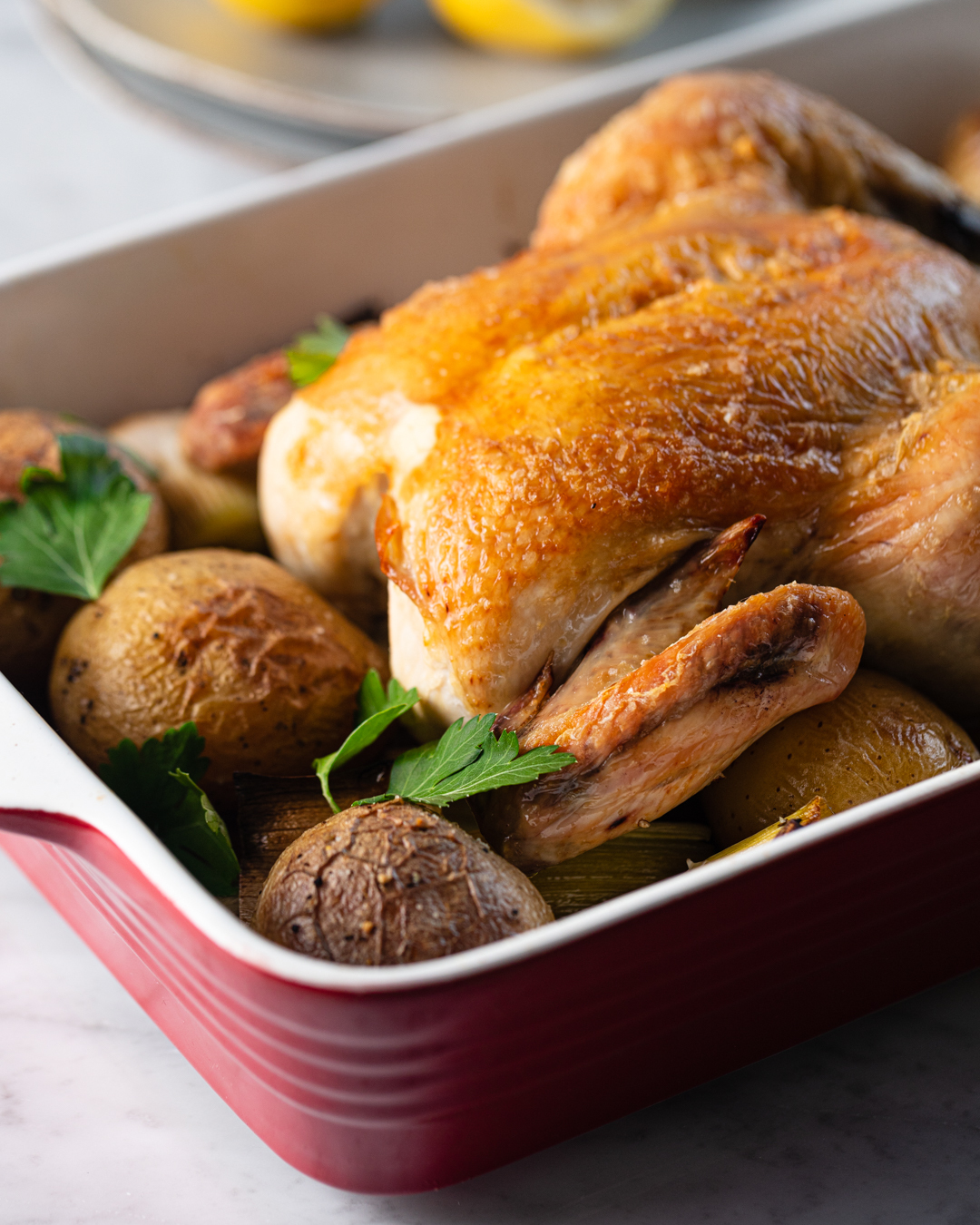 Isn't it amazing what a little salt, pepper, and time can do? In this very simple dish, the chicken is seasoned liberally inside and out, stuffed with garlic and thyme, and left to dry in the fridge overnight. The next day, it roasts up incredibly tender and juicy — even the white meat is succulent — with skin so crispy it crackles. The leeks and potatoes braise in the chicken juices, so they're full of lush flavor. And oh my, the gravy all those drippings make.

Suffice to say that this is a very simple one-pan meal, but you may find yourself pulling the recipe out again and again — come the holiday season, it'll give any Thanksgiving turkey a run for its money.

Our tip: In a pinch, you can refrigerate the chicken for just a couple of hours, but our advice is to let it chill overnight. You want the salt to have time to draw out all the bird's juices — and having it all prepped ahead of time will help get dinner on the table faster too.

Ingredients
1 whole chicken
3 tsp kosher salt, plus more for seasoning
1 head garlic, halved
12 sprigs of thyme
2 large leeks, trimmed and cleaned (only the white and light green parts)
1 ½ lb small Yukon Gold potatoes, washed
2 Tbsp olive oil
Black pepper, to taste
1 cup chicken stock
2 Tbsp butter

Directions
Using a paper towel, pat the chicken dry. Season it inside and out with salt, stuff it with garlic and thyme, truss it, and place it in the refrigerator for 2 to 24 hours, uncovered. This will make the chicken very crispy when you roast it.
Preheat oven to 450º.
Cut the leeks into 3-inch pieces crosswise. If your leeks are really wide, you can slice each piece in half lengthwise.
Place the leeks in a large bowl with the potatoes. Toss the veggies with 1 tablespoon of olive oil and pepper and set aside.
Grease a large cast-iron skillet or gratin pan with the remaining olive oil. Place the chicken in the center and arrange the leeks and potatoes around the outside.
Roast the chicken for one hour, or until an instant-read thermometer reads 160º.
Remove from oven and let it rest for 10 minutes before moving it and the vegetables to a serving dish. Leave any drippings in the pan.
Move the pan to the stove top and heat it over medium heat. Add the chicken stock and butter, and then let it simmer until the liquids reduce by half.
Spoon the sauce over the chicken and vegetables and serve hot.