Dinner Recipes
Roast Filet of Beef au Poivre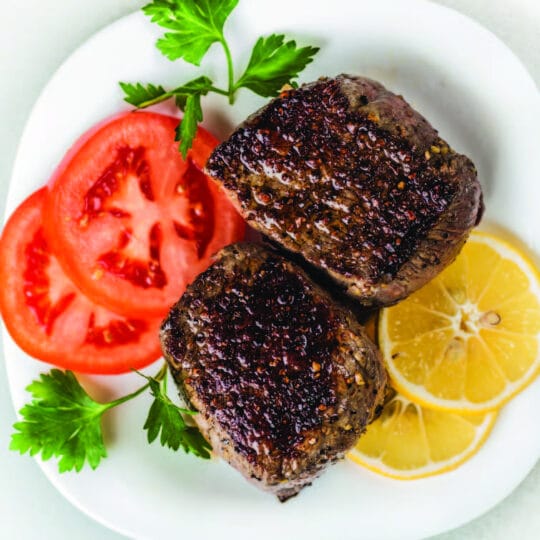 Dinner
Roast Filet of Beef au Poivre
Serves: 6
Ingredients
1 of garlic peeled and cut into slivers
1 1/2 tablespoons extra virgin olive oil
2 tablespoons coarsely cracked black pepper
1 tablespoon fresh thyme leaves
1 teaspoon coarse sea salt
1 whole filet mignon trimmed and tied about 3 lbs
Directions
Preheat oven to 425 degree F.
With the tip of a sharp knife, cut slits about 1 inch deep into filet and insert garlic slivers.
Rub olive oil into the filet and pat the crushed pepper all over meat.
Place filet on a rack in a shallow roasting pan, and sprinkle thyme and sea salt over the beef.
Place filet in oven and roast 15 minutes.
Reduce heat to 350 degree F. and roast another 20 minutes for rare.
Test for doneness with a meat thermometer, 125 degree F. to 130 degree F. for rare, 135 degree F. to 140 degree F. for medium.
Remove from oven and let rest 10 minutes before carving.