Dinner Recipes
Steak & Creamy Mushroom Sauce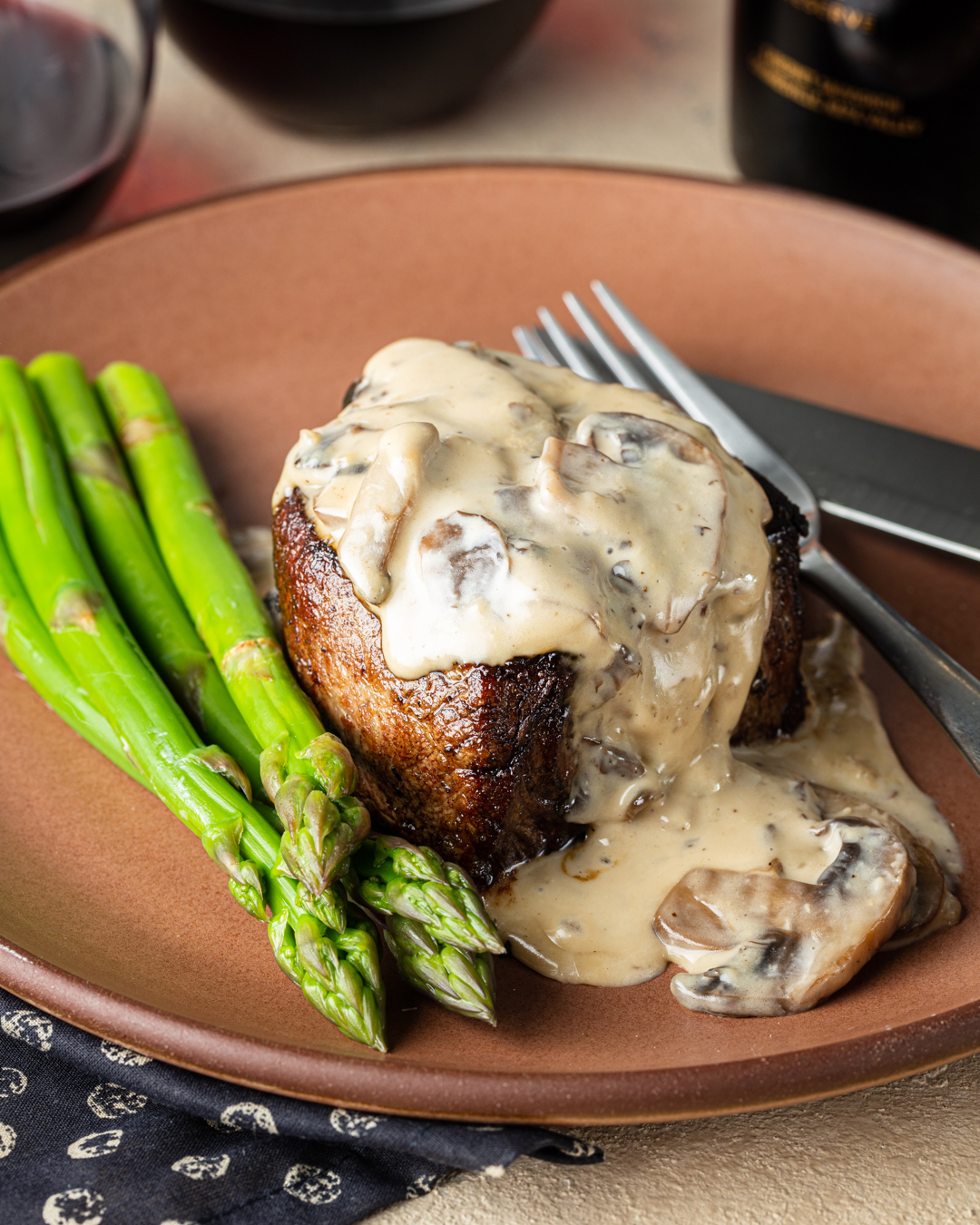 Here's a simple weeknight supper for you: a juicy, beautifully seared steak slathered in a richly layered, very creamy mushroom sauce and served — in this case — with bright green spears of steamed asparagus. It's a luxe and wine-worthy repast, but it comes together in under half an hour.
What we're talking about here is a glorified pan sauce. We toss the mushrooms and a bunch of garlic in a pan with butter, sear them up nice and brown, and then stir in some chicken broth, Worcestershire sauce, and heavy cream. The result is deceptively light and full of earthy depth and a lovely, subtle umami.
The steaks are also simple to prepare. We sear them in grapeseed oil, and then finish them with a generous basting in butter, garlic, and thyme. Butter basting keeps the steaks juicy and infuses them with loads of flavor — all that herbiness really comes through. We love how both the steak and the steamed asparagus taste in the creamy mushroom sauce: its simple savory notes are the perfect complement to the rich meat and seem to bring out all of the asparagus' natural sweetness.
We'd make this dish any day of the week, but it's also the one we'd roll out when we've got a couple of really nice steaks in the fridge and someone special coming to dinner. You can have it on the table in the blink of an eye and spend the rest of the evening telling stories and making plans.
Servings: 2
Ingredients
5 Tbsp unsalted butter, divided
8 oz cremini mushrooms, thinly sliced
6 garlic cloves, 2 cloves minced and 4 cloves smashed, divided
⅔ cup chicken broth
1 cup heavy cream
1 tsp Dijon mustard
1 tsp Worcestershire sauce
½ tsp kosher salt, plus more to taste
¼ tsp freshly cracked Gelson's black pepper, plus more to taste
2 8-oz tenderloin steaks
1 tsp grapeseed oil
3 thyme sprigs
Directions
Preheat the oven to 400°.

To make the mushroom sauce: In a medium skillet over medium-high heat, melt 3 tablespoons unsalted butter until bubbling.

Stir in the mushrooms and minced garlic. Sauté for 3 to 4 minutes, or until the mushrooms are browned.

Reduce the heat to medium and stir in the chicken broth, heavy cream, Dijon mustard, and Worcestershire sauce. Add the kosher salt and black pepper. Continue to cook, stirring frequently, until the liquid has reduced and thickened enough to coat the back of a spoon, 5 to 8 minutes.

Meanwhile, pat the tenderloins dry and season with kosher salt and black pepper on both sides.

Heat a cast-iron skillet over high heat and drizzle in the grapeseed oil. Once the pan is starting to smoke, add the tenderloins and cook for 2 minutes, or until browned. Flip the steaks and continue cooking until well-charred on the second side, about 2 minutes. Brown the sides of the steaks, turning as needed, about 3 minutes.

Add the remaining 2 tablespoons unsalted butter to the pan with the smashed garlic cloves and thyme sprigs. Baste the steaks for about 2 minutes.

Place the skillet in the oven and continue cooking the steaks until they reach the desired doneness, 3 to 5 minutes, or 130° on an instant-read thermometer, for medium-rare.

Rest the steaks on a cutting board for 5 minutes.

Pour the mushroom sauce over each steak and serve hot with your favorite vegetable.
Recipe adapted from: Creme de la Crumb
Calculate nutrition information for this recipe.