Recipes
Strawberry Hand Pies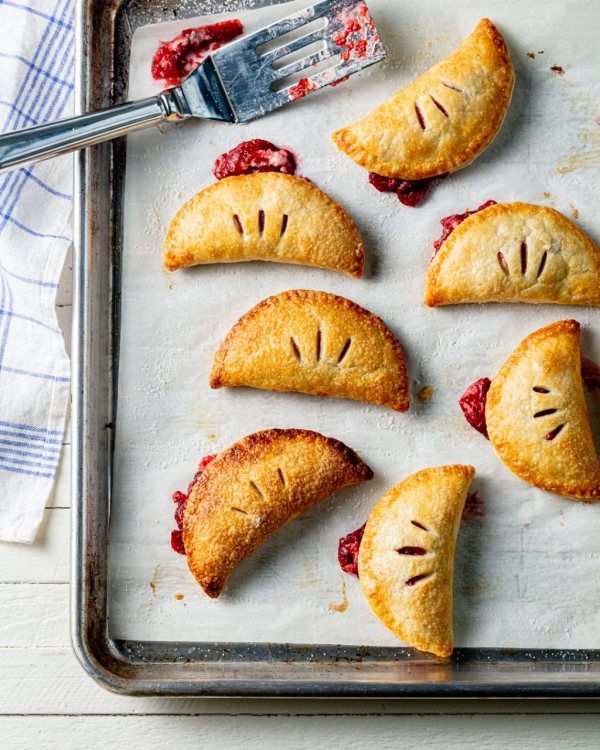 "If only there were a way to improve on strawberry pie. It would be so much better if it weren't so messy to serve. If only you didn't need a plate and fork to eat it. And … wait a minute! This idea is so crazy, it just might work." No, we weren't on the scene when the first strawberry hand pie was invented, but it probably sounded something like this. After all, this is a recipe that solves the messy problems faced by pie eaters everywhere — by turning their favorite food into a portable, easy-to-eat treat.
Imagine the most beloved toaster pastry of your childhood, then picture it all grown up and ruling the (dessert) world. We've built upon the basic concept — take a pie, fold it up, presto — and improved upon it in some clever ways. We've achieved max-levels of flakiness by swapping in a bit of cake flour for some of the all-purpose flour. That helps the dough roll out more easily and bake up like a professional-grade pastry dough.

Even so, these pies are about more than just their delectable crusts. The filling has been upgraded from ho-hum to "Wow, what's in here?" status, thanks to the genius move of including a couple of ounces of cream cheese in with the strawberries. It creates a rich, tangy complement to the sweet berry filling.

Our tip: While it's fun to bake these all in one day, you can break up the work into easy-to-manage chunks. Two days before, make the filling and store it in the refrigerator. The day before, prepare the dough and chill it. Then on baking day, you'll just need to assemble, bake, and enjoy.

Servings: 20
Ingredients
For the crust:
1 ¾ cups all-purpose flour
½ cup cake flour
¾ tsp kosher salt
4 oz (½ cup) cream cheese, cold
2 sticks unsalted butter, diced, cold
1 Tbsp apple cider vinegar
3 Tbsp water, cold
1 large Gelson's egg, whisked, for egg wash
Granulated sugar, for sprinkling
For the filling:
2 lb strawberries, hulled and diced
3 Tbsp granulated sugar
1 Tbsp lemon zest
1 Tbsp lemon juice
2 Tbsp cornstarch
2 oz (¼ cup) cream cheese
Special equipment: 4 ½-inch diameter round cookie cutter or a clean 28 oz can (for cutting the dough)
Directions
To make the crust, add the all-purpose flour, cake flour, and salt to a food processor and pulse to combine. Add the cream cheese and pulse until the mixture resembles a coarse meal.

Add the butter and pulse until the pieces are pea-size.

Pour in the apple cider vinegar and water, and pulse until the mixture begins to clump together.

Turn the dough out onto a flat surface and form it into a disk, smoothing out the edges to remove any cracks. Wrap the disk with plastic wrap and chill in the refrigerator for 2 hours or up to 2 days.

To make the filling: In a medium saucepan over medium heat, combine the strawberries, sugar, lemon zest, lemon juice, and cornstarch. Cook, stirring occasionally, until the mixture begins to simmer.

Loosely mash the strawberries with a fork. Simmer for 15 to 20 minutes more, until the strawberries are reduced by half and resemble a loose jam.

Remove the pan from the heat and let the filling cool completely. The filling can be made up to two days ahead and stored in an airtight container in the refrigerator.

To make the hand pies: Preheat the oven to 425°. Line a large baking sheet with parchment paper and place it in the freezer.

To assemble the hand pies, roll out the dough on a lightly floured surface to ⅛-inch thick. Cut out circles using a 4 ½-inch diameter cookie cutter. Alternatively, you can cut out 4-inch squares using a knife. After cutting out as many circles as you can fit on the initial roll, ball up the dough scraps, and roll it out again until you have 20 circles total.

Dollop about ½ teaspoon of the cream cheese and 1 ½ tablespoons of the strawberry filling in the center of each piece of dough. Brush the outer rim with water, pinch the edges of the dough together to seal them, and then crimp the edges with a fork. Transfer each hand pie to the baking pan to chill in the freezer while you work on the next one. Note: if you don't want to bake off all 20 hand pies, transfer some to a ziplock bag and store them in the freezer for up to 1 month. When you're ready to bake them, place them on a parchment lined baking sheet, allow them to soften for 3 to 5 minutes, and then continue with steps 11 and 12.

When all of the hand pies are made, brush them with the egg wash and sprinkle with a pinch of sugar. Cut a few vents in the top of each pie using a knife.

Bake the hand pies at 425° for 7 minutes. Then reduce the heat to 350° and bake for an additional 10 to 13 minutes until golden brown. Serve warm.