Breakfast Recipes
Taiwanese-Inspired Breakfast Crêpes
For this delectable ditty, we pulled inspiration from one of the most popular street-stall breakfast foods in China and Taiwan: jian bing. The loaded, sesame-forward crêpes are inexpensive, yet super fresh (they're always made right in front of the customer) and gloriously flavorful.
This recipe starts with a thin layer of whole wheat crêpe batter hitting a sizzling-hot pan. We pour beaten egg on top, sprinkle it with sesame seeds and green onion, and flip it. Next comes a thin veneer of sweet, plummy hoisin sauce, as well as homemade soybean paste — think white miso, fish sauce, sesame oil, and sambal oelek — for a little funk and spice. And then you have the fillings: crisp shredded lettuce, savory hot dog slices, fresh cilantro, and two crunchy wontons, all folded up in an envelope of crêpe-y deliciousness.
We love, love, love the layers of texture. The wonton breaks in a perfect, crunchy, not-too-messy shatter. The lettuce is cool and crunchy; the egg and hot dog, tender and chewy. We're also big fans of how the warm, nutty sesame oil and bright cilantro shine through the many goodies — and we like to serve more soybean sauce on the side so we can play around with the levels of salty heat.
As we mentioned, jian bing is traditionally street food, so you might eat these crêpes for breakfast on the go. In the test kitchen, we inhaled them, frozen in place, before our brains could send our feet the signal to move — they're that good. (And we gotta say, these crêpes would be an awesome hangover balm.)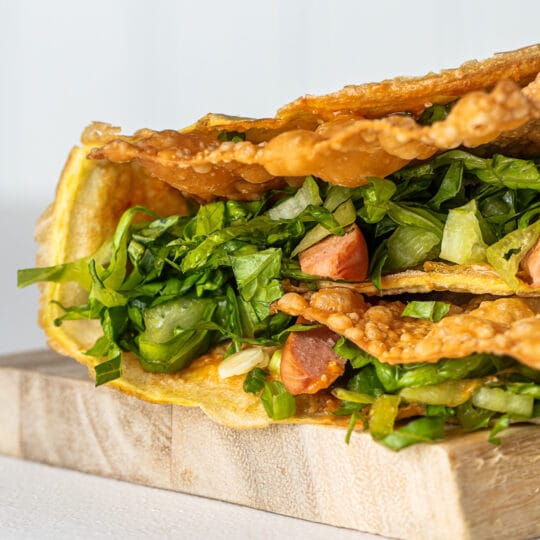 Breakfast
Taiwanese-Inspired Breakfast Crêpes