Breakfast Recipes
Za'atar Manaqish
Like us, you may have spent the last year longing to sit shoulder to shoulder at a table with friends, all eating from the same platter. Now that we can dare to plan such things, it's good to remember how intimate and friendly a luxurious spread of mezze can be. The Middle Eastern version of tapas, mezze loosely translates as "tastings." It generally refers to a group of small plates meant to be shared, in keeping with the sense of hospitality that is the cultural bedrock of the region. These dishes are best consumed slowly over the course of hours, with generous amounts of wine and conversation.
Bread is central to any mezze spread, and these za'atar manaqish perform beautifully in the spotlight. Small yeasted flatbreads, manaqish are kind of like tender, herbaceous mini pizza crusts, with the same pleasing chewiness and airy pockets. Here, they're brushed with olive oil that's infused with za'atar, a spice blend that includes thyme, sumac, and sesame seeds.
The za'atar gets a little roasted during the baking, so you get some earthy depth and a subtle bitterness along with the mild, pillowy sweetness of the bread. Our tasters swooned at the combination of creamy, tangy labneh with the crusty manaqish and the toasty za'atar. Garnishes of fresh mint, crunchy cucumbers, and juicy tomatoes are the perfect refreshing counterpoint to both — and a few oily, salty olives bring it all together.
That said, we think you could happily pair these manaqish with any of your favorite mezze dishes — hummus, baba ganoush, marinated feta. They can serve as breakfast, brunch, lunch, dinner, or snacks. And they promise to raise the bar at any shared feast, making it as unforgettable as your first time back at a crowded table.
Servings: 4 to 8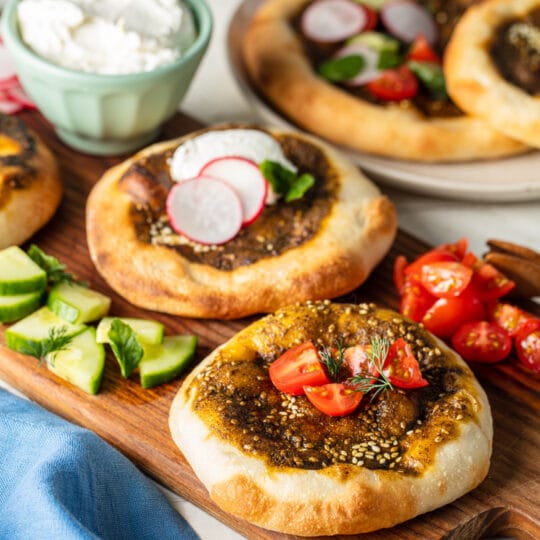 Breakfast
Za'atar Manaqish